From June 22nd to the 25th, Finarte presents a varied, vast and rich auction divided into four sessions along the span of four days.
The catalogue presents numerous jewels of different historical periods. Starting from the 1800s, we have lot 316, a splendid brooch in silver, diamonds and natural pearls with an estimate of € 3,000. Among the most exciting lots, a demi-parure belonging to the famous dancer Virginia Zucchi, published in the book Virginia Zucchi genius of nineteenth-century dance (lot 462, € 1,500).
Lot 462, A 18K yellow gold, silver, enamel and diamond demi parure
From the 1800s to the belle-époque, to the Art Deco with its geometric shapes and chromatic contrasts, of which the lot number 470 is a fascinating example: a pair of platinum earrings decorated with diamonds with different cuts and with fringed terminals and a beam punch (€ 2,000).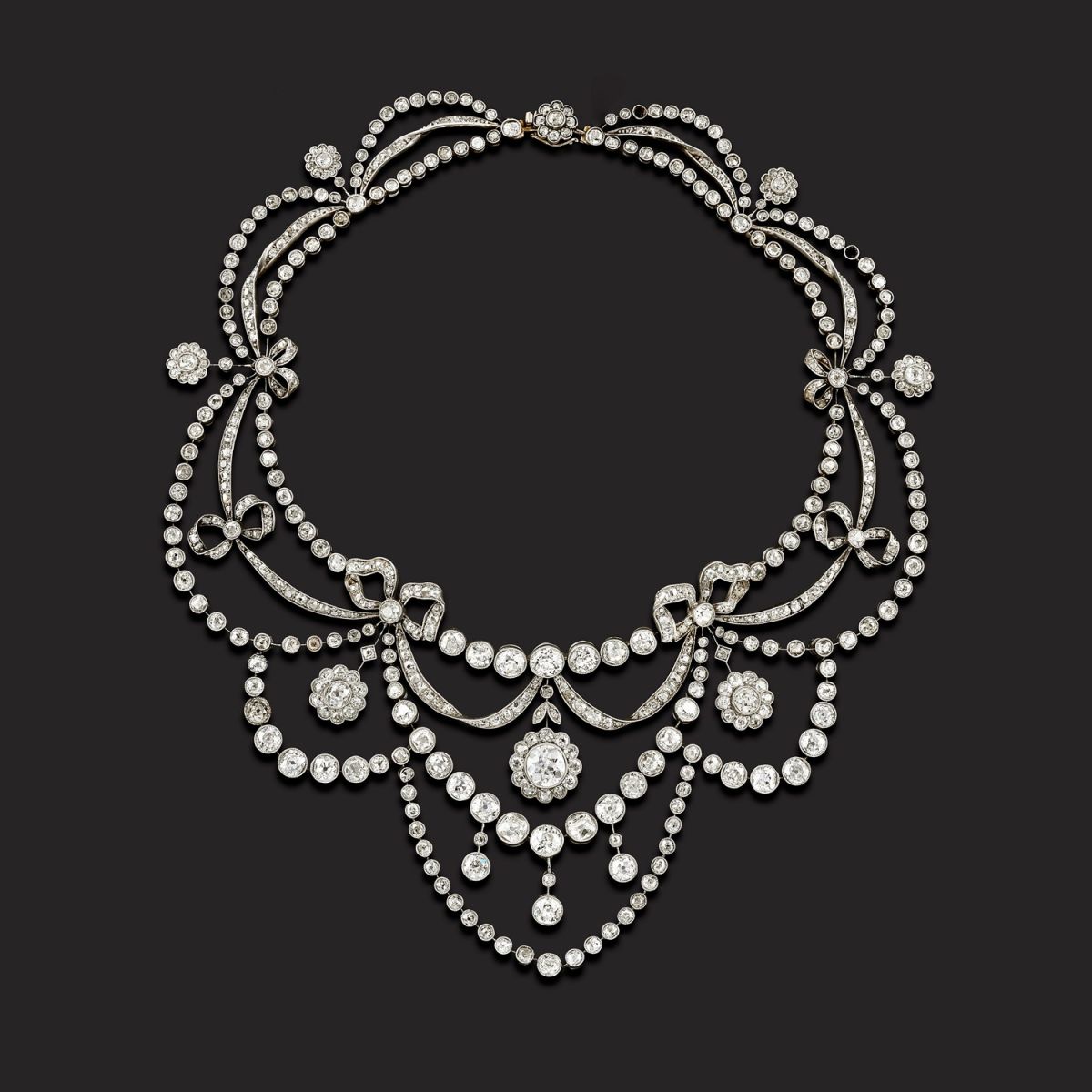 Lot 517, An important platinum and diamond necklace
We then move on to the light motifs of the 1940s. Such as the platinum and diamonds brooch (lot 495) which can transform into earrings and clips. And then forward in the 1950s with animal-like productions decorated with polychrome enamels, like the tiger-shaped gold brooch with two-tone green stones and enamels (lot 124) and the yellow gold floral bracelet (lot 206).
Among the period jewels, now unobtainable, we also include the beautiful cover necklace, lot 517, in platinum with 40 carats of old-cut diamonds, of French European production.
Lot 217, Lot of 18K yellow gold, diamond and sapphire jewels
The 1960s certainly deserve a central focus with their designer gold jewels also dedicated to the male public, such as lot 217 consisting of two cufflinks and a tie pin in gold, sapphires and diamonds.
Passing through the 70s, we ferry from the classic period to the modern one, characterized by cleaner lines such as lots 286 and 285, a ring and a pair of earrings in diamonds and white gold estimated respectively € 2,200 and € 1,200. Up to the present day at lots 169, a bracelet embellished with brilliant-cut diamonds (€ 5,000), and lot 514 a ring with a Zambia emerald with an estimate of €18,000.
Always present are the best names of the Italian manufacture, characterized by impeccable unique and nowhere-to-be-found handmade work. Among the lots, there are many jewels by Mario Buccellati, such as lot 39, a two-tone gold ring with refined and delicate decoration with engraved leaves (€ 1,000). The catalogue also features jewels of the most prestigious international high jewelry brands from Cartier (lots 353 and 420) to Chaumet (lots 498, 501, 414), from Tiffany & Co. (lot 415) to Van Cleef & Arpels (lot 512).
Lot 677, Rolex - A stainless steel wristwatch, Rolex Daytona, ref. 6263, circa 1972, with box
The auction catalogue would not be complete without silvers, like the spectacular cutlery set by Tiffany and Co (lot 609), watches, as lot 677, Rolex Daytona ref. 62625 estimated € 25,000. And finally, important collections of coins including lot 722, 20 lire, 1925 year V, Vittorio Emanuele III with an estimate of € 8,000.
The lots at auction come from Italian and foreign private collections. It is a sign that Finarte is today the reference point in Italy for all those who want to sell their jewels or enrich their collections.