The 'Godfather of Pop Art', Sir Peter Blake, best known for designing the iconic front cover of The Beatles, Sgt. Pepper's Lonely Heart's Club Band album in 1967, has "guaranteed to raise a smile" yet again - a smile stretching 200 feet wide.
In a commission by LONDON Advertising to cover the façade of the Mandarin Oriental, London during its recent renovations in 2017, Sir Peter Blake evoked the spirit of Sgr. Pepper and constructed a colossal mural to tent over the unsightly scaffolding. The mural titled, 'Our fans' showcased 100 of the hotels most renowned 'Fans' such as the two surviving Beatles, Ringo Starr and Paul McCartney, as well as, Annie Lennox, Whoopi Goldberg, Morgan Freeman, Dame Judi Dench and Sir Peter Blake himself, to name only a few. Easily, Sir Peter Blake's largest-ever artwork, 'Our fans' also coincided with the 50th anniversary of the launch of the 1967 album.
Sir Peter Blake's 'Our fans' poster hanging outside of the Mandarin Oriental, London, 2017
The completed poster, the size of 38 London buses, has now been cut into individual face/fragments (guided by the artist) each to be auctioned off and donated equally between WHO's COVID-19 Solidarity Response Fund and The Felix Project which is feeding London's most vulnerable during the crisis. Sir Peter Blake has signed every fragment measuring approximately 1.2m x 2m and each includes an accompanying Certificate of Authenticity.
'Our fans' by Peter Blake - The Making of from LONDON Advertising
Here's the official roster of celebrity faces you can bid on to benefit WHO's COVID-19 Solidarity Response Fund and The Felix Project:
Bidsquare is proud to host this unique and charitable, Timed Auction, available for bidding from June 12 - June 26th. Browse the full 'Sir Peter Blake 'Our fans' Art Fragments Auction' and register to bid generously!
Don't have a Bidsquare account? Sign up here!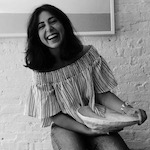 Jessica Helen Weinberg | Senior Content Editor at Bidsquare
Be in the know about upcoming auctions and exciting post-sale results by following us on Facebook and Instagram.