There was a time, not so long ago, when basic commodities such as coffee and sugar were exceptionally expensive. In the late 18th century and early 19th century, one could tell they were rubbing elbows with the right crowd if a stout, box-like chest with legs and a lock, was seen on display in an entertainers' home.
Found primarily in Kentucky, Tennessee and North Carolina, the case piece that has gone from a functional symbol of wealth to a charming collectible is the wonderfully sweet, American sugar chest.
Lot 222, Kentucky Cherry Sugar Chest, 19th Century; Estimate $3,000 - $5,000
Due to the high cost of sugar, only distinguished homes had the means to acquire it. This brought fourth a wave of smartly designed chests made of fine woods such as cherry and walnut, complete with bottom drawers and a flat top. Antique Sugar chests could also be found with metal handles on either side to move the chest around ones home as needed; the important point being that this item was not to be hidden away in the pantry.
The most essential element, however, was the lock. Upon opening an antique sugar chest, two divided sections are revealed; one side to house the light sugar and the other the dark. The sugar itself would have come in cone form and stored as such inside the chest - making it quicker to steal than if it were loosely poured into the basins. Having to literally lock up ones sugar is a great indication of exactly how valuable it was to have.
Cabinetmakers continued to build sugar chests well into the 1840s, however, as sugar became less expensive its' design and prestige began to change. Once it evolved into a standard fixture, affluent homes began to see the grand presentation of sugar, spices and coffee as passé.
The main difference in appearance between earlier and later sugar chests is size and leg shape. Earlier chests are smaller with tapered legs, where later chests are larger with thickly turned legs.
Lot 221, Kentucky Cherry Sugar Chest, 19th Century; Estimate $4,000 - $6,000
In terms of collectors value, earlier pieces that are small, box shaped or shaped like a slant desk are the most desired. In addition, pieces that have few repairs and retain their original varnish are far more superior to refinished versions. Should you come across a sugar chest in a local antique store or auction, don't forget to consider the value that these darling little chests can have. In some instances, rare antique sugar chests can fetch estimates of $30,000, depending on condition, decoration and provenance!
Click here to view the full Cowan's Auction, Fine and Decorative Art Including Americana: Live Salesroom Auction on March 10th, where the pictured items (lot 221, lot 222) are featured.
Click here to view Skinner Auctions, Country Americana sale coming up on March 15th.
Don't have a Bidsquare account? Sign up here!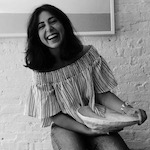 Jessica Helen Weinberg | Senior Content Editor at Bidsquare
Be in the know about upcoming auctions and exciting post-sale results by following us on Facebook and Instagram.