He left something behind.
When young Jean-Michel Basquiat ran back into the street, he was unable to answer the command to return home for dinner. The car that hit him on his neighborhood block in Flatbush, Brooklyn landed the seven year old in the hospital for weeks - a traumatic experience that many of us would come to know as an integral component in his boisterous visual language. Laying in an alien bed, the injured child was gifted an insightful reference from his mother to better understand his predicament - the 19th century textbook, Gray's Anatomy by Henry Gray, F.R.S. widely regarded as an influential work on subject of human anatomy for surgical and applied medical knowledge. Jean-Michel would undergo essential reconstructions, including the removal of his spleen, and Gray's Anatomy provided him with a master's degree level of understanding of exactly what was happening and where. The compositional merging of illustrations, diagrams and definitions impressed a straightforward literalism toward the use of language in art for young Basquiat, and in the memory of an abstract prodigy, that which happens on the inside of oneself eventually manifests outside of oneself.
Artist Jean-Michel Basquiat sitting in his studio, 1980s
Born in 1960, the half Haitian and Puerto-Rican Brooklynite, would leave his family home at the age of fifteen for the streets of downtown Manhattan with an unwavering prophecy willing him towards fame. It might sound like a troubling age to leave home for rows of abandoned buildings and burning piles of litter, but his time here was limited and fate was calling. Those that knew him can testify how he often spoke of his future fame in an unpretentious, calm manner and nobody disagreed. Starting out as an enigmatic poet, musician and street artist, Jean-Michel Basquiat mysteriously sprayed multiple-choice questions on large walls and communicated with the public through insightful lines such as "A PIN DROPS LIKE A PUNGENT ODOR" and cultural critiques like, "MICROWAVE & VIDEO X-SISTANCE - BIG MAC CERTIFICATE FOR X-MAS" all under the tag SAMO. His philosophical depth, not often seen in graffiti writing, resonated with the public in the same way Banksy has done with our generation - an unknown man sparking interest and provoking thought for those who pass by; nudging us to wake up.
Samo, A Pin Drops Like a Pungent Odor | Photo credit: Henry Flynt, 1979
In 1981, the tag SAMO (standing for "same old shit") was proclaimed dead by Basquiat, a clear indication that the prologues of his genius were cycling out to make room for the next stage of his artistic career. Basquiat's didactic learning, and lack of a formal art education, volleyed within his talent like a hinge that opened and closed for seemingly random decision-making. He implemented narratives from sources such as Greek mythology, television, Gray's Anatomy and the notebooks of Leonardo da Vinci, all the while expressing the complex and emotional history of the African American identity. His work acted as a floatation device for rudimentary sketches of everyday objects and poetic prose to casually collide with scholarly conceptualism. Basquiat frequently visited the Metropolitan Museum of Art with his friend, and driving underground voice of the time, Fab 5 Freddy where they admired the gamut of art history together, discussing works by Caravaggio and Jackson Pollock alike.
Basquiat's decision to kill off SAMO and begin feverishly painting on dismantled urban materials such as wooden panels and doors (because he couldn't afford canvas) transformed what people saw as a hipster graffiti artist into a confident savant whose jittering paintbrush moved around like a Ouija planchette.
Jean-Michel Basquiat paints in 1983 in St. Moritz, Switzerland Photo: Lee Jaffe (Getty Images)
That same year, a twenty-one year old Basquiat would sell his first painting to Debbie Harry from Blondie for $200.00, a good luck purchase that occurred just before Basquiat appeared in a show at P.S.1 titled "New York, New Wave." Attending the show was art dealer Annina Nosei of Annina Nosei Gallery, who Basquiat convinced to show works of his at her own gallery. His argument was so compelling that Nosei not only agreed to show them, she gave him an entire room. Thus, the ripple effect began; buyers such as Larry Gagosian began recognizing Jean-Michel's magnetism and a slew of solo-shows, as well as a domestic and international demand for his work ensued. It only took four years after the sale of his first painting for Basquiat to be photographed barefoot on the cover of The New York Times Magazine.
Lot 106, Jean-Michel Basquiat, Academic Study of the Male Figure, Silkscreen on Okawara rice paper, 1983; Sold for $7,680
Closely tied to his exposure to Gray's Anatomy as a child, Jean-Michel Basquiat was enamored with the Italian Renaissance polymath, Leonardo da Vinci. Often working straight from Leonardo art books, Basquiat incorporated the mania of visible note taking, diagramming and studious layouts onto his canvases. The use of directional arrows and writing words backwards, as da Vinci was known to do through mirror-writing, are all elements of the admiration that can be seen through the drawings and prints made specifically on the subject of da Vinci.
Lot 105, Jean-Michel Basquiat, Leg of a Dog, Silkscreen on Okawara rice paper, 1983; Sold for $5,120
On October 7th, the Bidsquare platform sold two lifetime prints through Santa Monica Auctions, Sunday October 7th Sale 2018. The first print, titled in a verbatim fashion (as it is clearly stated on the artwork) Lot 106, Academic Study of the Male Figure, 1983 implies a wonderful borrowing of what one would typically find in an anatomical sketchbook by Leonardo da Vinci. The second print, Lot 105, Leg of a Dog (from a da vinci) 1983 displays a similar formula in its obviousness and points out energetic chains of teeth as well as a skeletal "FOOT."
However sophisticated Basquiat's ideas became, his underling simplicity and train-of-thought approach remained an endearing quality that offers all viewers a chance to actively engage with him; a creative treasure hunt, filled with hints that map their way through Basquiat's perspective.
"Untitled," a Basquiat painting from 1982; Sold at Sotheby's for $110.5 million
His untimely death, caused by a drug overdose at the age of 27, leaves us mulling over the prophetic portfolio of artworks he was able to briskly complete. Often treated like a divine apparition, Jean-Michel Basquiat continues to be propelled forward by the contemporary art world. His recent 2017-18 show at the Barbican in the UK, "Boom for Real" exhibited more than 100 works by the artist including his painting Leonardo da Vinci's Greatest Hits (1982) along side his original copy of the Leonardo da Vinci book that he worked from. It had been nearly 20 years since the last time the UK featured the artist in an institutional exhibition. That same year the artist joined the $100 million-plus club after his stunning 1982 painting of a skull sold for a record breaking $110.5 million at Sotheby's; making it the sixth most expensive item ever sold at auction. The latest - a Broadway musical on the life and career of Jean-Michel Basquiat is in the works, and is expected to be a major hit. The Tony-award winning director and producers will take us through Basquiat's rise to stardom, from his 1970's persona as wandering teenager (dating budding celebrities such as Madonna) on the Lower East Side through the explosively poetic bomb he dropped on the heart of New York's thriving 1980's art scene.
Dare I say - Basquiat is trending?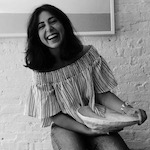 Jessica Helen Weinberg | Senior Content Editor at Bidsquare
Don't have a Bidsquare account? Sign up here!
Be in the know about upcoming auctions and exciting post-sale results by following us on Facebook and Instagram.