June has seen an increased number of Asian-themed auctions around the world, suggesting a return to normalcy and economic recovery from the global pandemic.
One of the upcoming sales to look forward to is at Brunk Auctions – they will be hosting their Speciality Auction on June 18 in Asheville NC. This 197-lot sale contains jewelry, watches & clocks, and a wide selection of Asian Art from China, Japan, Korea, India and the Himalayan region.
The top highlights from this auction are two woodblock prints by Katsushika Hokusai (c. 1760-1849). Lot 122, Senju in Musashi Province, and lot 123, Cushion Pine at Aoyama, are both from his seminal series 'The Thirty-six Views of Mount Fuji'.
Even though the most iconic image from this series is by far 'The Great Wave Off Kanagawa', these two woodblock prints are still masterpieces in their own right and capture Hokusai's creativity.
Produced between 1830-1832, each image from this series features Mount Fuji, Japan's most sacred and highest mountain, being viewed with different vantage points, weather conditions, and seasons.
Lot 122, Katsushika Hokusai, Senju in Musashi Province, (Bushu Senju) From the series Thirty-six Views of Mount Fuji, Woodblock
In the first image Senju in Musashi Province, we see a fisherman and a farmer taking a breather to admire the sight of Mount Fuji. Senju was an important postal town along the road to Edo (modern day Tokyo).
In Cushion Pine at Aoyama, we see the famous pine trees of the region with Mount Fuji in the background. When viewed from a distance, the tree tops appear to form a large green pillow, hence giving them this unusual name
In these two images, Hokusai captures the essence of the ukiyo-e school of Japanese woodblock prints. These prints were extremely popular to a domestic and international audience because they offered a glimpse into Japanese society. Popular themes include graceful courtesans, colorful Kabuki actors, bustling town scenes and serene landscapes.
Lot 123, Katsushika Hokusai, Cushion-pine at Aoyama (Aoyama enza no matsu) From the series Thirty-six Views of Mount Fuji, Woodblock
Hokusai's 'The Thirty-six Views of Mount Fuji' also catered to Japan's increased interest in traveling. Due to a relative period of stability, many Japanese were able to safely travel around the country. These prints would have functioned like modern-day postcards – highlighting the characteristics of a location people have or want to visit. Both Senju in Musashi Province and Cushion Pine at Aoyama have estimates of $10,000-$15,000.
The Brunk auction also contain a selection of Chinese works of art. Some of the more impressive pieces are from the collection of Frederick and Margaret Haskell. Mr. Haskell was the owner of the Japan and China Trading Company during the late 19th Century. When the couple retired to Lake Weir Florida in 1902, they brought their vast collection of Chinese art with them.
Lot 2, Very Fine Chinese Cloisonne and Gilt Vase, Collected in Shanghai, China prior to 1902 by Frederick and Margaret Haskell
One of these objects is lot 2, a cloisonné enamel and gilt vase estimated at $2,000- $3,000. This vase is finely decorated in its compact design of multicoloured lotus flowers and scrolling vines. The base features a rare six-character Qianlong mark suggesting it is was made for the Chinese imperial court between 1736-1795.
Lot 8, Fine Pair Chinese Silk and Hardwood Table Screens, 19th century
Also from the Haskell collection is lot 8, a pair of silk embroidered table screens. They are both delicately decorated with numerous colorful birds. Since the birds are all in pairs, they represent the auspiciousness of marriage. The birds are all well-detailed and include peacocks, mandarin ducks, long tailed flycatchers, sparrows and quails. These screens are conservatively estimated at $2,000-$3,000.
Finally, in the Speciality Auction is a selection of Chinese Trade paintings. Like Hokusai's views of Mount Fuji, these scenes were extremely popular to the Western market as they offered a panoramic view of the popular trading ports in Southern China. The paintings featured in lot 67 for example depicts the famous Praia Grande commercial area of Macau and the American Factory in Guangzhou. This lot is listed at $2,000-$4,000.
Click here to view the full catalog of Brunk Auctions June 18 and Specialty sale.
Don't have a Bidsquare account? Sign up here!
Be in the know about upcoming auctions and exciting post-sale results by following us on Facebook and Instagram.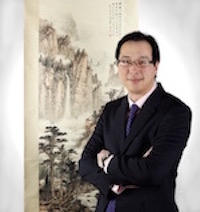 Anthony Wu is an Asian Art consultant, researcher, writer based in Toronto, Canada. After working eleven years as the Asian Art specialist at two of Canada's largest regional auctions, he started his own art advising firm where he consults for various auction houses, museums, and private clients in Canada and the USA. He is a certified Chinese Fine Art appraiser with the Appraisers Association of America.