Bidsquare is honored to continue covering Asian American and Pacific Islander Heritage Month. AAPI Heritage Month takes place during the month of May and celebrates Asian American's longstanding contributions to the United States.
The scope of AAPI Heritage Month is quite wide and represents over 23 million Americans. As many of you have read my past Bidsquare articles, I mainly focus on writing about Asian art, with objects originating from China, Japan, Korea, India, Southeast Asia and the Himalayan region.
AAPI Heritage Month holds special meaning for me since I myself immigrated to Canada (not quite the USA but close enough!) back in 1983 from Hong Kong. It was through my study of Asian art that really connected me to my Asian roots. My work in this field in Canada and the USA for nearly twenty years has given me a deeper sense of my cultural heritage and the sentiment that I am almost a custodian of Asian culture for the current and future generations.
For this article, rather than selecting higher valued Asian art objects coming up at auction on Bidsquare, I decided upon certain objects that are representative of Asian culture. These items are instantly recognizable and would be the type of objects that would have been passed down from generation to generation.
Lot 254, Three Chinese Blue and White Ceramic Ginger Jars, Turner Auctions + Appraisals
Turner Auctions + Appraisals are presenting a lovely set of three Chinese blue and white porcelain jars - some of you may recognize the design on them. Each one bears the Chinese character of 'double happiness', shuangxi, 雙喜. The character 喜喜 doesn't actually exist, but is used together to symbolize a union, often for marriage, and is ubiquitous in any region with a large Chinese population like China, Taiwan, Hong Kong, Southeast Asia, North America and Europe.
These porcelain jars were made in the Swatow region of southeastern China circa 1900 and imported to areas like Singapore, Thailand, Malaysia and Indonesia. They would have initially contained herbs, medicine and tea. Nowadays, they are still fashionable in many homes (both Western and Eastern), and can be used for things like flower arranging and potpourri.
Lot 328, An Antique Pair Of Chinese Hardwood Horseshoe, Clarke Auction
In Clarke Auction, we have another set of Asian objects that would be ubiquitous to many East Asian homes. Here they have a set of Chinese hardwood horseshoe back chairs. The original design of these chairs would have been from the Chinese Ming Dynasty of the 16th and 17th Centuries.
Because of their popular and elegant forms, these types of chairs have been copied to even the present day. In Chinese visual art and popular culture, these types of chairs were usually reserved for the elder members of a family. In Chinese ancestor portraits and photographs, typically the most revered members of the family will be seated on horseshoe back chairs. The current pieces at Clarke were probably made in the mid 20th Century and still exude the style and significance of past generations.
Lot 85, Japanese Meiji Tansu with 4 Drawers & Door, Revere Auctions
Another type of Asian furniture can be found at Revere Auctions. Featured is a Japanese tansu cabinet from the late 19th Century of the Meiji Period. These were portable cabinets and were used to store anything from clothing and documents, to family heirlooms.
Tansu cabinets were made of elmwood and then lacquered for protection against humidity. In most cases, they were easily moved around a room since traditional Japanese spaces did not have any fixed furniture (ie beds, chairs or tables). Hence these cabinets featured heavy-duty metal handles for mobility. Often, as in this case, they would also contain a locked door to keep more important valuables.
Today, tansu cabinets can be found in many traditional Japanese homes, or those looking to have a Japanese aesthetic in their living spaces. They are usually passed down from generation to generation, and due to their sturdiness, may still be in excellent condition.
Lot 214, Chinese Qing Dynasty Wooden Seated Guanyin, Revere Auctions
In addition, Revere Auctions features a well-carved wood figure of Guanyin. This figure depicts the Buddhist bodhisattva of compassion. Bodhisattvas are enlightened Buddhist beings who have chosen to remain in the mortal realm to pass on Buddhist teachings.
Guanyin is one of the most important and popular deities of the Buddhist pantheon. Also known as Avalokiteshvara and taking either a male or female form, Guanyin is extremely popular for East Asian and Southeast Asian families. Guanyin would have been worshipped by everyone, from the royal and noble classes, to those of less fortunate social statuses. Everyone needs compassion, mercy and kindness!
This particular figure of Guanyin was made in the late 19th to early 20th Century and is lacquered in gilt paint. The face has a serene expression and downcast eyes, while the hands are in the gesture of meditation. These types of wood Guanyin figures were probably housed in the shrine of a well-off family or a provincial temple.
I hope you enjoyed my selection of Asian art objects and I wish everyone a pleasant AAPI Heritage Month!
The new Bidsquare mobile app is available to download for free in the Apple Store and Google Play. Download it today to bid on the best fine art and antiques.
_______________________________
With new auctions added daily, we're always ripe for the picking. Be sure to check Bidsquare's monthly finds for little bits of wonderful from every catalog.
Don't have a Bidsquare account? Sign up here!
Be in the know about upcoming online auctions and exciting post-sale results by following us on Facebook and Instagram.
_______________________________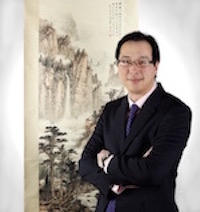 Anthony Wu is an Asian Art consultant, researcher, writer based in Toronto, Canada. After working eleven years as the Asian Art specialist at two of Canada's largest regional auctions, he started his own art advising firm where he consults for various auction houses, museums, and private clients in Canada and the USA. He is a certified Chinese Fine Art appraiser with the Appraisers Association of America.