We hope everyone had a fun and successful New York Asia Week! As many of you know, New York Asia Week has grown into a major two-week event held every September and March. It marks the beginning of the Asian art season, and prior to the pandemic, it was an essential destination for both experienced Asian art connoisseurs and beginners alike.
Asia Week New York features a plethora of Asian themed auctions, exhibitions, gallery openings, and has even launched satellite events in Boston, Chicago and Washington D. C.
Despite Asia week wrapping up last week, Asian art themed auctions are still ongoing throughout October, notably at Freeman's in Philadelphia. Founded in 1805, Freeman's is known as America's oldest auction house and they have been putting together important Asian art sales over the past 15 years.
Freemans will be offering their Asian Arts sale on October 14. This 256 lot auction features objects from China, Japan, the Himalayan region and India. Their focus is specifically in the categories of Chinese porcelain and ceramics, furniture, paintings and textiles.
Leading the sale are two Chinese objects with connections to the 18th Century Imperial court of the Qing Dynasty (1644-1911). Chinese artwork with ties to the emperor are still performing well these days and highly sought after by collectors around the world.
Lot 22, A very rare Chinese carved celadon-glazed porcelain "萬"-Mouthed Vase 珍罕粉青釉萬字口大瓶 Qianlong six-character seal mark in low relief and of the period 乾隆六字款 清 乾隆
The first of these objects is lot 22, a Chinese carved-celadon vase. It was acquired in Europe during the 1970's and was passed through the family to its present owner. The faceted vase is large in its size at over 16 inches high, and contains very fine relief carvings of archaistic dragons and lotus blooms, all intertwined with a lattice network.
The most unusual part of this vase is the rim. Rather than having the typical square-shaped opening, the mouth of this vase is swastika shaped. The swastika is an ancient symbol used in Hinduism and Buddhism to symbolize well-being, and its usage can be traced back throughout Chinese art history.
However, it is very seldom the symbol would be so prominent on a Chinese vase, let alone the rim! The base of the celadon vase has a six-character Qianlong mark which dates the vessel to 1736-1795, a period of which there was much technical innovation within the porcelain workshops with respect to shapes, design and enameling. This impressive vase is estimated at $300,000-$500,000.
The other Chinese artwork with an Imperial connection at the Freemans sale is lot 107, a pale-celadon jade seal. Like the aforementioned vase, this seal is also estimated at $300,000-$500,000.
Lot 107, An important Imperial pale celadon-white jade "Taishang Huangdi zhi bao" seal 珍罕乾隆"太上皇帝之宝"玉玺 Circa 约 1795
It depicts a group of three sinuous archaistic dragons amongst clouds, seated on top of a square-form base. In addition to the seal's impressive carving and color, it also has historical significance. According to the auction house, this is one of twenty seals made for the Qianlong Emperor to commemorate his abdication from the throne. It was announced that he would be passing his Imperial title to his fifteenth son, who later became the Emperor Jiaqing.
Lot 171, A Nepalese gilt copper alloy figure of Vasudhara 尼泊尔持世菩萨鎏金铜造像 12th century or later 十二世纪或更晚
In the Himalayan category of the auction is lot 171, a gilt copper alloy figure of Vasudhara. This elegant female figure depicts the Buddhist deity of wealth and prosperity. She is exceptionally well-cast with her six arms and graceful visage. The figure is originated from Nepal and is dated to the 12th Century or later and estimated at $12,000-$15,000.
Click here to view the full catalog of Freeman's sale of Asian Art on October 14.
Don't have a Bidsquare account? Sign up here!
Be in the know about upcoming auctions and exciting post-sale results by following us on Facebook and Instagram.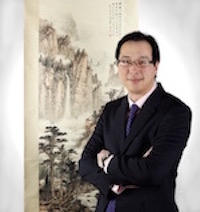 Anthony Wu is an Asian Art consultant, researcher, writer based in Toronto, Canada. After working eleven years as the Asian Art specialist at two of Canada's largest regional auctions, he started his own art advising firm where he consults for various auction houses, museums, and private clients in Canada and the USA. He is a certified Chinese Fine Art appraiser with the Appraisers Association of America.