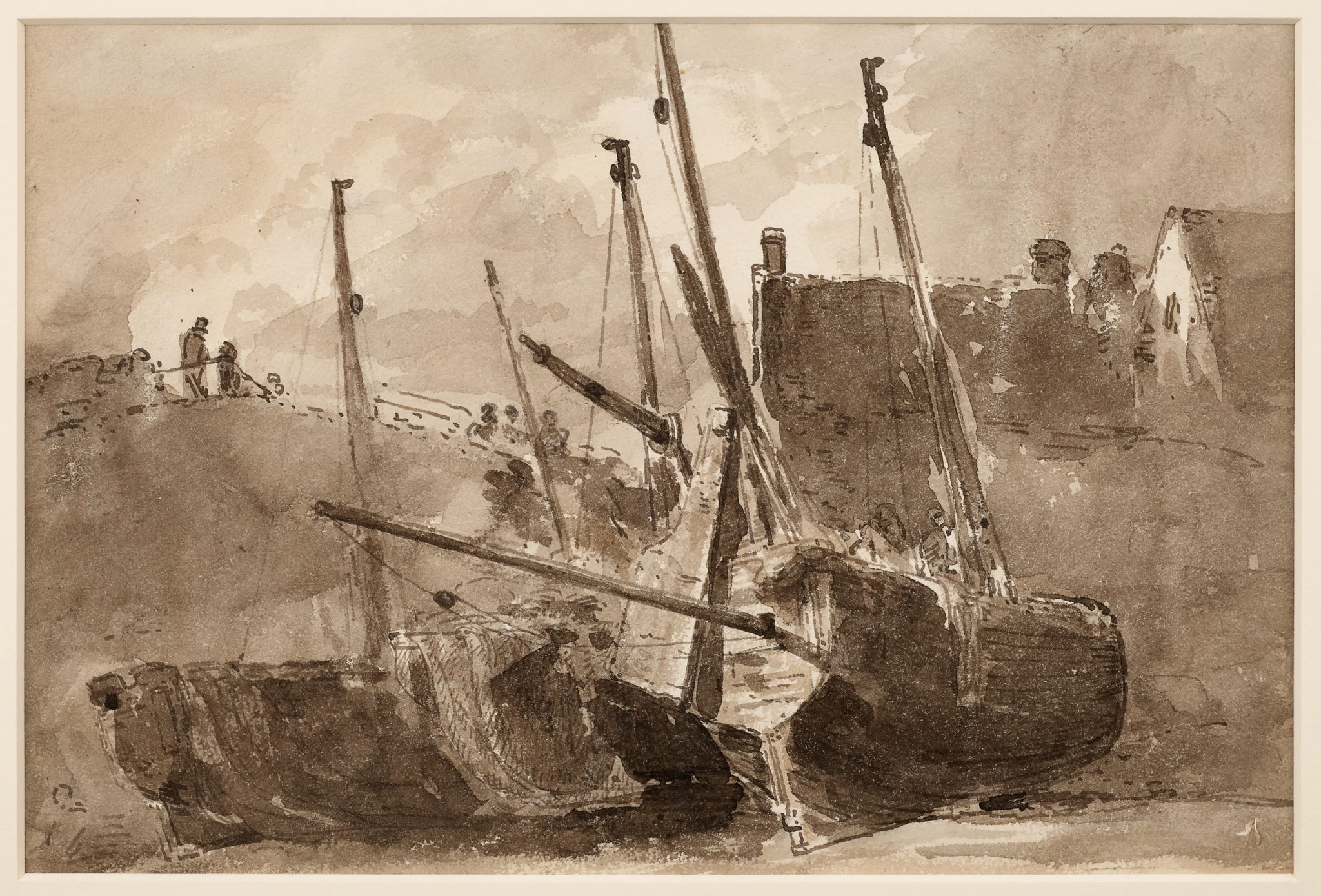 More than two hundred works by John Constable (1776 – 1837) are related to time he spent in Brighton between the years 1824 and 1828, half of which are small, vivid sketches such as lot #435. In this ink wash, three fishing boats rest on a beach. The nearest is recognizable as a Brighton Hog-boat with its leeboard hanging off the side, the center boat with a lug sail. A cluster of buildings and a fenced walkway lined with figures form the horizon. Visible on the walkway is a man sporting a top hat. Although the boats are resting, the curved lines of their hulls, of the bluff, and the cumulus clouds, together with the sparkling light suggest an exuberant scene.
John Constable came to Brighton for his wife, Maria, who contracted tuberculosis in 1819. In an effort to restore Maria's health with fresh sea air and sunshine, Constable moved his family to a cottage on the outskirts of Brighton in the spring of 1824. He continued his work in London, but spent as much time in Brighton as possible, making frequent trips back and forth and settling in for lengthier stays. Although Constable found bustling Brighton to be busier than he liked, it was peaceful in comparison to London's crowds and pollution. He hoped to use the quiet to complete some commissions. Due to the residence of King George IV, the fishing towns of Brighton and Hove were rapidly gentrifying into a fashionable seaside resort, with architect John Nash finishing the king's famed Pavilion in 1823.
In keeping with his preference for scenes of humble farmland, Constable was drawn to Brighton's beaches and fishermen. In all seasons, Constable walked the shoreline with his paintbox and sketchbook, finding inspiration all around him. He sketched the sea and the sky, and views inland of the beach and the bluffs, and Brighton's famous Hog-boats. One of Constable's great landscape painting insights was the importance he placed on plein-air sketching. His first impressions imbued his later finished works with vitality. Two hundred years later, the immediacy of his sketches connects us to the day.
Tragically, Maria died in the winter of 1828, leaving behind her husband and seven children, and bringing to a close Constable's period in Brighton.
The artwork's provenance includes a receipt from Sotheby's London dated January 20th, 1965. This sale was The Collection of English Drawings formed by the late Sir Bruce Ingram. Sir Bruce Ingram (1877 – 1963) was a prominent publisher and philanthropist. As a connoisseur, he established one of the great English collections of paintings and drawings, with a concentration on marine art. In addition to being editor of the Illustrated London News, Ingram served as Hon. Keeper of Drawings for the Fitzwilliam Museum, Cambridge, and Hon. Advisor on pictures and drawings for the Greenwich Maritime Museum. Works from his collection are today in museums such as the British Museum, the National Gallery, and the Greenwich Museum. The winning bid in 1965 for lot 434 was £140. Please join us October 5th and 6th and see what this artwork is worth today.
By: Cynthia Beech Lawrence