You know it when you see it. That "thing" you've been looking for online has finally emerged in your search (it only took a dozen word combinations and several half-watched Hulu episodes to describe it, but aha!) With so many methods of online shopping at your disposal, it's a wonder why searching for the items you want can still feel so…clunky…but, what if you didn't have to get so granular with Google all the time?
Online auctions offer another way to shop and, in a great many ways, provide a browsing experience that has enriching effects on your search bar superpowers. Flipping through online auctions can actually help you zero in on the styles, price points, and types of items you're looking to purchase now or later down the road.
In fact, there are thousands of interesting finds floating around in online auction catalogs right this very minute, whether they're part of an eventual Live Auction or offered in a slightly different Timed Auction format. With online auctions, you learn as you browse and the lasting benefits become a no-brainer if you're looking for a range of specific items. It's simple: learning how the items you like are described will open you up to a whole slew of new ways to find the things you love much faster and we're going to show you exactly how to take advantage of it.
We made a list of timeless items you can find in online auctions so you can start sock hopping your way around all manner of online auction accouterments. The best part? When you find items of interest, you can place swift, stress free bids without haggling - just enter your highest offer and keep scrolling along. So, are you ready to lacquer up your online auction lexicon? Excellent!
Lot 61, Ella Fillmore Lillie, Vermont, Florida, Minnesota, 1884-1972 | Sold for $400
1) Fine Art | Still Life Artworks
Now, by no means are we limiting you to one genre of Fine Art, however, we're talking "timeless" today so, let's take a gander at the glowing works on canvas or paper that can elevate any room in your home and remedy walls that have stood blank for years.
Fine Art paintings and prints like still lives are especially quick to search for: simply include the type of subject matter you'd like to find and bam! options galore. If you live in an area known for autumn apple picking, a 'still life of apples' would be a wonderful choice for your home or perhaps a 'still life of flowers' is more to your taste. Another perk when searching for still life artwork at auction is you'll probably find more than one that you'd like to place a bid on. Plus, you don't have to know the exact name of an artist to find a work of art you love, live online auctions curate your search so you can spend more time comparing color palettes instead of keywords.
Lot 44, An English Delft Blue and White Plate, Probably Livepool, c. 1750
2) Decorative Art | Delft Pottery
Delft. A small, five letter word with so much prowess! Delft pottery, usually known as Delftware, represents the highest ideals and sought after charm that Decorative Arts ceramics has to offer, making it another go-to item to find at auction. The blue and white classics hailing from the Netherlands have been known to fetch $3,000-$5,000 and in some cases reach twenty times that amount. Now, we're looking for attainable versions of the classic, hand-painted pots so searching, 'Delft' or 'Delftware' and filtering your prices from low to high will do wonders when browsing through upcoming online auctions. In addition, typing 'Blue and White' will catapult you into the fabulous field of Chinese ceramics as well as a surplus of Asian Works of Art.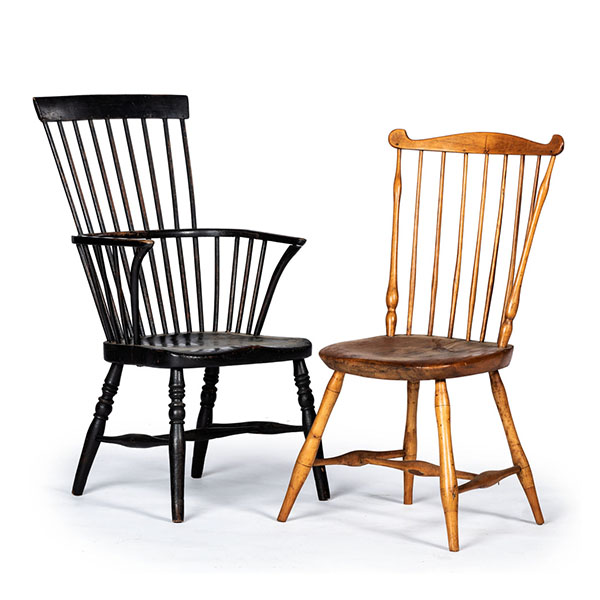 Lot 186, A Black-Painted Comb-Back Windsor Armchair and a Simulated Bamboo Carved Windsor Side Chair | Sold for $275
3) Furniture | Windsor Chairs
If you haven' noticed yet, you're about to. The versatile windsor chair which takes its name from the English town of Windsor, where it originated around 1710, is everywhere. Remakes from retailers such as Ikea, West Elm and Pottery Barn are constantly being manufactured and marketed. Spoiler alert: the coolest windsor chairs can be found in live online auctions. Why? Because unless they're super rare antiques, windsor chairs are relatively easy to find and funky pairs, singles or groupings, can come up at very reasonable prices. Common windsor chair styles to check out are: bowback, sackback, combback, braceback, ladderback and the wider settee.
Lot 153, A sapphire and diamond 14K yellow gold ring and pair of earrings set | Sold for $1,660
4) Jewelry Sets | Demi-Parure
It isn't just home decor and art that attracts online shoppers to auctions, the inventory of sparkling Jewelry pieces by luxury and costume designers also comes in at an unparalleled plethora. One particular way to browse auction jewelry, which may be difficult to find otherwise, is by demi (half) or demi-parure (complete) set.
A demi or demi-parure could mean a matching pair of earrings, bracelet, necklace, ring or brooch in any combination, so long as the designer meant for the set to be sold as a collection. In the vintage and antique jewelry world, it's always best to keep a jewelry set together to maintain the value of the design as well as the elegant option to coordinate your look. We suggest channeling Old Hollywood glamor the next time you consider bidding on auction bling.
Lot 2309, Grete Jalk, Reversible coffee table, Denmark, Oak, teak, laminate, 1960s | Sold for $1,280
5) 20th Century | Teak Furniture
When it comes to Mid-Century Modern furniture, teak wood is on top of the timeless charts. The Danish teak furniture style of the 20th century embraces Danish sensibilities and is coveted for the use of honey colored teak wood known for being extra durable. Searching for teak, Danish, or mid-century within the 20th Century auction category will bring you straight to modern designs from makers such as George Nelson, Herman Miller, Verner Panton, Fritz Hansen, Finn Juhl, Hans Wegner and many others.
Lot 232, An eighteen karat gold watch, Cartier | Sold for $2,800
6) Wristwatches | Cartier
Founded by Louis-François Cartier in Paris in 1847, Cartier has continued to hold an iconic and worthy position as one of the most prestigious luxury watch and jewelry makers in the world. Their reputation is steeped in royal history, having designed and sold tiaras to 18th century kings and queens from Great Britain's King Edward VII to the courts in Spain, Portugal, Serbia, Russia and the House of Orléans.
Cartier watches in particular are known for their simplicity and timeless (pun intended) appeal. Depending on which style and make you're after, bidding on Cartier wrist watches at auction is a great way to grab a quality timepiece. Sometimes sold without reserve, where the highest bid wins without a minimum spend needed to sell, Cartier watches should be on your radar if you're hunting for some everyday luxury.
The easiest way to start shopping for more timeless auction items is to take a casual click around our upcoming catalogs. When browsing, save items to your 'Favorites' list by selecting the heart icon located next to each item. You can always go back to reference the descriptions and details of the pieces that grabbed your attention - like your own personal mood board!
Don't forget to use Bidsquare's interactive 'Auctions Near Me' map to help you discover local upcoming live and online auctions in your area.
The new Bidsquare mobile app is available to download for free in the Apple Store and Google Play. Download it today to bid on the best fine art and antiques.
_______________________________
With new auctions added daily, we're always ripe for the picking. Be sure to check Bidsquare's monthly finds for little bits of wonderful from every catalog.
Don't have a Bidsquare account? Sign up here!
Be in the know about upcoming auctions and exciting post-sale results by following us on Facebook and Instagram.