Millea Bros in Boonton NJ will be holding their two-day Select sale on June 4th and 5th. Over 700 lots will be offered including modern art and design, photography, silver, folk art, antiquities, Russian art, and ethnographic art.
Day one of the sale features a selection of 132 Asian Art objects from China, Japan, India and South East Asia. Of particular interest is a group of Chinese huanghuali 黃花梨wood objects. These pieces were made for and influenced by Chinese scholars.
China has a lengthy history of scholar art that spans over 2000 years. Many of these revered art objects are related directly to the 'four scholarly pursuits', siyi 四藝, which includes writing calligraphy, painting, playing the seven-stringed qin 琴, and the strategy game qi 棋.
As their own class, Chinese scholars rose to prominence during the Sui Dynasty (581-618) due to the implementation of official examinations. As a result, ordinary people didn't have to be part of the aristocracy to have a career within the government. The prestige of the scholar was further enhanced during the Song Dynasty (960-1279) when the imperial court officially sanctioned the literati way-of-life.
Traditional Chinese scholars would often work in solitude. To find tranquility, all of their important work took place far from bustling urban centers. Rather, they preferred retreats surrounded by mountains, rivers, and forests.
In addition to practicing painting and calligraphy, Chinese scholars were adept at all aspects of the literati culture which included writing, poetry and reading history and classical novels. The artwork of the Chinese scholar reflected this model of life – along with having a physical function, objects had to be simple in its aesthetic and grace. To Chinese scholars, this simplicity would bring them closer to the spirituality of nature.
One of the prized materials used to construct scholar art objects during the Ming and Qing Dynasties was huanghuali wood. Literally translating to 'yellow flowering pear wood', this type of rare rosewood was found only in the tropical Hainan Island of China. The wood was slow-growing, but was known for its shimmering honey-orange tone and immaculate graining.
For Chinese scholars huanghuali wood was essential for their table-top articles such a brushpots, document boxes, brush rests, ink boxes and scroll weights. Due to this medium's popularity during the 17th Century, it was also used for constructing general domestic rosewood furniture including wooden cabinets, chairs, lamp stands, chests, and coffer tables.
The huanghuali scholar objects at Millea Bros are from the collection of Alvaro Martinez-Fonts, a well-known banker, consultant and philanthropist. While living in Hong Kong for many years, he learned to speak fluent Cantonese and Mandarin, while also developing a passion for collecting Chinese antiques.
Lot 1015, Chinese huanghuali two-tier picnic box, Qing Dynasty
One of the huanghuali highlights from the Alvaro Martinez-Collection at Millea Bros is lot 1015, a huanghuali two-tier picnic box. In addition to the wonderful color and graining on the exterior, the top is constructed of a single piece of this rare wood. The sides also contain natural 'ghost faces' embedded in the wood, which are highly sought after by collectors of this category. These types of boxes would have held scholar utensils and important documents. The estimate for this two-tiered box is a conservative $1,000-$1,500.
Lot 1017, Small Chinese huanghuali carrying box, Qing Dynasty
Lot 1017 is also carrying box constructed of huanghuali wood. With a modest estimate of only $600-$800, the box has the allure of typical huanghuali objects with its larger panels and wonderful honey tone. The box is still functional with a removeable panel that hides two drawers.
Lot 1020, Chinese huanghuali guanpixiang tabletop chest
Another feature object from this collection is lot 1020, a huanghuali table top chest. The form is attractive with its larger single panels of huanghuali wood. This type of chest is also used as a portable dresser. The front doors open to reveal smaller drawers that can house jewelry and cosmetics, and the top flips up to support a mirror. Estimated at $1,000-$1,500, this chest shows the heavy influence of the scholar taste to other aspects of Chinese domestic life.
Lot 1022, Chinese huanghuali folding mirror stand
Finally at the Millea Bros auction is lot 1022, a huanghuali folding mirror stand. Expertly crafted with long bars of huanghuali wood, the top of the stand features a pair of lingzhi 靈芝mushrooms. The lingzhi motif is extremely popular in Chinese art and has the auspicious symbolism of bestowing longevity for the owner.
Like the aforementioned table top chest, this mirror stand also has its roots in the Chinese scholar arts. The stand's form pays homage to portable lecterns, showcasing again how Chinese scholar arts influenced daily life. When not in use, the stand can easily be folded and stored away. This mirror stand has an estimate of $1,000-$1,500.
View the full catalog of Millea Bros June 4 and 5 two-day Select sale.
Don't have a Bidsquare account? Sign up here!
Be in the know about upcoming auctions and exciting post-sale results by following us on Facebook and Instagram.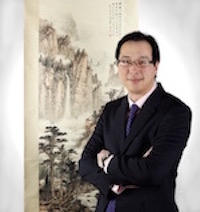 Anthony Wu is an Asian Art consultant, researcher, writer based in Toronto, Canada. After working eleven years as the Asian Art specialist at two of Canada's largest regional auctions, he started his own art advising firm where he consults for various auction houses, museums, and private clients in Canada and the USA. He is a certified Chinese Fine Art appraiser with the Appraisers Association of America.