With the majority of Asian Art auctions in North America postponed during March and April because of the ongoing global pandemic, collectors around the world have been waiting for the moment when this market finally resumes again.
The month of May has seen country-wide restrictions being lifted and some normalcy to everyday life slowly returning. For those interested in Asian Art, there is much anticipation for the two-day Asian Art & Antiques sale at Oakridge Auction Gallery in Ashburn, VA.
Day-one of the sale takes place on May 23 and features just over 300 lots of Chinese ceramics and works of art. The popular categories included are porcelain, jade carvings, furniture, Buddhist sculptures, and scholar objects. Day-two of the sale on May 24 focuses primarily on Chinese paintings, calligraphies and snuff bottles with 183 lots.
Lot 245, a Chinese gilt bronze figure of a bodhisattva; Estimate $15,000-$25,000
A day-one highlight at Oakridge is lot 245, a Chinese gilt bronze figure of a bodhisattva. A bodhisattva is someone who has achieved enlightenment, but chooses to stay on the earth to help ease the sufferings of others. This six-armed, eleven-headed deity depicts a rare form of the Buddhist bodhisattva of compassion Avalokiteshvara.
Skillfully casted and standing on a low lotus base, this is one of the deity's ultimate manifestations - with numerous arms and heads, he is essentially able to multitask in aiding of needs and plights of Buddhist dharma followers. Estimated at $15,000-$25,000, the base is also inscribed with a seven-character mark, suggesting the bronze figure was made during the Yongle Period 永樂 of the Ming Dynasty (1403-1424).
Lot 200, a pair of blue and white Chinese bowls; Estimate $10,000-$15,000
In the porcelain category is lot 200, a pair of blue and white Chinese bowls. Elegantly proportioned, the bowls have a fine design of four medallions on the exterior, and a large stylized lotus petal encircled by smaller pomegranates in the interior.
This pair of bowls comes from the collection of Cao Maoji, a 20th Century Hong Kong writer and poet. The bases feature a very rare recessed foot rim, with each bearing a six-character mark of Yongzheng 雍正 (1723-1735). These bowls are estimated at $10,000-$15,000.
Lot 280, Chinese Huanghuali Horseshoe-Back Chair; Estimate $4,000-$6,000
Lot 280 is a Chinese furniture highlight from the Oakridge auction. This horseshoe-back chair emulates examples from the 17th/18th Century of the Qing Dynasty. Crafted from huanghuali 黃花梨 (which loosely translates to yellow pear wood), this type of hardwood is known for its rarity and immaculate graining. The chair is estimated at $4,000-$6,000.
Lot 465, Lotus Painting by Zhang Daqian Given to Qiangli; Estimate $30,000-$45,000
Day-two of the painting selection at Oakridge Auction is highlighted by lot 465, a large Chinese watercolor depicting lotus by master Zhang Daqian 張大千 (1899-1993). Zhang Daqian, often referred to as the 'Picasso of the East', was one of the most influential Chinese painters of the 20th Century.
Zhang's style changes constantly from more traditional works showing landscapes, figures, flora and fauna, to more abstract paintings that synthesize Chinese and Western aesthetics. This current painting has a date of 1961, and was given by the artist to the now-deceased Californian owner. This fine depiction of lotus is estimated at $30,000-$45,000.
Yu Youren 于右任 (1879-1964) is one of the important Chinese calligraphers featured in the Oakridge auction. A scholar, writer, educator and politician, his works are extremely venerated throughout in China during the 20th Century.
Lot 431, Chinese 5 Character Calligraphy Couplet, Yu Youren; Estimate $4,000-$6,000
Estimated at $4,000-$6,000 and $5,000-$8,000 respectively, lots 431 and 432 are calligraphy couplets featuring the artist's energetic and distinctive mastery of the Chinese text.
Don't have a Bidsquare account? Sign up here!
Be in the know about upcoming online auctions and exciting post-sale results by following us on Facebook and Instagram.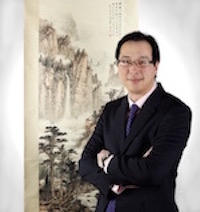 Anthony Wu is an Asian Art consultant, researcher, writer based in Toronto, Canada. After working eleven years as the Asian Art specialist at two of Canada's largest regional auctions, he started his own art advising firm where he consults for various auction houses, museums, and private clients in Canada and the USA. He is a certified Chinese Fine Art appraiser with the Appraisers Association of America.