As Earth's largest and most populated continent, Asia and the exquisite works of art found there, represent nearly half of the world's artistic traditions. Within this one category, art enthusiasts can relish in a myriad of civilizations, religions and skillful techniques stretching back thousands of years.
In the auction world, many of us observe in awe as pristine Asian Art objects become available for public view, and at how often these works find themselves, (rather, re-find themselves) being purchased by buyers with a profound understanding of this ancient and complex subject. There are countless points of intrigue within Asian Art; golden threads conjure the menacing grins of silk dragons, nirvana rattles inside the metal bodies of meditating deities and elegant ink trails deliver folklore by the tip of a horse hair brush!
Here to help us find our bearings in this not so basic subject is Anthony Wu, an Asian Art consultant, researcher and specialist who has worked with major regional houses in both the USA and Canada.
Lot 8215, Attr. to Qi Baishi, Orchids and Grasshoppers; Sold for $60,325
1. Regions and Markets
Asia is such a massive continent with so many different regions, making it extremely difficult to fairly (and concisely) pinpoint all the nuances about its art market.
The Asian Art regions can be divided into smaller areas including:
- East Asia (China, Japan and Korea)
- South East Asia (Thailand, Indonesia, Cambodia, Vietnam, the Philippines, etc.)
- The Himalayan Region (Tibet, Nepal and sometimes Mongolia)
- India and Pakistan
- The Islamic World (Mughal India, North Africa, Turkey, Iran, Syria, etc.)
Today, Chinese Art fuels the Asian Art market. For most of the 20th Century, buyers and institutions in Europe, the USA, Hong Kong and Japan represented the Chinese art market. Nowadays (and it really started 10 to 12 years ago), it became extremely fashionable for Mainland China's burgeoning middle and upper class to buy back works of art from their culture.
There has been such a high demand for Chinese works of art that supply never meets the demand. Hence we are seeing blue chip Chinese art objects selling for extremely high prices.
Himalayan Art, with Buddhist Art in particular, is also doing extremely well. Many Chinese art buyers are purchasing Buddhist sculpture, paintings and relics that traces the history of Buddhism from its beginning in India through Nepal and Tibet, all the way to China.
On the other hand, South East Asian Art and Japanese Art have faced a disappointing lull. For South East Asian pieces, there has been a dearth of new collectors replacing the esteemed collectors of the 1970's and 1980's.
With respect to the Japanese art market, prices have plummeted since the 1990's. This has to do with the Japanese economic crash during that time and also a lack of a new generation of strong buyers and collectors.
The Middle Eastern and Indian art market is still performing well though. Like the Chinese art market, there has been a strong contingency of new buyers with extremely high purchasing power who relish in purchasing objects from their culture. Most of these new buyers are based in major international hubs like Mumbai, New Delhi, Dubai, New York and London.
Lot 96, Monumental Fencai Flower and Landscape Vase, China, Qianlong period; Sold for $27,060,000
2. Subject Matters
For the most part, all the various regional art in Asia can be divided into:
1) Items with imperial associations
2) Those designated for the literati class
3) Folk art (other categories may include devotional art and export art)
Art with imperial connotations, especially in China, is at the top of the hierarchy these days. Items made especially for the emperor and his family including porcelains, jade carvings, furniture, paintings, textiles and metal work, are extremely popular. Everybody wants something that the emperor and his family may have touched!
With Japanese Art, popular categories include woodblock prints by the ukiyo-e masters such as Hiroshige, Hokusai and Utamaro, and 20th Century artists like Hasui, Yoshida and Saito. Samurai armour and swords are still selling well, especially with buyers in the USA and Europe. Despite a downward trend in the market over the past 25 years, items from the late 19th Century like Satsuma, mixed-metal bronzes and silver vessels, and cloisonné by top workshops are slowly making a comeback.
In the Islamic art market, again, works with imperial connections sell particularly well. In India, this would include miniature paintings and objects dedicated to the Mughal rulers. In the Middle East, these tend to be ceramics, glasswork, paintings, and religious objects.
Lot 525, Gilt-bronze Buddha, Tibetan China, 18th century; Estimate $36,900
3. Fraud Protection!
The idea of faking works of art is not just indicative to the Asian Art market. Over the years I've come across many questionable examples of objects like Russian Fabergé, European paintings, and African Art.
When looking at Asian Art though, especially in the Chinese art market, you have to be especially careful with fakes in the market. Typically, when examining an object like a porcelain bowl, I would have to look at many different criteria including the colors, quality of design, weight and potting. I'd also have to look at the provenance and auction estimate.
If the item is supposed to have a fair market value of USD 200,000 and the estimate is only USD 500/700, then something is definitely off!
With Chinese Art too, you have to consider the maker's intent. In both paintings and works of art, there are objects that pay homage to early periods.
One of the most famous examples is the painting 'Along the River during the Qingming Festival' by the Song Dynasty painter Zhang Zeduan (1085-1145). This painting was copied throughout the later Ming and Qing Dynasties for the enjoyment of emperors, officials and scholars.
These days however, there are many copies of this painting emulating not the Song Dynasty original, but the 18th or 19th Century copies. It is the intent of the artist to trick the buyer into thinking their rendition is much older than it really is. Fortunately, the idea of fakes is not as prevalent in the other Asian regions. This is not to say that they are completely safe, but they definitely aren't as difficult as the Chinese art market.
Overall, beginners to Asian Art need to pay attention to the auction description and the estimate. A little bit of research helps too. Whether it requires a bit of studying or employing the services of an art adviser.
Finally, ask yourself and the auction specialist as many questions as you can. Is the object and price point too good to be true? What is the provenance? How does this object compare to similar objects recently sold in the market?
Lot 125, Jadeite Covered Censer, China, possibly Qianlong period; Sold for $30,750
4. Valuable By Nature
In terms of type of Asian Art items to collect, my suggestion will always be to purchase an item that you like, and not see it as a piece of investment. If you are a first time buyer, it's probably best visit previews and galleries a couple of items first before making a purchase - see what type of objects are out there. It is always helpful to visit museums and purchase books on the subject you enjoy. Also imagine yourself living with the object for at least a couple of years.
However, some Asian Art objects do have intrinsic value in the material itself. This includes carvings and vessel made of jade, ivory, rhinoceros horn, coral, gold and silver. For the most part though, the age and quality of these items would be more of a determining factor for its value. For example, an 18th Century jade snuff bottle from China would be significantly more valuable than one carved in the mid 20th Century.
Lot 1153, Pair Chinese Export Porcelain Inset Armchairs; Sold for $4,063
5. Asia Week
Asia Week is one of the best times to learn about the Asian Art market. In addition to the numerous Asian Art themed previews, auctions, lectures and museum openings in the New York area, there are many Asian Art auctions on Bidsquare including Skinner in Boston and Leslie Hindman Auctioneers in Chicago that make browsing the catalogs and doing your own research easy.
Auction previews are essential to learning about the Asian Art market. You will get to examine the objects, see what the trends are, and maybe even meet new friends! It's also a good opportunity to see the wide range of objects simultaneously. If you are just a beginner in this field, then you might be able to find the categories that interest you the most, whether it is furniture, carpets, sculpture, works of art or paintings.
Click here to view Skinner's upcoming Asian Works of Art auction on September 14th.
Click here to view Leslie Hindman Auctioneers, upcoming Asian Works of Art auction on September 17th.
Click here to view all upcoming Asian Works of Art on Bidsquare.
Don't have a Bidsquare account? Sign up here!
Be in the know about upcoming auctions and exciting post-sale results by following us on Facebook and Instagram.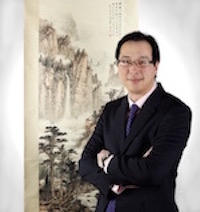 Anthony Wu is an Asian Art consultant, researcher, writer based in Toronto, Canada. After working eleven years as the Asian Art specialist at two of Canada's largest regional auctions, he started his own art advising firm where he consults for various auction houses, museums, and private clients in Canada and the USA. He is a certified Chinese Fine Art appraiser with the Appraisers Association of America.