After a successful Asia Week in New York late September, the Asian Art market once again proved its resiliency despite the global pandemic and economic uncertainty. Major artworks were sold in the categories of Japanese woodblock prints, Chinese archaic bronzes, Chinese imperial porcelain, Chinese jade carvings, and Hindu and Buddhist sculptures.
The strong market signifies that Asian art collectors around the world are still seeking high quality objects, especially those that are rare and have substantial provenance.
Following in the footsteps of Asia Week, Skinner in Boston will be showcasing their Asian Works of Art auction on October 9. This 327 lot sale features objects from China, Japan, Korea, the Himalayan region, and the Islamic world.
Lot 100, Blue and White Lotus-mouth Bottle Vase; Estimate $600,000-$1,200,000
The top piece of the sale is lot 100, an extremely rare Chinese blue and white lotus-mouth bottle vase. The base bears the six-character mark of the Yongzeng 雍正 Emperor suggesting that this vase was made in the imperial workshops of Jingdezhen between the years of 1723-1735.
Lot 100, Blue and White Lotus-mouth Bottle Vase; Estimate $600,000-$1,200,000
This bottle vase is elegant in its proportions and features the Yongzheng emperor's appreciation of the past. The shape is based on Chinese ancient bronze bottles from the Han Dynasty (206 BC – AD 220), while the overall decoration of lotus florals, scrolling vine and simulated 'heaping and piling' are derived from early Ming Dynasty examples.
Typically, Yongzheng vases of this form have monochrome glazes, so blue and white versions of this type are exceedingly rare. The only other known example sold in Sotheby's Hong Kong on 8 April 2011, lot 3117 for USD 2.9 million.
This Skinner blue and white bottle vase was consigned by the descendants of Ward Thoron (1867-1937), a member of very prominent New England family involved in overseas trade with Europe and Asia. This family heirloom is estimated at $600,000-$1,200,000.
Lot 234, Large Ancestral Portrait Painting; Estimate $3,000-$5,000
Also at Skinner is lot 234, a large Chinese ancestral portrait painting. Ancestor portraits are quite common in the homes of government officials and members of the nobility during the Qing Dynasty. However, this example is unusual because of the high number of generations it depicts. I can count seven generations ranging from the Qianlong (1736-1795) to Tongzhi (1862-74) periods! Most of these types of portraits would at most feature two to three generations. This rare portrait is estimated at $3,000-$5,000.
Lot 172, Gilt-bronze Figure of Thousand-armed Avalokitesvara; Estimate $5,000-$7,000
In the Himalayan category at the Skinner auction is lot 172, a Sino-Tibetan gilt bronze figure of thousand armed Avalokiteshvara. Estimated at $5,000-$7,000 and acquired from a New England gallery, this figure depicts the Buddhist bodhisattva of compassion. Bodhisattvas are enlightened individuals who chose to remain on the earth to ease the sufferings of mortals.
This particular form of Avalokiteshvara is well-cast with complex details throughout. The deity is depicted with eleven heads and numerous arms to showcase he is a celestial being who sees and hears everything, and can help the less fortunate not just on earth, but in different realities as well.
Lot 275, Clifton Karhu, Nishjin Roofs, Japan, 1983; Estimate $800-$1,000
Finally, at the Skinner sale is a series of sosaku (creative) woodblock prints by renowned American artist Clifton Karhu (1927-2007). Formerly from Minnesota, Karhu was stationed in an American naval base in Japan after WWII where he fell in love with the country.
He eventually moved to Kyoto in the early 1960's and became a professional artist. Karhu excelled in printmaking and won numerous international accolades for his self-published works. He is most famous for his depictions of traditional Japanese homes and architecture, which all bear his insight on colour and geometric patterns. Karhu's signature style is evident in lot 275, his woodblock triptych titled 'Nishjin Roofs' of 1983, with an estimate of $800-$1,000.
View the full catalog of Skinner's October 9 sale of Asian Works of Art.
Don't have a Bidsquare account? Sign up here!
Be in the know about upcoming auctions and exciting post-sale results by following us on Facebook and Instagram.
_______________________________________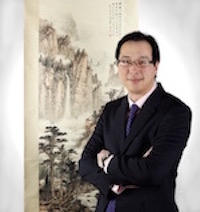 Anthony Wu is an Asian Art consultant, researcher, writer based in Toronto, Canada. After working eleven years as the Asian Art specialist at two of Canada's largest regional auctions, he started his own art advising firm where he consults for various auction houses, museums, and private clients in Canada and the USA. He is a certified Chinese Fine Art appraiser with the Appraisers Association of America.