Pook & Pook's Downingtown, Pennsylvania auction gallery is getting ready to help Santa and his elves again this holiday season. Many passionate toy collectors have eagerly been awaiting the next Antique Toy Auction with Noel Barrett. Tucked between Thanksgiving and Christmas, the upcoming Antique Toy Auction will commence at 9am on Friday, December 4th. This latest collaboration with the acclaimed antique toy expert Mr. Noel Barrett will be a live salesroom event with phone, absentee, internet, and live bidding (reservations required) available on every lot. The Pook & Barrett team anticipate high interest in the pre-holiday sale and tremendous interest from internet bidders. To encourage easy access for cyberspace bidders, Pook & Barrett will offer online bidding on Bidsquare, as well as in-house absentee, live, and phone bidding. As is typical, the upcoming Christmas Antique Toy sale is diverse in its offerings, presenting various collections from across the country.
Lot 148, Mechanical model of a Knox fire truck, ca. 1910; Estimate $6,000-$8,000
Bidders who attended Pook and Barrett's previous Antique Toy Auctions will remember the exceptionally diverse offerings, a tradition that continues with this sale. The holiday specific offerings in the sale present a wide variety of Christmas décor. Numerous German composition Belsnickel candy containers, German Father Christmas toys, and ornaments abound. We don't have Elf on a Shelf, but how about an elf on a reindeer? And a special Dresden Santa with a sack of toys and a feather tree that is estimated at $600-900. It is one of numerous Dresden lots on offer. Spun cotton figural ornaments include a hiker, a Geisha girl, and the Three Musketeers. A top Yuletide piece is a figural milk glass Santa Claus miniature oil lamp from the late 19th c. ($1,200-1,600). If you don't want the trouble of decorating your own tree, pick one of the seven fully ornamented feather trees in the sale ranging from a charming 11" blue tree to a 6' tree decorated with well over 60 early glass ornaments. A 3.5' tree has over 50 Santas on tree limbs while the nearly 6' tree sports over 50 painted angles.
A perfect toy for under a fairly large tree is a Schoenhut Humpty Dumpty circus with a full contingent of performers and animals under the tent. Two much earlier animated clockwork figures rounding out the circus lots on offer are a striding leopard measuring a fearsome 26" long and a slightly more friendly looking tiger atop a wooden ball advertising Hagenback circus – both key-wind with nodding head action.
Also bringing the whimsy of Christmas's past is a Noah's ark with countless critters on board, two by two. Toys for well-behaved little boys and girls include a fully outfitted school room with a teacher and seven book covered desks. For the very well-behaved chef is an astoundingly detailed German-made stove in heavy steel furnished with more than a dozen brightly polished copper accessories.
No toy sale is complete with a grouping of trains, this sale includes a Lionel Blue Comet, A Carpenter cast iron floor toy and a scarce Beggs style loco and tender, style #2 by Garlick who worked for Beggs.
Pressed steel is also a must in a well-rounded toy auction. The group of more than twenty of these large-scale toys in the sale include toys items by all the great makers, Buddy L, Kelmet, Sturditoy, etc. One of the highlights is a Keystone ambulance in the original box.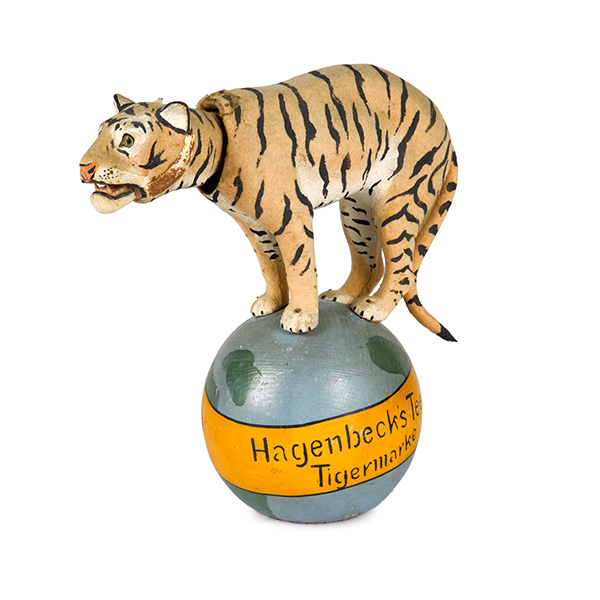 Lot 88, Roullet & Decamps clockwork tiger on a ball trade stimulato; Estimate $2,500-$3,500
The highlight of the aeronautical toy collection of the late Harry Nowak is a Kenton Flying Boat with "FOKKER" lettering on the wings and nickel-plated wing-tip pontoons. Kenton's unlettered version of this toy is scarce enough, no collectors we've talked to has ever seen this style - a new find? Along with Nowak's cast iron fleet is lithographed tin airplane, a Tippco-1029 bomber complete with under-wing mounted bombs, this from the Bill and Stevie Weart Collection. The cast iron automotive toys keep coming down the chimney, including a number of excellent examples also from the Weart Collection, among them a group of colorful taxicabs and a nice example of a Hubley armored motorcycle. Additional iron automotive pieces include a group of ten colorful and finely crafted car models by Tom Selhoff. Even more iron in the sale comes from a small group of mechanical banks highlighted by a Darktown Battery in the original box.
Always popular when they turn up at an auction are Baranger motions, colorful and cleverly electric animated window displays that were rented to small-town jewelry stores from the 1940s to '60s. There are five of them in this auction…FIVE! The highlight is an incredible lovebird carnival display featuring a central Ferris wheel, a carousel, and a burger stand, all with lovebird couples and a placard that reads "You can be her Love Bird - Buy that Diamond Now".