BOSTON, MA – May 17, 2019. Skinner's Boston May 10 auction of American & European Works of Art saw a curated two-session sale of Prints, Multiples, and Photographs followed by Paintings, Sculpture, and Drawings. Participation was brisk with over 1,000 registered bidders from the U.S., Central America, United Kingdom, and Europe competing online, by telephone, in the room, and via partner platforms.
Lot 321, John Singer Sargent, Bologna Fountain, titled and dated to c. 1909; Sold for $184,500
Top lots in the auction included two watercolors by John Singer Sargent (American, 1856-1925). The works had long been in the possession of John S. Ames and descended through the prominent New England family. Bologna Fountain, a small watercolor and gouache, titled and dated to 1909 was purchased from the artist by the Museum of the Brooklyn Institute of Arts and Sciences, New York, (through M. Knoedler & Co.) by special subscription, deaccessioned in 1926 and purchased by John S. Ames, Boston, March 1927; where it remained with his heirs and descendants.
Lot 320, John Singer Sargent, Olive Grove, Watercolor and pencil on paper, 1913; Sold for $86,100
In the early years of the 20th century, Sargent turned his attentions to plein-air paintings and worked on several views of the Fontana del Nettuno (Neptune Fountain) in Bologna. The Sargent catalogue raisonné deems this work, "…one of the most subtle and beautiful of Sargent's architectural studies." Bidders must have agreed. With buyer's premium, the work soared past its pre-auction estimate to sell for $183,000. A slightly later Sargent watercolor, dated 1913, of an Olive Grove descended in the same family, and reached $86,100. Robin S.R. Starr, Vice President and Director of American & European Works of Artnoted, "…both of these works had been tucked away in a private collection for decades, yet both exhibit Sargent's quintessential style with his Italian subjects, bathed in sunlight and shadow. They are utterly irresistible."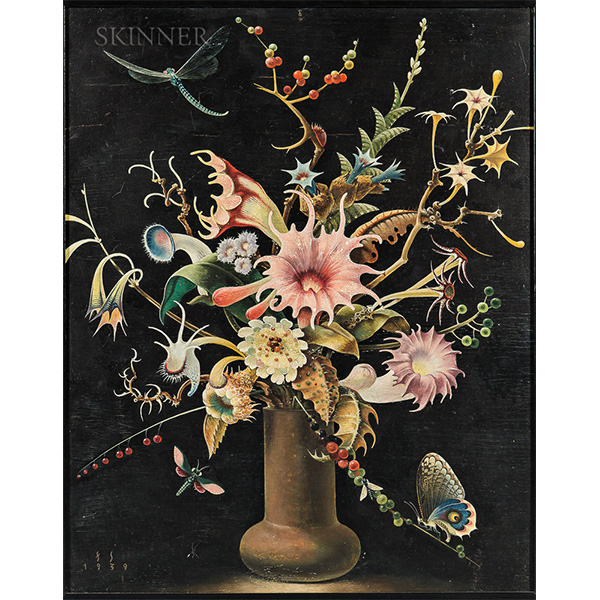 Lot 391, Franz Sedlacek, Blumenstück, Oil on plywood panel; Sold for $184,500
Other sale highlights included the cover lot by Franz Sedlacek (Austrian, 1891-1945) Blumenstück, a fascinating floral; part 17th century Dutch still life and part Surrealist fantasy of carnivorous blooms. The painting descended in the family of the artist, given first by the artist to his brother, and then by the brother to his daughter. The painting sold for $183,000 against an estimate of $60,000-80,000.
Lot 382, George L.K. Morris, Composition, Oil on Masonite; Sold for $38,130
Also, far exceeding their pre-auction estimates were an 1885 work by William Trost Richards (American, 1833-1905) titled The Shores of Bude, Cornwall, (alternatively titled Coast of Cornwall) which sold for $46,125 and George L.K. Morris' (American, 1905-1975) Composition selling well above estimate at $38,130. Bidding was spirited for an equestrian themed work by Franklin Brook Voss (American, 1880-1953) titled OUR FRIEND ridden by Noel Laing pushing it to $25,830 or more than 10-times its pre-sale estimate.
Overall, for both bidders and consignors, the auction was a success. Skinner is currently accepting consignments for the September 2019 auction through the month of June.