SOUTH SAN FRANCISCO, CA, January 18, 2023 – Turner Auctions + Appraisals is pleased to present The Armond Conti Collection of Model Trains, Part 2, on Sunday, January 29, 2023, at 10:30 am PST. Featuring 200 lots from the estate of a Northern Californian who collected trains for over 75 years, the sale presents a variety of fine, distinctive, and desirable pre-war and post-war train offerings – some new old stock, some unused, and many in their original boxes. These include locomotives, tenders, and cabooses; numerous sets and groupings; and a wide selection of train cars, including flat, passenger and baggage (Madison, Baby Madison and Heavyweight among them), fire, milk, dump, refrigerator, box, freight, coach, vat, and missile and helicopter cars. There are also many accessories on offer: besides switches, transformers and Gargraves track, there are loaders for logs and oil drums, gatemen, platforms, a coal elevator, nuclear reactor, burro crane, automobiles, billboards and street lights, and more. Many lots are Lionel model trains; other manufacturers in the sale are MTH, 3rd Rail, K-Line, Atlas, Williams, KMT, Kusan, LGB, and REA/Polk. Most are O gauge. (Read about Armond Conti and his collection, below.)
Here are some highlights of the upcoming sale (see details in the online catalog):
Lot 16: Lionel Postwar 2240 Wabash F-3A and F-3B 2240 Wabash F-3A: Horns, steps, trucks and couplers intact. Corrosion on horns. Paint has heavy wear spots in usual areas. Horn battery compartment is clean. Nose decal is yellowed. Horn sticker is partly missing. 2240 Wabash F-3B: Steps, trucks, and couplers intact. Rust spots on step mounts.
Estimate: $200 - $400
Lot 70: Williams SP GS-4 4-8-4 Daylight No. 5600 O Gauge Loco & Tender. Williams Electric Trains Southern Pacific 4-8-4 GS-4 Daylight No 5600 O Gauge in original packaging with shipping carton.
Estimate: $200-$400.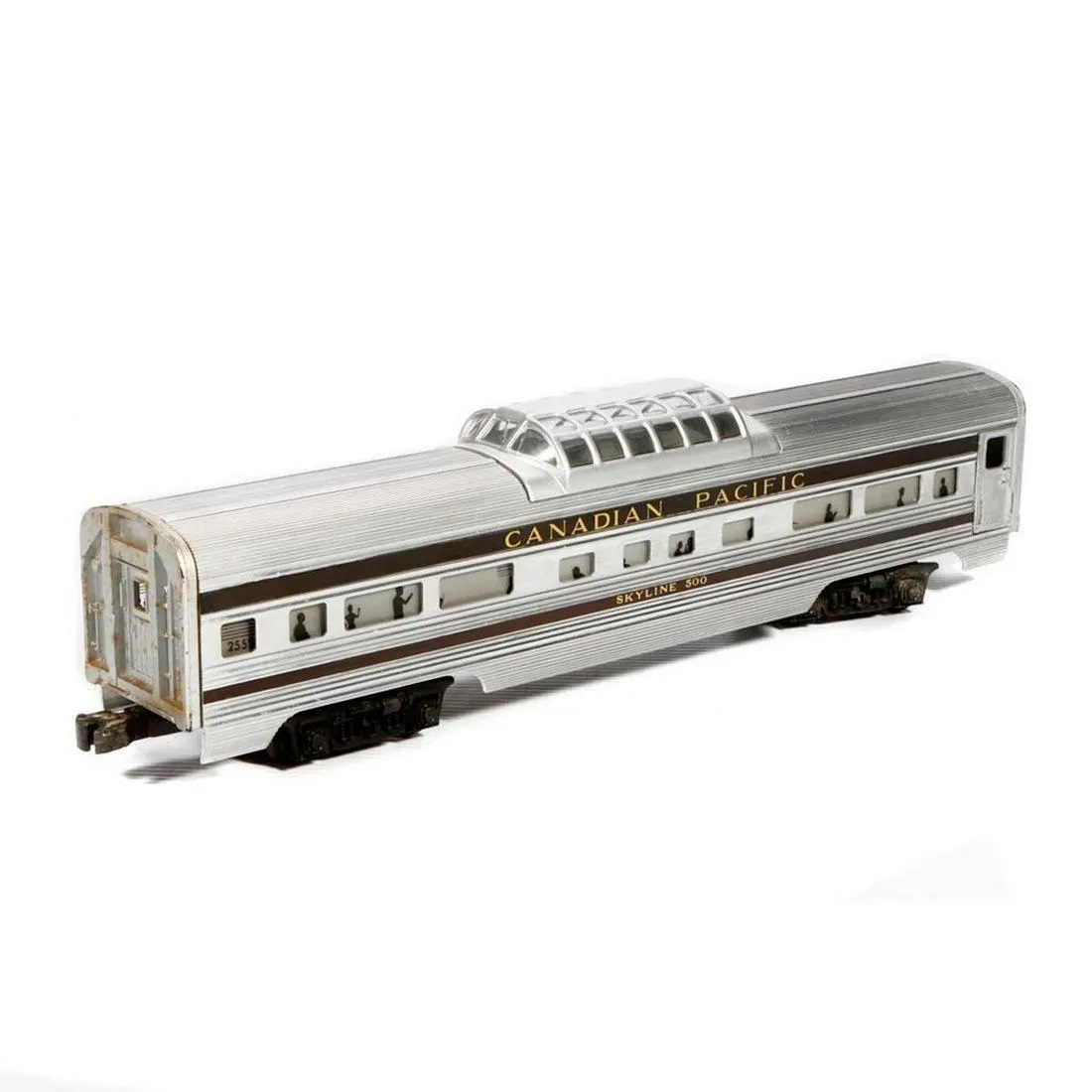 Lot 34: Lionel 2552 Canadian Pacific Vista Dome Aluminum Passenger Car. With wear from use.
Estimate: $100-$200
Lot 91: Lionel 6-14065 Accessory No 463 Nuclear Reactor Model. In original box.
Estimate $150-$250
Turner Auctions + Appraisals begins its online auction on Sunday, January 29, 2023, at 10:30 am PST; sale items are available for preview and bidding now.