Pook & Pook, Inc.'s Online Only Coins & Jewelry auction, held on Wednesday, May 23rd 2018, brought incredible results on the online bidding platform bidsquare.com. In the days prior to the sale, the Downingtown auction house was busy with a flurry of numismatists and jewelry lovers who spent hours previewing the over 700 lots on offer. Busy preview days ultimately resulted in high prices across the board and the well-received auction was a huge success. Those with a keen eye and a passion for collecting rare coins and unusual jewelry showed up in strong numbers, with a total of 235 registered bidders. As the hammer fell on the final item, every lot had found a buyer with a total sale price of $299,604.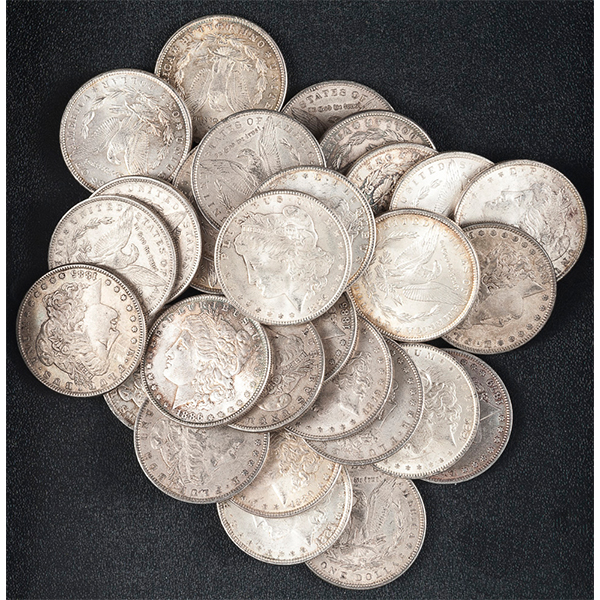 Lot 1554, Thirty-one Morgan silver dollars; Sold for $775
Coin and currency highlights from the sale include impressive prices for all things silver, a testament to the vitality of the current silver market. A number of lots included silver Peace dollars and silver Morgan dollars, with nearly every lot selling for over its high estimate. Silver half dollars, silver ingots, silver quarters and dimes all followed suit with a strong trend of consistently high prices. Gold coins also produced noteworthy prices in this sale, with a two and a half dollar Indian head coin reaching $250. South African currency was another excellent seller in the sale, with two lots of Rand gold coins reaching $2,875 each. A lot of thirteen complete Lincoln Cents collector books blew past its high estimate of $50-$80 to achieve a sale price of $1,250. Lots featuring paper notes included a fascinating selection of Colonial currency, including a 1767 Maryland one dollar, a 1775 Maryland one dollar, a 1776 Philadelphia seven dollar, and a 1777 Delaware half crown, ultimately selling for $238. An 1899 five dollar US silver certificate also achieved a high price at $513. The impressive total may be attributed to its rarity as the only US paper currency to feature a Native American as the central portrait with its depiction of Running Antelope, a celebrated Sioux chief.
Lot 1024, U.S. series of 1899 five dollar silver certificate; Sold for $513
The topmost selling lot of the day comes from the jewelry portion of the sale. A hefty 14k gold and 2.25 carat diamond ring was the object of many bidders affection and reached a sale total of $4,688. Collectors of pocket-sized timepieces were out and bidding. A 14k gold Elgin pocket watch saw a price of $675 and a similar French engraved pocket watch sold for $488. A stunning platinum and 1.45 carat diamond ring in a timelessly beautiful Art Deco setting was another highly sought after lot and sold for $2,813. One lucky buyer won a .80 carat diamond engagement ring with beautiful milgrain shoulder detailing at an absolute bargain price of $900. Deals of the century are the reason why buyers continue to frequent auction houses – you never know what kind of treasure you might find and modest prices make it fun to collect!
For further information on these or any items from the May 23rd auction please contact Pook & Pook, Inc. at info@pookandpook.com or (610) 269-4040. A complete list of prices realized may be viewed online at www.pookandpook.com. Looking to consign some items from your own collection? Pook & Pook, Inc. are always accepting quality consignments. For more information, please contact Pook & Pook, Inc. via email at info@pookandpook.com or by telephone at (610) 269-4040.