Even as chilly winter weather persists, Pook & Pook, Inc. is looking to heat things up with their ever-popular annual spring Americana & International auction. On April 28that 10am just over 500 lots are set to cross the auction block. Bidders young and old are invited to shake off that winter weather funk and discover a new bit of history to breathe fresh air into their collection.
Saturday morning's auction draws its strength from a group of devoted collectors who have sustained the past in their finely-curated estates and cherished family heirlooms. Fine art, folk art, furniture, and ephemera from a number of important estates create the bulk of this sale, featuring items from The Estate of Dorothy Burkholder, Huntington Beach, CA, The Estate of Charles R. McCrae, Berwyn, PA, The Estate of Robert S. Knox, New Oxford, PA, The Collection of Bruce Linder, Bel Air, MD, The Transferware Collection of Benjamin and Susan Ventresca, West Chester, PA, and The Estate of Larry Dumont, Easton, PA.
Lot 1138, Important Berks County, Pennsylvania painted pine dower chest, ca. 1775; Estimate $80,000-$120,000
Highlights from this sale include an Ammi Phillips portrait ($12000-18000) descended from the family of the sitter, a sought-after blue Berks County painted dower chest c. 1775 ($80000-120000) with a high quality of remaining paint, and a banjo clock ($1500-2500) by Massachusetts clockmaker and convicted murderer Elmer Stennes. Other interesting and exciting items offered in this sale include a diverse assortment of cast iron door stops, Pennsylvania Chippendale furniture, and an exceptional late 19thc. gilt sheet copper ice skate weathervane plucked from a Vermont workshop ($6000-9000).
Lot 1001, Charles Morris Young, Winter Landscape, Oil on Canvas; Estimate $20,000-$30,000
Pook & Pook, Inc.'s sale will begin with an assortment of fine art. A winter landscape by pioneer of American Impressionism, Charles Morris Young, decommissioned from the Pennsylvania Academy of the Fine Arts, will be the first item to cross the block. Following in sale are a vast assortment of oil paintings featuring farm scenes, equestrian themes, maritime motifs, and Pennsylvania landscapes. A painting by Ben Austrian, renowned painter of poultry, is expected to do very well in sale and carries an estimate of $15,000-$20,000. Other paintings worthy of mention include a John Folinsbee ($3000-4000), a Fern Coppedge ($4000-6000), and a meticulously detailed bird's eye view of a Berks County farm by "Pennsylvania Almshouse Painter" Charles Hofmann ($20000-40000). The late addition of an impressive pair of Rembrandt Peale portraits rounds out Pook & Pook's offering of exceptional paintings.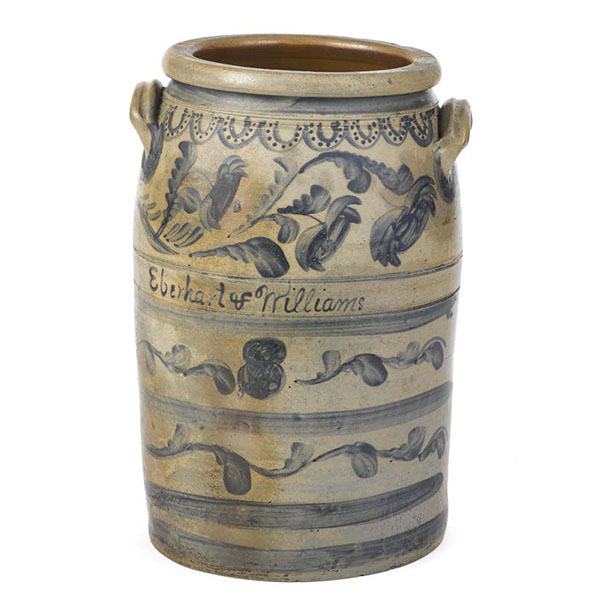 Lot 1061, Rare Pennsylvania eight-gallon stoneware crock; Estimate $3,000-$5,000
Folk art will follow in sale and features items such as an eight gallon crock marked Eberhart & Williams ($3000-5000), from the short-lived 1866-1870 partnership of Adolph Eberhart and J.G. Williams. Very few pieces are known to exist with this inscription. A number of lots featuring Native American beaded bandolier bags will invite competition amongst bidders, as well as several Native American pipe tomahawks. A Hattie Brunner watercolor and gouache winter landscape ($800-1200) will sit comfortably among other Lancaster County treasures, and the unique Arts and Crafts walnut dresser box, attributed to Daniel Pabst ($400-700) will undoubtedly attract the eye of many interested collectors. One lucky baseball fan will hit a home run winning a Louisville Slugger baseball bat made for President Ford signed by forty members of the Baseball Hall of Fame ($3000-5000).
George Washington, founding father of the United States, is present throughout the sale with a number of items featuring his image and even his hand. Such items include a portrait by Jane Stuart, after her father Gilbert Stuart's iconic Athenaeum portrait, ($8000-12000) and an impressive collection of twenty-four Currier color lithographs of U.S. Presidents and historical figures ($1000-2000). Perhaps the most exciting inclusion of General Washington are three lots featuring his signature. A signed letter discussing British troop movements from 1779 ($20000-30000) is an excellent historical document of the American Revolutionary War and will be offered alongside other lots of letters, including those by Marquis de Lafayette and Thomas Jefferson.
Lot 1182, Important Historical Blue Staffordshire Platter, 19th C; Estimate $15,000-$25,000
The transferware collection of Susan and Ben Ventresca is a great complement to this auction, featuring over seventy pieces of highly sought-after Historical blue Staffordshire including items stamped Stevenson, Ridgway, Clews, and E. Wood. While amassing their collection, Ms. Ventresca has said that her personal "white whale" was the Arms of Pennsylvania platter, a most desirable piece that she acquired from Pook & Pook in 2010 for a record-breaking price. The Ventrescas are ready to share the joy of collecting antique transferware with others; the Arms of Pennsylvania platter will be making another appearance at Pook & Pook for this sale ($15000-25000).
Lot 1391, Canadian Painted Pine Dutch Cupboard, Early 19th c; Estimate $3,000-$5,000
A special addition to the sale are one hundred items from the Dumont Estate of Easton, Pennsylvania. An outstanding Walter Emerson Baum painting ($8000-12000) starts the collection. Also included is a massive weathervane, featuring a double ball and bannerette decoration, topping out at a staggering 140 inches ($1000-2000) accompanied by a newspaper photo of the lot in situ on the church from which it was removed. Rounding out this collection of trade signs, hooked rugs, weathervanes, furniture, fraktur, whirligigs, and quilts is a Canadian painted pine Dutch cupboard from the early 19thc. ($3000-5000) and an outstanding English crewelwork panel measuring 108" long ($500-1000).
Saturday's sale will wind down with a collection of silver, both American and English. These items lead into a small grouping of International offerings, including those of European and Asian interest.