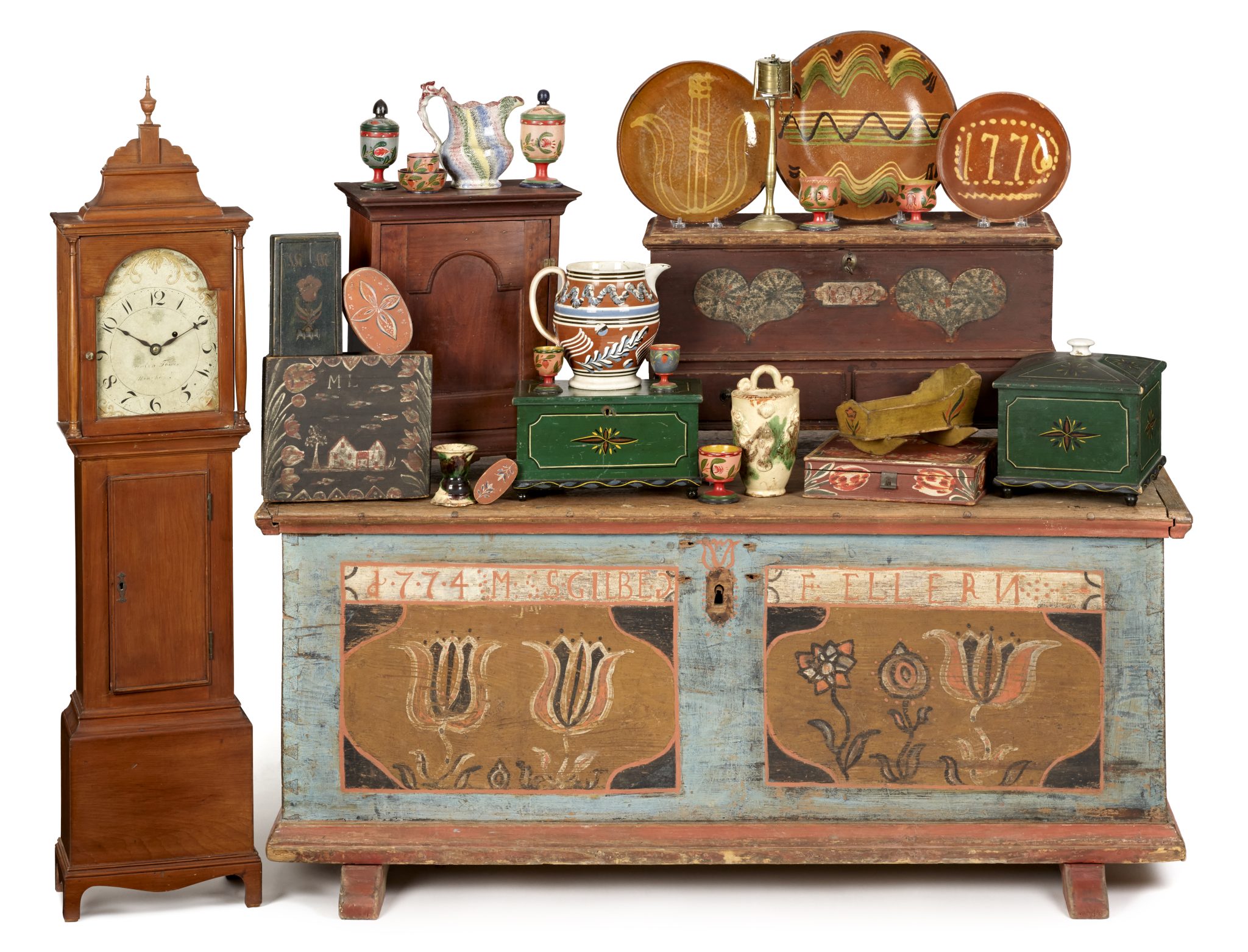 Featuring consignments from five noted collectors and several institutions, the October 5th and 6th Americana and International sale at Pook & Pook offers a wide assortment of mochaware, redware, fraktur, and Pennsylvania, Southern, and New England furniture, clocks, and decorative arts, alongside Chinese export porcelain, and international and American works of art.
The first day of the sale begins with a fine selection of redware from The Collection of Ellen & Richard Levine of New York. Among the highlights are two 19th c. chargers. One, a rare Pennsylvania or Maryland example, has an unusual and vibrant cream and brown slip decoration involving two crossed vines and a dazzling array of leaf medallions; the other is Pennsylvania, with striking yellow and green slip decoration that appears almost three-dimensional. A scarce New York redware bottle, ca. 1830, is attributed to the Mormon leader Heber Kimball of Mendon. The collection holds many New England examples in a range of beautiful colors.
The Collection of David and Barbara Mest features Pennsylvania decorative arts and painted furniture. Top lots include a wrought iron straining ladle and flesh fork, dated 1836 and 1835 respectively, with brass and copper inlaid handles; a collection of miniature redware; and a New York or New Jersey stoneware jar with double-sided incised cobalt bird decoration. Another standout is a Pennsylvania painted pine two-part cupboard, early 19th c., with an old red surface and scalloped pie shelf.
The focus of a Mid-Atlantic Educational Institution's collection is mochaware, including earthworm, cat's eye, fan, banded, marbleized, and seaweed patterns, appearing on everything from small chamber pots to pepper pots, plates, pitchers, and mugs large and small. Windsor chairs of interest include a Southern long leaf pine and walnut writing armchair, and a rare signed Philadelphia lowback Windsor settee, ca. 1790, branded I. Miller.
The Collection of MaryAnn McIlnay, of York, Pennsylvania, features a fine Baltimore, Maryland Federal mahogany ladies' cylinder front secretary desk, ca. 1810, with intricate veneer. A Christian Strenge ink and watercolor scherensnitte liebesbrief valentine is designed to capture hearts. A painted pine dower chest, ca. 1790, Berks or Lebanon County, has a vibrant potted tulip panel design. A Northampton County, Pennsylvania Chippendale inlaid walnut tall case clock has a brass dial inscribed John Miller, and extensive tulip and foliate inlay.
Two giltwood girandole mirrors with eagle crests hail from a Pennsylvania educational institution. Among the most colorful items is a herd of caparisoned carousel horses, and a collection of 19th c. turned and painted barber poles. Rare and special items include: a Francis Portzline ink and watercolor fraktur birth certificate, specially made for her own daughter; a Pennsylvania walnut spice cabinet, ca. 1770, with a tombstone panel door and a ten-drawer interior; a Philadelphia Sheraton mahogany pier table, attributed to the workshop of Haines and Henry Connelly; a rare pair of J.W. Fiske cast zinc "Spitz" recumbent dogs; and two Civil War era painted regimental drums. From a Lancaster, Pennsylvania collection are two gemlike Stiegel Glass Works cologne bottles, one in amethyst with diamond daisy pattern, and one pink amethyst in the twelve diamond pattern.
Session I ends with The Collection of Dr. Garrett I. & Bonnie Long, of Romney, West Virginia. Two clocks of note are a Massachusetts Federal mahogany shelf clock, ca. 1810, dial signed Aaron Willard, Washington St., Boston, and a Massachusetts pine dwarf clock, early 19th c., with dial signed Reuben Tower, Hingham. A Southern Federal mahogany Pembroke table, probably Charleston, has bellflower inlays. Diminutive furniture includes a rare miniature Pennsylvania painted drysink, 19th c., and a stepback cupboard, both with original surface decoration, a miniature painted settee, and a New England Chippendale birch child's slant front desk. An imposing English silver epergne, 1761-1762, bears the touch of Daniel Smith and Robert Sharp. A collection of Chinese export porcelain includes choice Famille Vert, Famille Rose, Rose Medallion, and Canton pieces.
Session II begins with art. A collection from a Delaware Estate includes a John Constable brush and gray wash of fishing boats, a Thomas Gainsborough chalk drawing of a man and horse, a Mary Cassat sketch of a mother and child, two lovely interior mother and child scenes by Jozef Israëls, a harvest landscape in pastels by Léon-Augustin L'hermitte, a School of Peter Paul Rubens chalk drawing of a kneeling woman, and a fine oil on panel portrait of a man, attributed to Hans Bols.
Other marquee artworks include two iconic images of national parks by Gunnar Widforss, a pair of fruit and flower still lifes by Severin Roesen, a riverscape by Edmund Darch Lewis, and a number of Hudson River School works. Other artists include Benjamin West, Robert Street, and Jacob Eichholtz. Nineteenth century animal paintings include two Victorian cats caught admiring themselves in a mirror, an Edward Clarkson portrait of a trotter, two Ben Austrian chick paintings, and a portrait of a terrier by John Emms. Sculptures include works by Andre Harvey, Harry Bertoia, and Frank Finney. The sale features over twenty fraktur and theorem works by David Ellinger.
Session II highlights also include a Pennsylvania Federal mahogany tall case clock, early 19th c., profusely inlaid with a large American eagle on its door. Featured weathervanes are a fancy cast zinc rooster with pleated copper tail, a painted sheet iron Angel Gabriel, a full-bodied copper cow, and a full-bodied copper jockey and running horse. A Carlisle, Pennsylvania silk on linen needlework sampler is wreathed in flowers, and an applique friendship quilt is decorated with a weeping willow and stuffed dove border. Equally ornate, a walnut and tiger maple marquetry inlaid dresser box, 19th c., bears the State Seal of Pennsylvania.
The second session winds down with a collection of property from the Fenimore Art Museum sold to benefit their acquisitions fund. Included in this group is a Pontiac Authorized Service double-sided enameled full feather logo advertising sign, a large oil on canvas Hudson river scene, several portraits, two well executed battle scenes, and Wincester "double W" lithograph ammunition cartridge poster. The sale finishes up with European and Asian material to include silver, furniture, brass, porcelain, clocks, and decorative accessories.
Please join us for this fabulous sale, the week of October 5th and 6th, in-person or online. For more information go to www.pookandpook.com or call (610) 269-4040.
By: Cynthia Beech Lawrence