August 14, 2023, Nantucket, Massachusetts - Fine craftsmanship is front and center during Rafael Osona's Late Summer Auction. From Weatherend estate furniture (7 lots) to portraits of pigeons to golden baskets, Osona's August 26th offerings exhibit skilled artistry, as do the featured objets d'art from the Estate of Stephen Weinroth, Nantucket, MA.
20th-21st century paintings include works by American artists Donald Allen Mosher, David Bareford, Sid Willis, Sam (Samir) Barber, Donald Jurney and John C. Terelak; works by Nantucket veterans Joan Albaugh, Mellie Cooper, David Lazarus, John Austin, C. Robert Perrin, James Harrington, John Lochtefeld, and others; abstractionist works by Michael Rich, Mark Erickson, and Kerry Hallam; maritime works by William Lowe, Louis Sylvia, T. V. C. Valenkamph and others.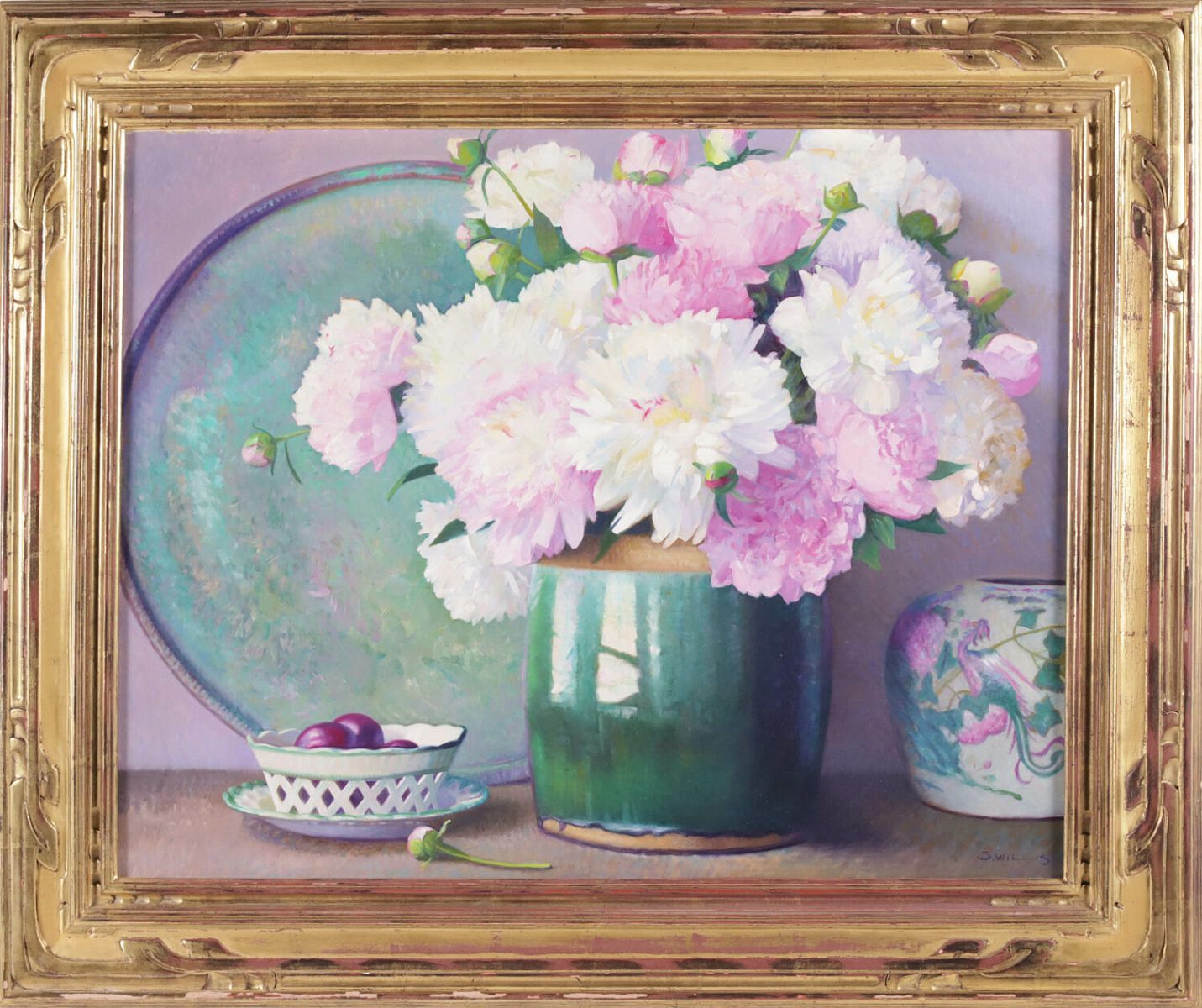 A rare John Austin composition centered on a motoring fishing vessel is unique amid Austin's preference for painting narrative stillness - there's action: the vessel is navigating some chop upon entering Nantucket harbor. (image lot 210-A) Austin lots from the Weinroth Estate also include four scarce lighthouse paintings from the artist's black and white series.
19th century British painters include animal and sporting artists A. M. Cauci, Phillip Eustare Stretton, Edmund Dekoninck, John McLeod, W. Hodnett and Edward Henry Windred.
Each dressed in Scalamandré, a made-to-order Kittinger camelback sofa, a custom-upholstered Chippendale style armchair, and an exquisitely detailed Federal style Neoclassical settee shine. (3 lots) Equally impressive: a liseré silk and inlaid mahogany armchair, plus Stephen Swift's modern bench-made designs (6 lots) and handcrafted Windsor chairs by Warren Chair Works. (lot 416) There are Art Deco leather chairs, mid-century modern cabinets, and 19th century New England Sheraton, English Regency, Georgian and campaign furnishings, together with 18th century Chippendale and marquetry-work; each and all offering stand-out craftsmanship among furniture lots.
For Nantucket basket collectors there's both jewelry and baskets, including vintage Georgia Axt and Nancy Chase pendants, (image lot 187) Glenaan Elliot golden baskets (5 lots), a José Formoso Reyes friendship purse and Nap Plank miniature Nantucket baskets. (2 lots) Of note: Call it a time capsule or a reliquary: "Nantucket Real Estate" pendant: a vintage 14k gold, sealed glass cylinder filled with Nantucket sand.
Exceptional artistry and craftsmanship in Mark Sutherland's model weathervane and ditty box (2 lots) are benchmarks among handcrafted objects d'art ranging from trinket boxes to sculptural, carved and turned wood fedoras and carpenter's tools.
Bidders will find South Sea and freshwater pearl jewelry, (15 lots) American Folk Art quilts (11 lots), maritime artifacts, period fireplace equipment, hand knotted Oriental carpets and more.
Old enough to have free-sampled all 28 of HoJo's ice cream flavors? This Howard Johnson's "Simple Simon" cut steel weathervane is for you.
Rafael Osona Auctions is highly regarded for consistent and exceptional offerings in designer furnishings, Nantucket art & artifacts, fine art, Nantucket baskets, Americana, maritime, scrimshaw & decorative Arts, estate jewelry, carpets and more. He is a third-generation antiquarian, a respected expert in the fields of maritime and Nantucket collections. Rafael is a 43-year master in the discrete sale of privately-owned antiques, fine art, and custom décor to global patrons.
LIVE, IN-PERSON PREVIEW August 24 & 25, 10am-5pm at American Legion Hall,
21 Washington Street, Nantucket Island, Massachusetts, US.
ONLINE AUCTION begins promptly at 9:30am EST August 26th on Bidsquare.com
Register to Bid at least 48 hours in advance
Absentee or Phone Bids: +1(508) 228-3942 or info@RafaelOsonaAuctions.com
Cash, Check, ACH or Wire Transfer
Pickup: August 28 & 29, 9:30 - 4:00; Shipping and Delivery Available