Pook & Pook, Inc. Auctioneers and Appraisers is proud to present their latest Online Only Coins & Jewelry auction, to be held on Tuesday, March 19th. Beginning at 9 am, hundreds of lots will cross the block, from distinctive pieces of fine jewelry to large groups of collectible coins and currency. Collections from various local estates comprise the bulk of the sale, with many items hitting the market for the first time in decades.
Lot 1113, 18K yellow gold Elizabeth II coin pendant; Estimate $800-$1,000
Tuesday morning's sale will open with fine jewelry, with pieces offered in a variety of price ranges. Sterling silver jewelry and costume pieces are plentiful, as are numerous lots of various modern watches. A boon to the sale is a collection of antique time pieces including men and women's pocket watches, in both hunter case and open face format, in gold-filled and 14K varieties. Among the dozens of antique pocket watches offered are pieces by Elgin, Waltham, Hampden, Hamilton, and Trenton Watch Co. Antique ladies wrist watches will also cross the block, including a 14K yellow gold Baume & Mercier example, and two 14K white gold and diamond examples by Elgin and Barr's Supreme.
Three fine pieces of jade jewelry by Gump's San Francisco kick off the sale, and includes two fine pieces of blue jade, and a gray jade beaded necklace with cultured pearls, all offered in their original boxes with original purchase receipts. Many lots comprised of various pieces of gold jewelry will include groupings of 10K, 14K and 18K gold. Featured rings include a handful of stunning diamond engagement rings and sparkly gold bands. Gold herringbone necklaces, classic diamond stud earrings, fine gemstone rings, and attractive gold hoops round out the jewelry portion of the sale.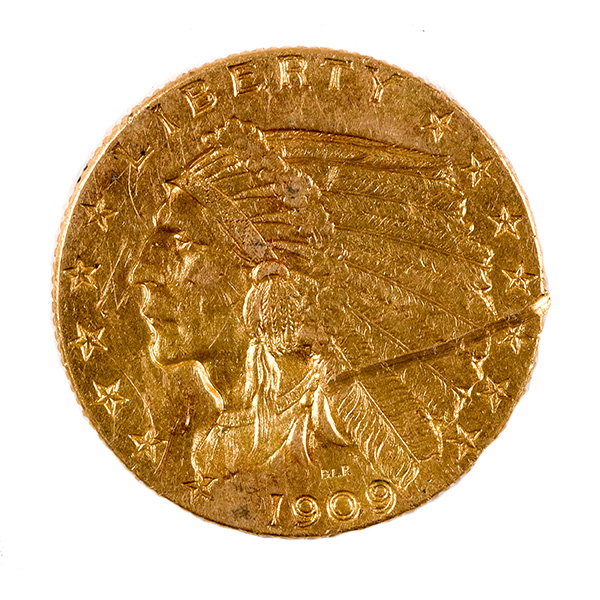 Lot 1455, 1909 Indian Head two and a half dollar gold coin; Estimate $120-$140
To follow in sale are all manner of collectible coins and currency. Many coins in the sale have been professionally graded and remain in their protective coverings. Of special note are a number of gold coins, including two Mark Twain American Arts gold medallions, Five George V gold sovereigns, and a 1924 St. Gaudens twenty dollar gold coin. American currency includes silver dimes, silver quarters, silver dollars, as well as Kennedy half dollars, Walking Liberty half dollars, and Morgan and Peace silver dollars. Proof sets, uncirculated pieces and foreign currency will also be featured in Tuesday's sale, with some surprises along the way. Numismatists are invited to preview each and every item to find that missing piece in their collection.
All of these items and more will be available exclusively on the online bidding platform Bidsquare (www.bidsquare.com). Interested bidders are encouraged to contact Pook & Pook Inc. at info@pookandpook.com or (610) 269-4040 with questions regarding condition reports or online bidding. The catalog for the sale may be viewed online at www.pookandpook.com or www.bidsquare.com. Gallery exhibitions are scheduled for Wednesday, March 13th through Friday, March 15th from 10 am – 4 pm, and Monday March 18th from 10 am – 4 pm, at Pook & Pook's gallery, located at 463 E. Lancaster Avenue, Downingtown, PA 19335. Live bidding will commence at 9 am on Tuesday, March 19th2019 exclusively on bidsquare.com.