December 1, 2020 - Giving Tuesday has become almost as big an event for the holiday shopping season as Black Friday, Small Business Saturday and Cyber Monday. On Giving Tuesday, we are all reminded how important it is to make charitable efforts a part of the holiday festivities.
This year in the midst of a global pandemic the sentiment couldn't be more important. There isn't a charity or cultural institution that couldn't use a donation. And it can be overwhelming to choose where to funnel your funds. An excellent guide that jewelry designers follow is to pick one in your community or near and dear to your heart.
Mish Tworkowski, the creative force behind the New York City based Mish fine jewelry label, has long been inspired by the wonders of nature. Floral motifs are a constant in his classical work with a twist. The vibrant colors of a garden in bloom also find their way into his work.
Over the years the designer has partnered with and supported various botanical gardens to help make sure these glorious destinations continue to thrive.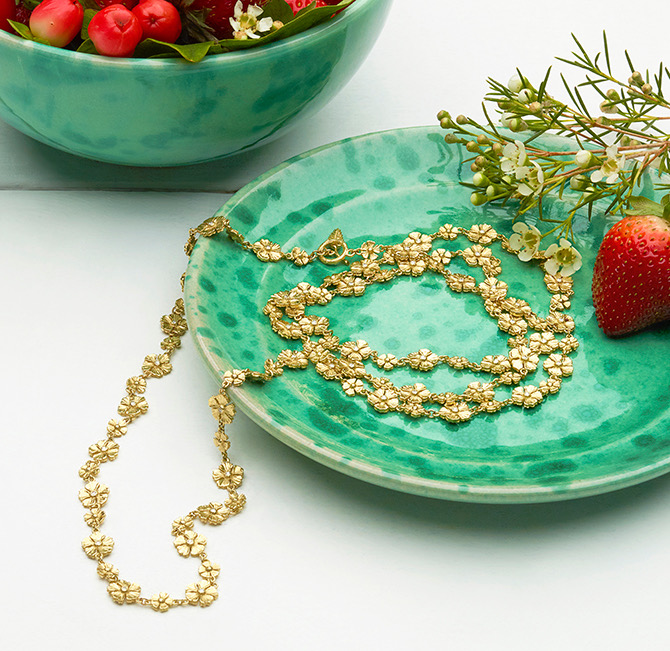 Mish Strawberry Flower Necklaces featured in the charity auction for Cheekwood. Photo courtesy
This year Mish is putting his charitable efforts behind Nashville's Cheekwood Estate & Gardens and support their mission to preserve Cheekwood as a historic landmark "where beauty and excellence in art and horticulture stimulate the mind and nurture the spirit." Originally built as the home of Leslie and Mabel Cheek in 1929, Cheekwood is one of the finest examples of an American Country Place Era estate. It was transformed into a museum of art and botanical garden in 1960.
Mish Chinoiserie Pagoda Brooch featured in the charity auction for Cheekwood. Photo courtesy
For the virtual fundraiser hosted by Bidsquare running through December 10, Mish is offering 28 one-of-a-kind and limited-edition jewels with a portion of proceeds benefiting Cheekwood. The offering, of course, includes botanical themed jewels such as Poppy and Strawberry ear clips and strawberry flower chains.
The centerpiece of the display is a Chinoiserie Pagoda Brooch featuring a 56.5 carat white topaz center stone mounted in 18K gold with over 2.5 carats of princess-cut diamonds, diamond briolettes, pavé diamonds and a white cultured South Sea pearl. For the sale of this piece 100% of the proceeds will benefit Cheekwood.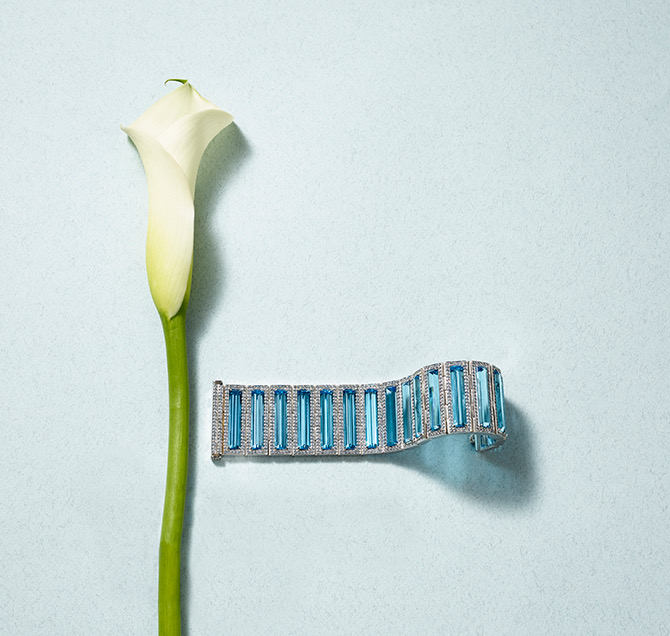 Mish Blue Topaz Raceway Bracelet featured in the charity auction for Cheekwood. Photo courtesy
Normally, Cheekwood raises funds through their Swan Ball. The women who organize it worked behind the scenes to pivot their efforts to put together the online sale.
"The Swan Ball and Cheekwood Estate & Gardens have benefited from the generosity of fine jewelry designer Mish Tworkowski for many years. He is an avid supporter of the arts and has been a Swan Ball Jeweler as well as an underwriter of the Antiques & Gardens Show, which also benefits Cheekwood. We are grateful to present his extraordinary collection in this upcoming online benefit," says Mary Catherine McClellan, Co-Chair of the 2021 Swan Ball. Added her Co-Chair Janette Smith: "We are so thankful that Mish is willing to support us in such a generous way and on a national scale at a time when most charities are struggling with how to continue to thrive amidst a global pandemic."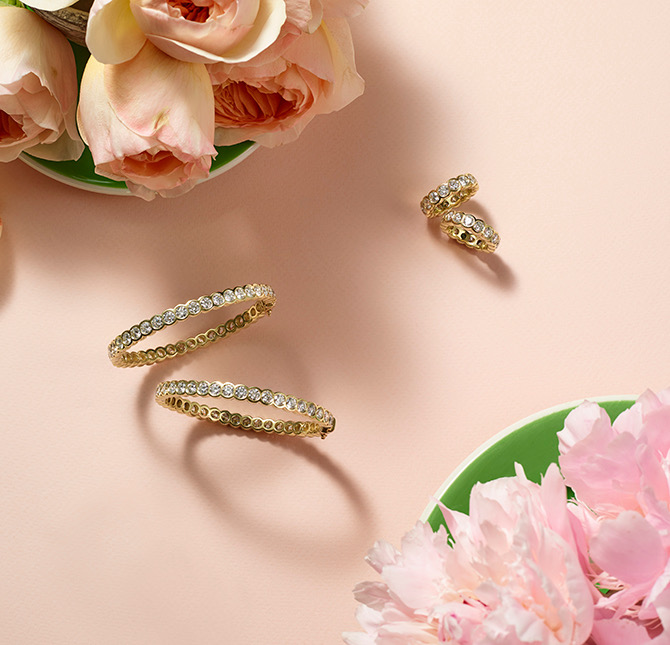 Diamond and gold rings and bangles from Mish's Elizabeth Collection featured in the charity auction for Cheekwood. Photo courtesy
Browse the full catalog and regsiter to 'Buy Now' in: Cheekwood Estate & Gardens Presents a Special Collection of Mish Fine Jewelry Buy Now Event December 1-10th⁠.
⁠Browse the full catalog and regsiter to bid in: Mish Fine Jewelry Pagoda Brooch Auction to Benefit Cheekwood Estate & Gardens Timed Auction December 1-10⁠th⁠.
*Article courtesy of The Adventurine, 'Shop Mish Jewels to Benefit A Botanical Garden' by Marion Fasel
_________________________________________________
Don't have a Bidsquare account? Sign up here!
Be in the know about upcoming auctions and exciting post-sale results by following us on Facebook and Instagram.