Aahhh gold. Everybody loves gold. Its bright and shiny, feels good in the hand, and is worth lots and lots of money. When paper wealth crumbles, as its likely to do every so often, theres gold standing tall, anchoring the economy, propping us up until the powers that be sort out their mess. No wonder its so beloved by Libertarian types, who fill backyard trenches and hidden compartments with as much of the stuff as they can get their hands on. Gold rules - gold is forever.
On Thursday, January 19, bidders get the chance to build a cache of their own when Morphy Auctions stage their Premier Gold Rush sale. Sprinkled in amongst the 472 lots on offer is a mouth-watering array of gold bars and nuggets sure to dazzle. Whether you're a wily investor, an Ayn Rand desciple or just looking for expensive paperweights, what a great place to go for gold! All youll need then is a shovel...and a really high fence.
Lot 430 is a real eye catcher - a gold bar from Harris Marchand & Co. Established by two European immigrants in 1855, the company operated out of Sacremento and was set up to meet the demands of the California Gold Rush. Its value back in 1857 was $199 - these days, you should probably expect to pay just a little more...
In 1835, Rezin Bowie, brother to maker James Bowie, presented four friends with special Bowie knives. He gave one knife to Governor E.D. White of Louisiana, another to Lieut. H.W. Fowler of the U.S. Dragoons, another to a Mr. Stafford of Alexandria, La., and this one, selling here as Lot 226, to Edwin Forrest, a famous American actor and good friend to both James and Rezin. Now hows that for historical?
When it comes to mens accessories, nothing says old world charm quite like a quality pocket watch. Lot 104 - made by the Illinois Watch Company, comes with accessories in gold quartz. Back in the day, gold quartz jewelers bought prominent makes, then custom decorated them to order for wealthy clients.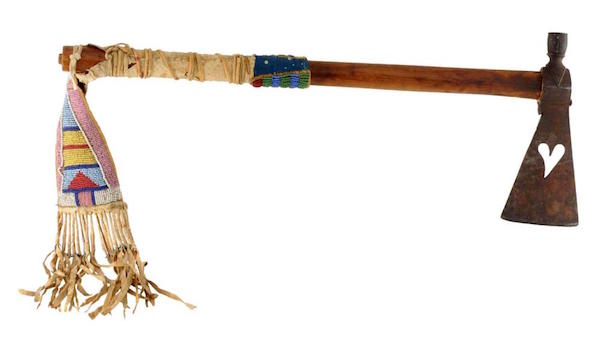 Lot 180 - a Plains pipe tomahawk, dates back to 1870 and comes with a unique bleeding heart cut-out of its head, original leather gasket and haft, plus a beautiful crow drop and beaded buffalo hide. This piece has a rich history embedded in the indigenous culture of the land, and is ideal for felling small trees, slicing larger carrots, and crowd control at your next family barbecue.
Just because your Vegas weekenders are behind you doesnt mean you cant reminisce about the good old days! Snare Lot 73 - a large wood case poker chip set with an inlaid brass tiger on its folding lid, then relax back on the couch and watch your kids use them to play checkers. Its called evolution...
Morphy Auctions Premier Gold Rush sale is set down for Thursday, January 19 and contain over 470 expertly curated lots. look now at the full catalog.