Humans are biologically programmed to react to color. Red stimulates us. Blue and green sooth and calm us. The language of color is both conscious and subliminal, communicated readily and understood intrinsically.
As a means of self-expression or affiliation, color is used and worn with intent. Throughout history, men and women have sought for the most vibrant gemstones, and donned them to create and communicate status and meaning.
These stones, both rare and fine, have been reserved for royalty. They have been used to heal and to protect. They have incited lust, caused conflict, brought death and inspired love. Beholden to the power of color, humanity has been, and continues to be, obsessed by gemstones and the intrepid search to find them.
Ragos December 4th Fine Jewelry Auction offers the opportunity to own some of the finest gemstones ever presented at Rago. A prismatic array of the fine and fancy, which begins with the color…
RED
Lot 2432 Important Tiffany & Co. Ruby & Diamond Ring; Est. $40,000 – 50,000
George Frederick Kunz in his book "The Curious Lore of Precious Stones" suggests that the ruby generates its "glowing hue [from an] inextinguishable flame [that] burned in this stone." Lot 2432 centers an approximately 2.9 cts. ruby of an exceptional, saturated red. The stone, determined to be of Thai origin, mimics the "Pigeon Blood" red that epitomizes the most sought after rubies. This ruby, mounted in a Tiffany & Co. ring, is a powerful statement of beauty.
ORANGE
Lot 2000, Marcus & Co Phamtom Fire Opal Art Nouveau Brooch; Est. $8,000 – 10,000
The allure of opals is all the more mysterious in Lot 2000. The translucent yet vibrant iridescent orange fire opal pools around a nucleated center- surely a specimen presented to Marcus who custom made this pendant for it.
YELLOW
Lot 2442 Fancy Vivid Yellow & White Diamond Pendant; Est. $7,000 – 9,000
Diamonds, otherwise cherished for their potential chemical purity and subsequent lack of color, can also occur in steel gray, blue, yellow, orange, red, green, pink, purple, brown and even black. Depending on the hue and intensity of color, fancy diamonds can far surpass the value of 'white' or colorless diamonds. Lot 2442 showcases a natural yellow diamond - certain to brighten most anyone's day with its lemon-yellow hue.
GREEN
Lot 2427 Magnificent Unenhanced Classic Colombian Emerald; Est. $750,000 – 950,000
Due to the nature of the mineral, most emeralds are very included. These mossy inclusions are sometimes referred to as "jardin" - the French word for garden. Almost 99% of emeralds mined today are put through some level of clarity enhancement, and for centuries have often been infused with oils. That is why the crystal, gem quality of Lot 2427 is so exceptional - because it has not been treated. Likewise, the stone hails from Columbia which is notorious for producing such a verdant green, so prized in emeralds
Lot 2418 Fine Jadeite "A" Jade Pendant Earrings; Est. $9,000 – 12,000
Celebrated throughout the world, but especially cherished in Asian cultures for its spiritual significance, jade is "considered pure and enduring enough to inspire the wearer's highest spiritual aspirations," according to the GIA. Most jade is graded either "B" or "C", meaning that it has been bleached with acid and then impregnated with polymer resin or dyed. Lot 2418 features an "A" graded natural and untreated imperial jade of a semi-translucent, emerald-green material with hand carved grass hoppers.
BLUE
Lot 2414 - Aquamarine & Diamond Yellow Gold Ring; Est. $5,000 – 6,000
Aquamarine or "water of the sea" is particularly apt in Lot 2414 - like the warm, crystal clear tropical waters of its namesake, this stone makes you want to jump right in!
VIOLET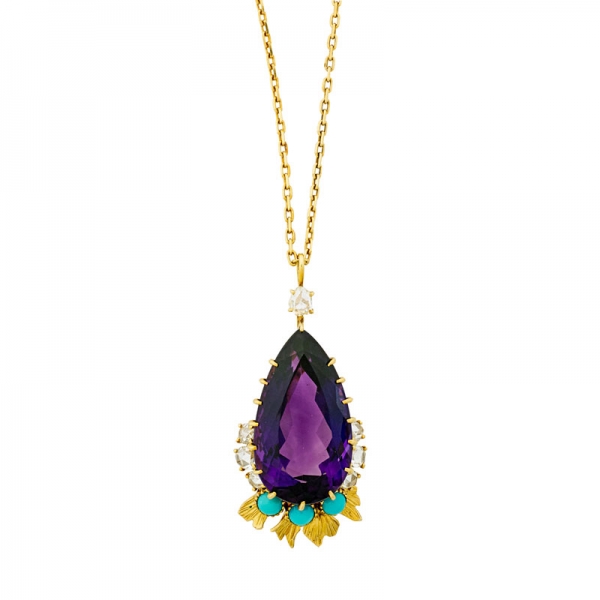 Lot 2241 Cartier Amethyst, Turquoise & Rose Cut Diamond Pendant; Est. $2,500 – 3,500
Amethyst, the purple variety of quartz, is loved for its rich and royal hue. Lot 2241 is unique in its lovely play of color between the turquoise cabochons and the pear shaped amethyst. The contrast is delightful!
See these, and hundreds of other colorful and fine gems, in the online catalog for Ragos Fine Jewelry Auction on December 4.