On January 30, Dallas Auction Gallery will be selling 'The John W. Lolley Art Glass Collection'. This is the first part of a series of sales pertaining to important American and continental glass from the estate of banker John W. Lolley (1937-2018) from Monroe, Louisiana. (Part 2 will be offered on March 20, 2019).
With over 400 lots, this auction also contains numerous European decorative arts, silver, furniture and Asian art.
Lot 340, Chinese Qing Yong Zheng Imperial Blue & White Plate; Estimate $50,000-$70,000
Of the Asian art objects, the most impressive is lot 340, a Chinese blue and white plate from the Yongzheng Period (1723-1735) of the Qing Dynasty. With a diameter of 10.8 inches, this plate is of a reasonably large size. It features a pleasant design of five large floral clusters surrounded by scrolling vines.
The base is marked 'da Qing Yongzheng nianzhi' which translates to 'made in the Yongzheng year of the Qing Dynasty'. This dish was acquired at Nagel Auction in Germany, and is estimated at $50,000-$70,000.
Lot 347, Rare large Ming bronze Bodhisattva; Estiamte $10,000-$15,000
Another Asian art highlight is lot 347, a large Chinese bronze figure of a Buddhist bodhisattva. This sculpture depicts Guanyin, the bodhisattva of compassion. The deity is seated in the position of 'royal ease' on a Buddhist and wears a high jeweled crown. There are wonderful details throughout the figure from his graceful pose, beaded necklaces and long flowing gown with lotus brocade borders. This is a relatively large sculpture at 18 inches high, and is dated to the late Ming Dynasty. The estimate is $10,000-$15,000.
Lot 353, Chinese Qing Imperial Embroidery; Estimate $8,000-$12,000
With respect to Asian textiles is lot 353, a large silk panel of a dragon. The scene is densely packed with auspicious imagery. The upper section depicts a five-clawed dragon, and the yellow ground features many wonderful details including bats, blue clouds and Buddhist emblems.
The lower section is decorated with smaller dragons chasing flaming pearls of wisdom, all above a multi-colored ocean. This panel would have been part of a larger altar tapestry and its yellow color and use of dragons suggest that it would have been used by members of the imperial court.
Lot 346, Chinese Republic Famille Rose Porcelain Altar Pieces; Estimate $4,000-$6,000
To go along with the altar theme is lot 346, a partial famille rose altar set. Initially, this would have been a five-piece set (missing is a pair of gu-form vases). In the center is a tripod censer for holding incense and it is flanked by two candle prickets. The design on these objects are highly unusual since it not often you see the combination of a millefleur ground with dragons. Dated to the Chinese Republican Period, this set would have been displayed in a private shrine of a wealthy family. They carry an estimate of $4,000-$6,000.
Lot 282, Chinese Qing Carved Jade Inlaid Ruyi Scepter; Estimate $2,000-$3,000
Finally, one last Asian Art highlight from the Dallas Auction Gallery sale is lot 282, a ruyi scepter with jade inlays. Literally translated to a 'wish granting' scepter, this object would have been given to a gentleman who has either turned 60 years old, or received an important promotion. These scepters are strictly ceremonial and contain many auspicious meanings including good fortune and longevity.
This particular example contains three mounted jade discs on its hardwood body. Each of them is carved with auspicious symbols including bats (blessed fortune), lingzhi fungus (longevity), and a flaming Buddhist wheel (wisdom). The color of the jades used is also attractive because of its even celadon tone. This scepter is estimated at $2,000-$3,000.
Click here to view the full catalog of Dallas Auction Gallery sale on January 30th.
Don't have a Bidsquare account? Sign up here!
Be in the know about upcoming auctions and exciting post-sale results by following us on Facebook and Instagram.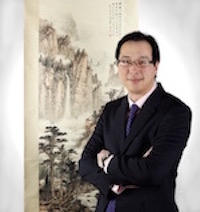 Anthony Wu is an Asian Art consultant, researcher, writer based in Toronto, Canada. After working eleven years as the Asian Art specialist at two of Canada's largest regional auctions, he started his own art advising firm where he consults for various auction houses, museums, and private clients in Canada and the USA. He is a certified Chinese Fine Art appraiser with the Appraisers Association of America.