The mechanical displays of Baranger Studios were a staple in the nation's jewelry store windows for over 30 years. Manufactured in runs of about 30 each, Baranger Motion Machines were rented to jewelers under a contract in which the displays were rotated monthly.
The machines were used to pitch the generic idea of buying diamonds or watches. Many depicted couples courting or honeymooning, often in fanciful surroundings with captions like: "You will always be on the right road with one of our beautiful diamonds."
Between 1925-1959, the company produced a total of 167 different designs. When they closed the business in 1977, such was the impact Baranger Studios had had on the local community that South Pasadena's Cultural Heritage Commission declared their workshop a historical landmark.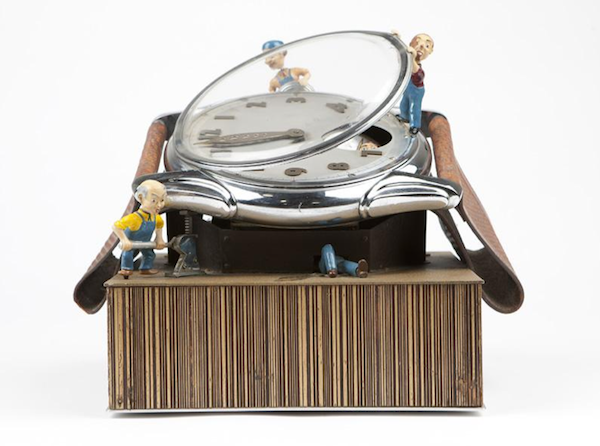 Charm from a simpler time - Lot 1098, a Baranger watch automaton
Not surprisingly, Baranger's machines have developed into highly sought after collectibles over the years. About a hundred are displayed in Wisconsin's House Of Rock, while 130 feature in the collection of the Michael Pollack Advertising Museum.
A close up of Lot 1099 - a Baranger ring automaton
Both entities are sure to take more than a passing interest on Tuesday, January 19, when John Moran Auctioneers holds their Decorative Art sale. Two of Barangers delightful machines will be at auction; Lot 1098 - a watch automaton motion display, and Lot 1099, a ring automation display. Both are in good working condition and sure to be a hot demand.
Lot 1068 - a cold-painted Vienna bronze figural inkwell
John Moran Auctioneers Decorative Art sale is 219 lots strong and features an eclectic mix of modern and contemporary prints, photographs and paintings, English silver, Asian Antiques, Vienna bronzes, furniture, porcelain, and an excellent selection of fine French and American clocks, together with a select group of fine jewelry and watches.