When the Museum of Modern Art purchased William de Kooning's Woman, I in 1953, the collection committee is said to have admitted that it was "quite frightening" - many of de Kooning's peers also sensed a violent, even misogynistic handling of the female figure. Despite its seemingly insensitive execution, the painting was, no doubt, a modern masterwork. Standing at an unignorable six-feet- high by five-feet-wide, the deranged, gopher-toothed female presence was demanding, riveting and well…somewhat expected.
The painted female figure had been making rebels out of men for over a century by the time William de Kooning took a stab at her; Edouard Manet's 1863 Olympia being one of many influential examples. Oddly, it seems a subject that will never be exhausted. The treatment of "woman as art," remains the perfect vessel for portraying a spectrum of narratives and agendas. A naked female can be venerable, dominating, maternal, inappropriate, naturalistic, desirable, tormented and so forth.
In this week's 'Bidsquare Picks' we're pointing out upcoming artworks that continue to suggest and express the ingenuity bestowed onto and through the female figure.
Lot 79, Jacobo Borges, Sin Persianas, Oil on board, 1965; Estimate $25,000 - $35,000
Reminiscent of de Kooning's platter shaped eyes and rather crudely painted mouths- is a phenomenally balanced work by Venezuelan artist Jabobo Borges. The Spanish title, Sin Persianas or translated into English, Without Blinds, gives the viewer some, certainly not all, of an explanation that can be extracted from this contorted figure.
Lot 239, Yasumasa Morimura, Blue Pissoir, Cibachrome print, 1994; Estimate $500 - $600
Understanding full well the statements that can be made by switching genders, Japanese photographer and filmmaker, Yasumasa Morimura is a welcomed, figurative imposter. Through extensive make up, costumes and digital manipulation, the artist transforms himself into recognizable subjects, male or female, from popular Western culture.
Lot 249, Igor Pavlovich Obrosov, Naked Woman in Sauna, Oil on canvas; Estimate $5,000 - $7,000
For Russian artist, Igor Pavlovich Obrosov, his female sitter appeals to the more anecdotal side of painting a figure from life. Rather than confronting sociopolitical boundaries, Obrosov appreciates the nude for the lonesome yet romantic story it helps tell.
Lot 140, Ed Paschke, Velveteen, Oil on canvas, 1973; Estimate $100,000 - $150,000
It's hard to know where to begin with this memorizing oddity. Ed Paschke, the Chicago based artist known for his collages and paintings of subculture characters marked by vibrant colors said of his work, "They either love it or hate it but rarely are they indifferent to it."
Lot 146, Thornton Dial, Woman with Snake, Charcoal and mixed media on paper; Estimate $6,000 - $8,000
Known for his thick assemblages of found materials, recently deceased outsider artist, Thornton Dial gained critical acclaim in the 1980s for his commentary regarding war, racism, bigotry and homelessness. His work expressed ideals surrounding African American history and spiritual salvation. This fluid mixed media work titled Woman with Snake gives off a hauntingly beautiful aura, often felt through Dial's drawings.
With new auctions added daily, we're always ripe for the pickin! Be sure to check into 'Bidsquare Picks' each week for a speedy look at our upcoming selections!
Don't have a Bidsquare account? Sign up here!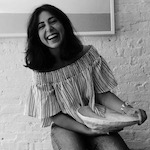 Jessica Helen Weinberg | Senior Content Editor at Bidsquare
Be in the know about upcoming auctions and exciting post-sale results by following us on Facebook and Instagram.