When it comes to staging quality jewelry auctions, no name in the business is held in higher regard than Leslie Hindman Auctioneers. Year in and year out, the Chicago-based auction house stages anticipated jewelry sales, with buyers from all points of the globe bidding on prized lots.
Leslie Hindmans latest jewelry offering is set to kick off on Sunday, September 11, when they launch their two day Important Jewelry sale. Over 1,300 lots are set to go under the hammer. Below weve focused our attention on Day 1 of the sale, but rest assured, the catalog is strong from top to bottom, both Sunday and Monday, and competition is sure to be fierce.
Lot 67 promises to be one of the real highlights of the sale - a platinum and diamond graduated line necklace. Comprised of 88 exquisitely cut European diamonds, this vision of timeless elegance will dazzle onlookers wherever you go, from Saratoga to St. Tropez, from the MoMa to the Met.
Many experts believe that Lot 371 - a fine 6.40 carat antique cushion cut Kashmir sapphire will top the jewelry sale, and trust us when we say that seeing is believing! This masterfully cut stone is every jewelers dream - dig deep, nab this at online auction then begin fantasizing about how youd like it set!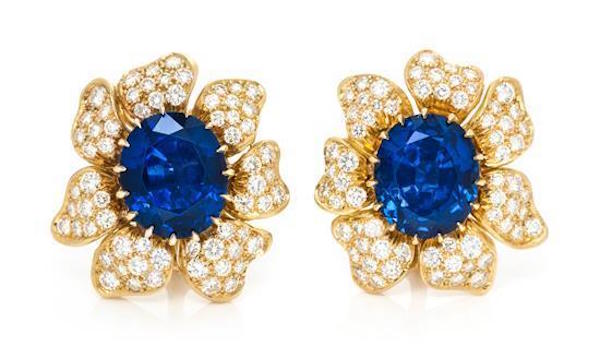 Lot 530 is a dazzling pair of 18 carat yellow gold, sapphire and diamond earclips by Madison Avenue jeweler, Julius Cohen. Cohen, who began his career at 16, went on to become one of the worlds most celebrated jewelers, winning the coveted Diamonds-International Jewelry Design Award for several years consecutively.
If youre a believer in the notion that every woman should own at least one classic diamond ring, then Lot 501 is sure to pique your interest. This platinum and diamond ring by British jeweler Graff contains one round brilliant cut five carat diamond, set between two pear-shape brilliant cut one carat diamonds.
For those looking for something vintage without sacrificing on quality comes Lot 149 - an Art Deco platinum, Burmese sapphire and diamond ring. This versatile gem, crafted by Noble & Co., will score top marks wherever you head, from a Brooklyn art show to a concert at Carnegie Hall.
Leslie Hindmans Important Jewelry sale is set down for Sunday, September 11 & Monday, September 12, and contains over 1,340 expertly curated lots.