Follow the looping trail of cadmium red brushstrokes down and around the center of this painting; it will infinitely guide you through the delicate posture of the subject sitting before you. Her hands softly overlap and rest upon an eggshell-white dressing gown, a tone not much different than the color of her skin. With blue, downcast eyes and autumnal hair playing a pivotal role in her characterization, an intriguing young woman begins to emerge out of the decorative and powdery palette in which she exists.
Lot 121, Frederick Carl Frieseke, The Fur-Trimmed Peignoir, Oil on board, c. 1919; Sold for $114,950
Squint your eyes and you will see a tightening up of the easeful brushstrokes employed by Frederick Carl Frieseke, the second-generation American Impressionist. His style, closely inspired by Pierre-Auguste Renior, has all of the reckless abandon of French Impressionism while retaining a confident grip on linar precision and academia. In this work titled, The Fur-Trimmed Peignoir, Frieseke's layered horizons and fragmented blocks remind one of Gustave Klimt, where loose, playful patterns frame and support a dominantly feminine energy. This portrait, painted during the height of Frieske's career, is incredibly easy on the eyes - a pleasant allure that drew enchanting results during Leslie Hindman Auctioneers recent sale of American and European Art on October 15th.
Auctioned alongside masterful landscapes and nautical scenes by French artists such as Gustave Loiseau, Henri Labasque, Eugène Boudin and Paul Signac, this sensational work by Frieseke was one of four paintings to shoot past the $100,000 mark that day. In an unexpected streak of bidding, it was with great delight that we watched this sensational work sell to a Bidsquare bidder for a record $114,950.00 - topping our charts and now standing as the eighth highest sale through the platform to date!
Frederick Carl Frieseke, Peter A. Juley & Son Collection, Smithsonian American Art Museum
Frederick Carl Frieseke was born on April 7, 1874 in Michigan, and would go on to spend the majority of his life as an expatriate living in France. His choice to live in France, after studying first at the Art Institute of Chicago and the Art Students League in New York, was typical of young American painters at the time - a move well worth the wealth of knowledge that awaited them.
He enrolled at the Academie Julian where he studied with with Benjamin Constant (1845-1902) and Jean-Paul Laurens (1838-1921) and also appeared to have had a limited connection with James McNeill Whistler, one of his many stylistic influencers - Pierre Auguste Renior being his primary resource. By 1900, Frieseke was summering in the town of Giverny, made famous by the father of Impressionism himself, Claude Monet. It wasn't long before Frieseke would decide to settle in Giverny and begin leasing the house next door to Monet (if you can imagine such a neighbor). This home would serve as the main backdrop for Frieseke's work for decades, whether it be outside in his garden or in a commonly used bedroom setting, his main concern was mastering the beauty of light. Unlike our record-breaking painting (Lot 121) many of Frieseke's works feature elegant, but robeless female figures basking in the grass or a cast of women privately managing their appearance in a mirror.
During his lifetime, Frederick Carl Frieseke was able to see his art purchased by private collections and major museums. Even decades after the onset of Impressionism, Frieseke never wavered away from the essence of that style, despite the changing tides of Modern Art in the early twentieth-century. His paintings were acclaimed in America and Europe, earning him medals and exposure on a national scale; most impressively during his 1909 showing of seventeen canvases for the Venice Biennale with a Grand Prize at the Panama-Pacific International Exposition in 1915 to follow.
His works can be viewed in collections such as those at The Metropolitan Museum of Art, New York; the Smithsonian American Art Museum, Washington, D.C; the Art Institute of Chicago; and Museum of Fine Arts, Boston. A forthcoming catalogue raisonné of Frieseke's work is being complied by Nicholas Kilmer, the artist's grandson, and will feature the newest member of Bidsquare's 'Top 10' roster, Frederick Carl Frieseke, The Fur-Trimmed Peignoir, Oil on board, c. 1919.
View the full list of auction results from Leslie Hindman Auctioneers, American and European Art, October 15, 2018 sale.
Click here to view all upcoming auctions from Leslie Hindman Auctioneers on Bidsquare.
Don't have a Bidsquare account? Sign up here!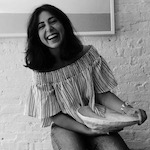 Jessica Helen Weinberg | Senior Content Editor at Bidsquare
Be in the know about upcoming auctions and exciting post-sale results by following us on Facebook and Instagram.