The February blues are fimiliar to most of us. Christmas and New Year celebrations have been and gone and those sunkissed days of August, lounging by the sea sucking on margaritas seem a million years away. Its time to plan a fightback! Time to wrestle Jack Frost to the ground and put the fun back into life. And what better way to beat the winter doldrums than to get busy adding to your stash of prized collectibles?
James D. Julia presents bidders with a golden opportunity to do just that when they stage their 2-Day Winter Fine Art, Asian & Antiques sale on February 9th and 10th. Over 1100 lots are set to go under the hammer, covering a broad range of popular categories including bronzes, fine art, photography, furniture, weathervanes, folk art, historical pieces, fine silver, rugs, Asian art and more. As a great man once said, theres something in this auction for everyone. Stop hybernating and start bidding!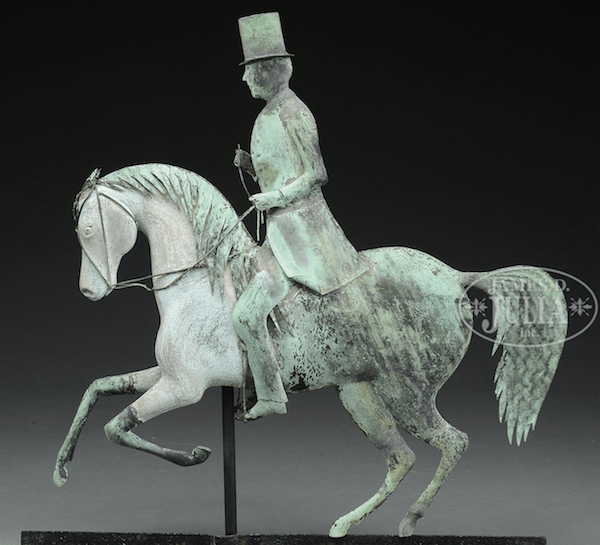 The sale offers a great collection of rare antique weathervanes, with lot 2105 - a 19th Century horse & rider crafted by J. Howard & Co., expected to be the standout. Molded from cast zinc and copper, this lot is accompanied by a museum stand and an original pencil drawing of Emerson Point, showing the weathervane on the well house, rendered by the famous maritime artist, John Moll.
Lot 1040 is a bronze sculpture titled Indian Hunter and his Dog, by noted American artist Paul Howard Manship. One of the sculptors most popular and widely recognized works, it is one of the few not based on mythology but rather takes its inspiration from Manships recollections from his Minnesota childhood.
Those looking for a stirring canvas to decorate their walls should take a serious look at lot 1188 - a patriotic WWI mural by Edwin Blashfield titled Victory. Following early success as a genre painter, Blashfield became a much admired muralist whose work ornamented the dome of the Manufacturers and Liberal Arts building at the Worlds Columbian Expo of 1893, several state capitols, and the central dome of the Library of Congress.
Nothing brings elegance to a study like a quality globe, and with lot 2091 - a rare pair of celestial and terrestrial globes by Englishman John Senex, bidders get the chance to double down in style. Circa 1715, the globes were originally owned by Edward Holyoke, Ninth President of Harvard College, who gifted them to his son Edward in 1746 upon his graduation from the Ivy League Mecca.
With Valentine's Day just around the corner, bidders could do worse than turn their eyes to Lot 1574 - a three-tiered Peking enameled jewelry box. Dating to the early 20th century, the box, which opens accordion style, is exquisitely finished in a design of various butterflies. Problems could arise, however, if you expected to fill it...
Serve your friends in the manner they deserve by picking up lot 2440 - a sterling silver tea & coffee service by Tetard Freres. The set dates to 1910, when commissioned by Dr. Martin Ferreyra of Cordoba, Argentina for his house, The Palacio Ferreyra , said to be one of the greatest examples of French Classicism in Latin America.
James D. Julia's 2-Day Winter Fine Art, Asian & Antiques Auction is set down for Thursday, February 9th and Friday, February 10th and contains over 1160 expertly curated lots. Look now at the full catalogs.