The first half of the twentieth century was perhaps the most fruitful period in American printmaking. Although a variety of styles and schools were explored, it was the unfolding and transformation of American Realism that has been the most thoroughly embraced.
The tradition of Realism in American art is unique as it developed exclusively out of the American experience (juxtaposed with the development of American Modernism which evolved from European influences). From 1900-1950, some of the most renowned American print-makers seemed to focus their work around three main themes: urban scenes, rural country life and the human experience. Below I explore some of these themes through a selection of American prints in Rago's upcoming auction.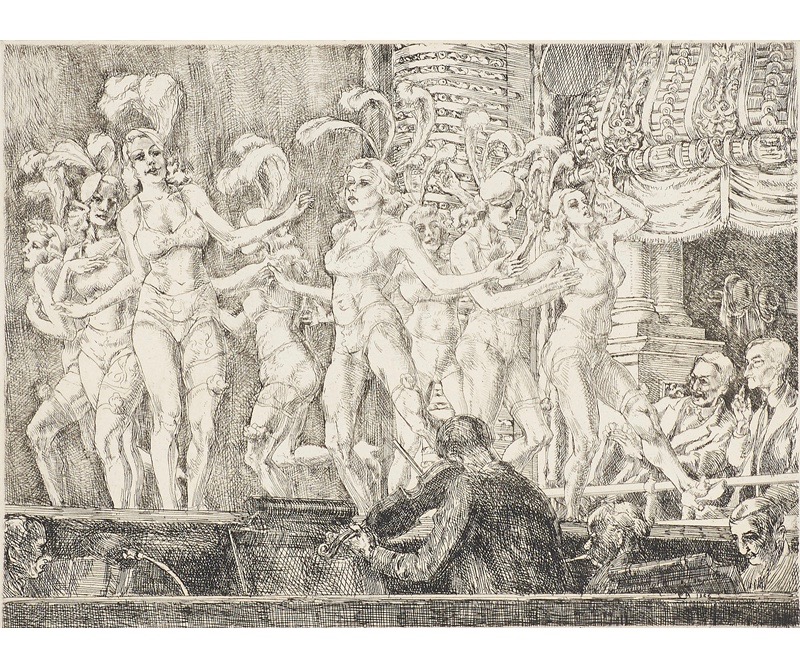 Lot 39, Reginald H. Marsh, Minsky's New Gotham Chorus, Etching and engraving on paper, ca. 1936; Estimate $800 - $1,200
The early twentieth century saw an explosion in urban development. Artists no longer had to seek grandiose subject matter to create a notable work of art and began to look within their own neighborhoods for inspiration. Some of these subjects were scandalous and often caused stir among critics. Reginal Marsh was notorious for his depictions of the gritty urban underworld. In Minsky's New Gotham Chorus, ca. 1936 we see scantily clad dancers performing for discerning male clientele. Another work by Marsh, Tattoo, Haircut and Shave, 1932 (printed 1969) depicts a city street corner in exquisite detail. James Allen's Teeming Ingots, 1935 dramatically conveys two men working with molten metal in bold dark and light contrasts. Choosing to illustrate the working class was notable among artists of this period.
Lot 16, Thomas Hart Benton, The Boy, Lithograph on paper, 1948; Estimate $2,500 - $3,500
As metropolitan areas fought to be crowned the center of the American art scene, some artists chose to make decidedly non-urban art. These artists rebuked the commercialized, overpopulated, grimy scenes of city life for depictions of the fields, farms, deserts and mountains of the American landscape. The most notable group, Regionialists, consisted of three giants of American art: Thomas Hart Benton, Grant Wood and John Steuart Curry. We are pleased to be offering a selection of prints by each artist in this auction. Benton's The Boy, 1948, shows a young man walking along a country road, suitcase in-hand, appearing to bid farewell to his mother and father in the background. Big sky and the family owned-cow occupy the landscape behind him. Grant Wood's soft rolling landscapes are beautifully depicted in two lithographs from 1939.
Lot 4, Edward Hopper, Night Shadows from Six American Etchings, Etching, 1921; Estimate $18,000 - $24,000
In an America that was changing faster than ever before, the human experience became a fascinating subject for print-makers. Seemingly benign moments developed a poignancy when captured in black and white. Perhaps one of the best known examples of this is Edward Hopper's Night Shadows, 1921. This work, considered to be one of the greatest American prints, shows a single figure walking along a desolate street. The bird's eye view and dramatic shadows became a commentary on human loneliness. Other fine example of prints with a humanist focus are Martin Lewis', The Return, George Bellows', Two Girls, 1917 and Thomas Hart Benton's Instruction, 1940.
View these, and hundreds of other works of art on offer in Rago's November Fine Art sales, here.
Don't have a Bidsquare account? Sign up here!
Be in the know about upcoming auctions and exciting post-sale results by following us on Facebook and Instagram.
__________________
About Lauren Bradley:
Lauren Bradley joined Rago in 2015 with over a decade of experience working with galleries, auction houses, private art dealers, and appraisers. After receiving a degree in Art History from American University in Washington, DC, she attended New York University, where she continued her education in art history and studied appraisal. She is a former Associate Specialist in the Fine Art Department at Freeman's Auctions in Philadelphia, where she worked predominately with fine prints. Prior to joining Rago, Lauren, a member of the International Society of Appraisers, worked as an independent appraiser with a specialty in fine art. As a USPAP compliant appraiser, she has continued to assist Rago in this capacity while working as a specialist in fine art. Lauren is a member of Society of the Arts.