DuMouchelles' Decorative Arts, Fine Furniture & Antiques sale gets underway Sunday, April 17, with 446 expertly curated lots up for grabs from a broad range of categories. For those interested more specifically in sculpture, however, there is one lot sure to command special interest.
Lot 213, titled "Spirit of Enterprise," is a bronze Marquette sculpture by Jewish artist Jacques Lipchitz. Expected by many to top the sale, the work's commission originates from an important period in the artist's life, which saw the overlapping of a major fire in his NY studio in January 1952, and the period after the death of his agent Curt Valentin.
Jacques Lipchitz is recognized as the most significant Cubist sculptor of the twentieth century. While others explored ideas related to Cubism, it was Lipchitz who embraced the language of the movement and consistently translated its ideologies into sculptural forms.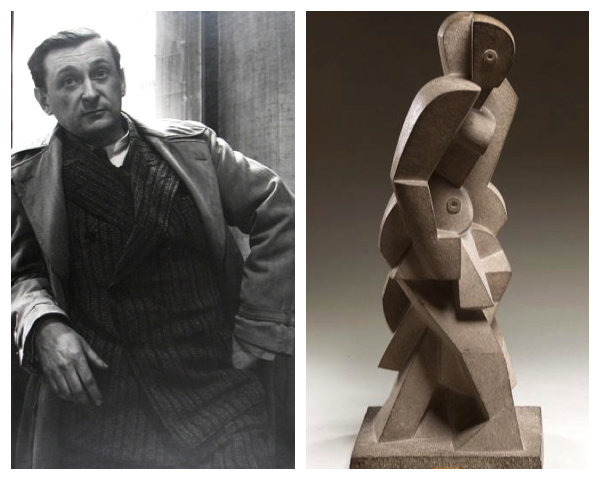 Jacques Lipchitz was born in the Lithuanian city of Druskininkai, then a part of the USSR. At first, he studied engineering but soon after moved to Paris (1909) to study at the École des Beaux-Arts and the Académie Julian. It was there, in the artistic communities of Montmartre and Montparnasse, that he joined a group of artists including Juan Gris, Pablo Picasso, and Amedeo Modigliani, and began creating Cubist sculpture. Eventually, Lipchitz was forced to flee Paris in the face of the Nazi occupation - he went to America, eventually settling in Hastings-On-Hudson, New York.
Lot 2044 - a 3.45-carat diamond gold ring
Beyond the Lipchitz sculpture, there's a treasure trove of offerings here set to temp both new and experienced collectors. Over 200 fine art lots from European and American 18th, 19th, 20th century and contemporary artists including Pietro Barucci, J. E. H. MacDonald, Carl Redin, Nicola Simbari, Anthony Thieme, Carl Lawless, and William Silva, plus chandeliers and sconces, Oriental rugs, bronze fireplace furnishings, a pair of Martin Benito cut crystal urns and centerpiece, and overt 70 lots of fine jewelry.