On October 23, Cowan's Auctions, in partnership with Mark DelVecchio and Garth Clark, will stage the eleventh edition of their much-anticipated Modern Ceramics sale. Cowan's Auctions remain the only auction house in the country committed to offering modern ceramics in one dedicated auction.
In an effort to get a better understanding of the work being sold on October 23 in their Cleveland showroom, we asked the auction's curator, Mark DelVecchio to offer insight into some of his favorite pieces in the sale. DelVecchio, author of the highly-acclaimed Post Modern Ceramics, has directed the Garth Clark Gallery since 1981, overseeing the presentation of over six hundred exhibitions during the life of the gallery. Mark has partnered with Cowan's since the departments inception.
Untitled; New York Skyline by Lydia Buzio
"This piece is a true masterwork that ably reflects Buzio's immense talent," says DelVecchio. "Dated 1984, it shows the gray and cloudy New York skyline, lending emotion gravity to the painting skills of the artist, as well a galvanizing form that leads the eye upward, elevating the vessel."
Heart Teapot; Hiroshima III (Yixing Series) by Richard Notkin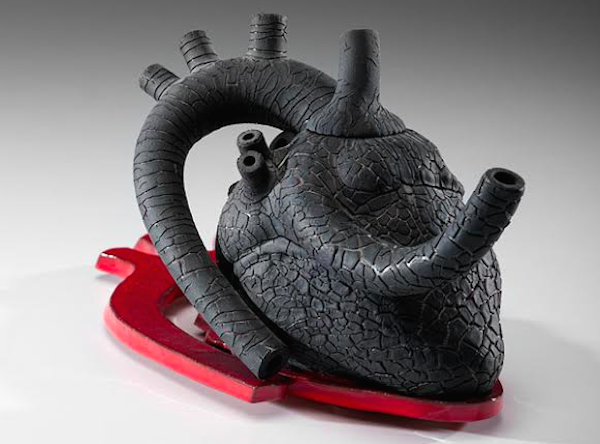 "This is one of final works of Notkins Yixing Series dealing with the bombing of Hiroshima and the charred remains of its victims. Its most distinctive element is the blood red shadow, a reference to the shadows that were often all that was left of people's remains."
Frog Last Supper by David Gilhooly
Cowan's+Clark+DelVecchio is pleased to feature works by Robert Arneson and David Gilhooly - two of the most recognized artists from the ceramics "Funk Art" movement. "Frog Last Supper, which depicts Leonardo da Vinci's Last Supper, is the kind of classic parody only Gilhooly could produce."
Teapot; Native to New South Wales by Robert Arneson
Two pieces by Robert Arneson, considered by many the father of the ceramic "Funk Art" movement, are among the sale's highlights, and DelVecchio is adamant they are well worth the fanfare. "Teapot: Native to New South Wales carries the raw visceral and distinctive clay handing that so distinguishes early Funk art by Arneson. Teapots are among his most sought-after objects because he made few in his career and the main group was not available to the market until recently."
Cowans Auctions Modern Ceramics sale is 71 lots strong and contains work by the categorys leading artists. Look now at the full catalog.