There is a common joke artists like to tell ( to each other or themselves ) to combat criticism. The deeper you are in the ground the higher your work will sell for, "I'll be famous when I die! You'll see!" It is true for some, of course, not for all.
This melodrama provides a powerful pang of irony for museum tours looking for an interesting plot twist. The artist who fetched millions at auction had drowned their sorrows, struggling for, and in some cases, never knowing artistic recognition; Vincent Van Gough, Paul Cezanne, Édouard Manet and Paul Gaugin to name a few. Even more fascinating are the Outsider artists, whom might not have even asked for secular success, that grow more and more popular as the decades roll on.
Bill Traylor with his drawings, Courtesy Alabama State Council on the Arts, Photo-Horance Perry, 1946
On September 10th, CRN Auctions hosted their Annual September Auction on Bidsquare offering recently uncovered works by Bill Traylor (1854-1949) the renowned Outsider artist who has been praised as a "Pioneer" by the Metropolitan Museum of Art and exhibited at the American Folk Art Museum. One of the drawings (Lot 74) titled, "Man, Snake, and Beast," sold online to a Bidsquare bidder for $31,980 - slightly above its estimate of $20,000 - $30,000.
The drawings (Lot 74) and (Lot 75) were acquired in the 1970s by Ed Giorandino, a New York Daily News staff photographer from the 1940s-1980s. His son Frank, who inherited the drawings, kept them in a casual manila envelope until his death in 2015. That envelope was eventually brought by Franks widow to Leslie Paisley, paper conservator and folk art expert at the Massachusetts Williamstown Conservation Center. A duel authentication by Paisely and her associate Michael Heslip, concluded that the works were definitely by Traylor and even noted, "the smell of the paper" as a sure indication.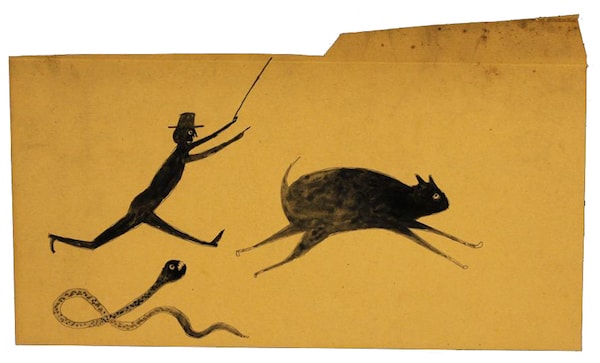 Lot 74, Bill Traylor, Man, Snake and Beast, Gouache on brown paper, c. 1939/42; Sold for $31,980 on Bidsquare
Bill Traylor (1854-1949) was born into slavery on the George Traylor farm in Benton, Alabama and would continue to work as a farmer on that land following the Emancipation in 1863. The majority of his life, 56 years, would be spent working for the Traylors. Those fields would prove infertile for art-making and would not bare the early works so commonly expected in the index of an artists biography.
Bill Traylor (1854-1949) working on a drawing in downtown Montgomery
It wasn't until 1910 that Traylor would move to Montgomery, Ala. where he started work at a shoe factory. This didn't last long due to issues with arthritis and he eventually became homeless. One of the most important twentieth-century artists America has ever cultivated could be found sleeping on a pallet in the back of a funeral parlor at night and perched on a wooden box observing the downtown bustle of Monroe Street during the day.
At the age of 82, Bill Traylor would make his first marks on paper, cardboard or any available scraps. Why he decided to do this, remains a mystery. His tools were simple and modest but their genuine transference of vitality continues to scratch at the imaginations of American Folk Art collectors and those new to the genre entirely.
Lot 75, Bill Traylor, Couple, woman scolding man, Pencil and crayon on cardboard, c. 1939/42; Sold for $39,600
There is one man to which we owe all of our thanks for access to these remarkable works on paper - Charles Shannon, a young artist who noticed Traylor sketching from his sidewalk stoop in the Spring of 1939. From the day they met, the artists would nurture a creative friendship until Bill Traylors death, just eight short years later.
Recognizing Traylors natural talent for composition, pictorial storytelling and unique style, Shannon would provide new materials to Traylor and start conserving and arranging exhibitions of the works in the 1940s. The work would gain recognition after Traylors art was held in Riverdale, NY, in 1942 at the Fieldston School. A man working on that show was connected with the Museum of Modern Art and notified the museums director, Alfred Barr of Bill Traylors talent. Charles Shannon recieved a letter from Barr with an enclosed check requesting to purchase several of Traylors works for a small sum of money - this request was rejected due to its blunt arrogance.
It wouldnt be until the 1970s and 1980s that Shannon would return North, exposing Traylor's work to galleries and collectors. Having preserved Traylors drawings like treasures for the worlds eventual knowledge, their importance was finally received. Between 1972 - 1992, there were approximately 29 solo and 86 group exhibitions.
Albert Kraus, Bill Traylor in his daughters yard on Bragg Street, Montgomery, Alabama, 1948
Geometric forms, filled with patterns, areas of shading and solid colors create ingenious representations of human figures, animals and narratives. Sprouting from personal life experiences and his observations of street life beneath the shed roof of an unused doorway, Bill Traylors drawings are historical gifts - precious excerpts from an illustrated African American journal. The way his subjects fit, or nearly fit, onto the page creates an entertaining tension and intimate insight into Traylors private thoughts.
Image Detail: Lot 74, Bill Traylor, Man, Snake and Beast, Gouache on brown paper, c. 1939/42; Sold for $31,980 on Bidsquare
The sale of this newly discovered work (Lot 74) through Bidsquare is a celebratory moment for the online auction platform which is noted for providing access to rare and authentic items. These fragile drawings, having been consigned to CRN Auctions, defines the platforms curated edge. Attracting the buyer, whom one can assume is a savvy Outsider Art lover, is one thing but actually winning the item online against the live sales floor is an exciting achievement.
The Smithsonian American Art Museum has recently announced that Bill Traylors retrospective Between Worlds: The Art of Bill Traylor the most comprehensive look at Traylor's work to date is planned to open September 28, 2018. Not bad for a slave born artist who sold his work for pennies on the curb.
Jessica Helen Weinberg | Senior Content Editor at Bidsquare