Picasso's career as a ceramicist started in 1946, after attending a pottery exhibition in the town of Vallauris in Southeastern France. There, he met Suzanne Douly Ramié and Georges Ramié, the owners of a pottery workshop called Madoura founded in 1938. The Ramiés invited Picasso to visit their workshop, which soon prompted him to create a variety of ceramic pieces including plates, vases, and pitchers. Approaching pottery from an artistic standpoint, Picasso became fascinated with the malleability and texture of clay, allowing him to shape objects in the manner of a sculptor. The collaboration between Picasso and the Ramiés was a long-lasting and fruitful one, as it extended from the mid 1940s until 1971 and yielded a little over 600 works. Finding inspiration from his own drawings and sketches, Picasso supervised the manufacture of each piece, executed by the Ramiés. He also cooperated with them to determine the number of copies in each edition and granted them exclusive rights to sell his ceramic work.
Cowan's is pleased to offer in the upcoming Modern Ceramics auction on May 28th two Madoura works by Pablo Picasso. Fine examples of the famous Picasso Editions, this round "Visage" (Face) plate and this "Chouette" (Owl) pitcher are both adorned with colorful engobes. The appeal of such objects, beyond their aesthetic look so emblematic of Picasso's modernism, lies in their singular combination of utilitarian form and creative aspect. The Owl pitcher, especially, makes an ambitious use of the owl's bulbous body as a vessel, and of its beak as a spout. It is also engraved by boring rod, an important feature of Picasso's design. Conceived in 1963, the plate is one out of 500 numbered copies, while the vase, made in 1969, is part of an edition of 350.
Pablo Picasso, Madoura Plate No. 111, 1963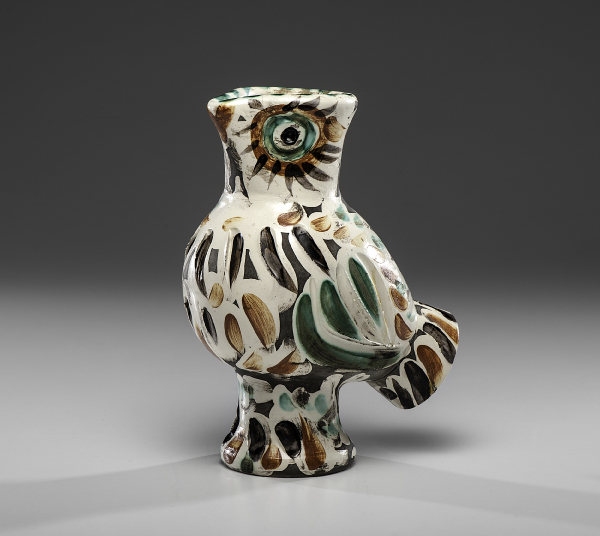 Pablo Picasso, Chouette; Madoura Owl, 1969
Examples from the Picasso Madoura Editions have been widely offered at auction and the market's interest in them has skyrocketed in recent years. Christie's London had a wonderful sale in February of this year that featured a number of such Madoura ceramic works. The selling price of Picasso's plates currently averages between $8,000 and $12,000, while the price of his Owl pitchers can be as high as $20,000, as demonstrated during LA Modern's sale on March 1st.
Don't miss a great opportunity to bid with Cowan's on such outstanding objects! View the full catalogue here and bid now!