On The Square
Say it With Silver
Back in the days of Victorian England they had a saying when dealing with those with a penchant for lauding their own goodness. It went: "The more he talked up his honesty, the quicker we counted the silverware." An accurate proverb to be sure, but also a reflection on just how important the household silver was to people of that era.
On Friday, October 9, Skinner gives bidders a chance to count some extra silverware of their own when they offer some two hundred pieces on Day 1 of their European Furniture & Decorative Arts sale. Included is a stunning array of finely crafted silver pieces – everything from chess sets to tea services to candlelabras. Below, we're featuring a handful of our favorites – but to see the full catalog, head over to Bidsquare's Upcoming Auction page and get comfortable. You're sure to be impressed!
Lot 28 – a twelve-piece Egyptian revival silver-plate and cut glass Surtout de Table service in the Victorian manner.
Lot 60 – a 19th Century French silver chess set, depicting Christian and Moorish players.
Lot 146 – the six-piece Les Six Fleurs pattern sterling silver tea and coffee service.
Lot 2 - Queen Anne/George I Irish sterling silver strawberry dish.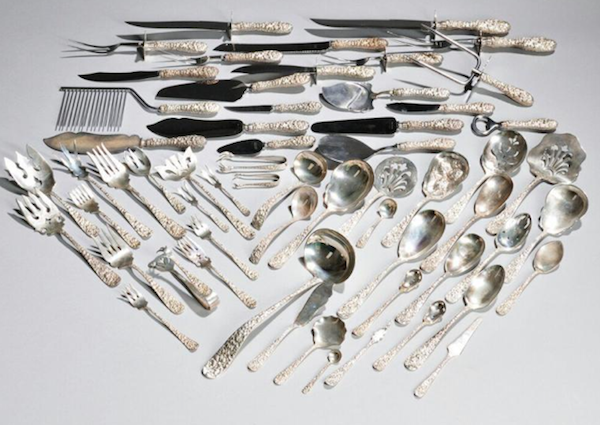 Lot 154 - the extensive assembled Stieff rose pattern sterling silver flatware service.