Paul Evans was a man well ahead of his time. By combining handcraft and technology, he anticipated the limited edition art furniture that flourishes today. Evans' relationship with influential manufacturer Directional Furniture set new standards by demanding each piece be made by hand, finished by hand, and supervised by the artist at each step of production.
That groundbreaking attention to detail will be on display Monday, October 12, when Leslie Hindman Auctioneers hold their sale of the Gerard L. Cafesjian Collection. Seven pieces by the American-born designer, sculptor, and artist will go under the hammer, showcasing not only Evans innovative briiliance but his everlasting contribution to American furniture design.
Lot 478 is one of the real standouts of the auction - a Paul Evans sculpture front cabinet produced by the artist in 1973. The large door is exotically designed and comes with brass, copper, steel and enameled elements set on a lacquered wood case.
Lot 481 - the Paul Evans Citiscape table features chrome sections in its shaped base.
Lot 483 - Three Cityscape Lamps, each of cubic form with alternating bands of chrome and brass to each side.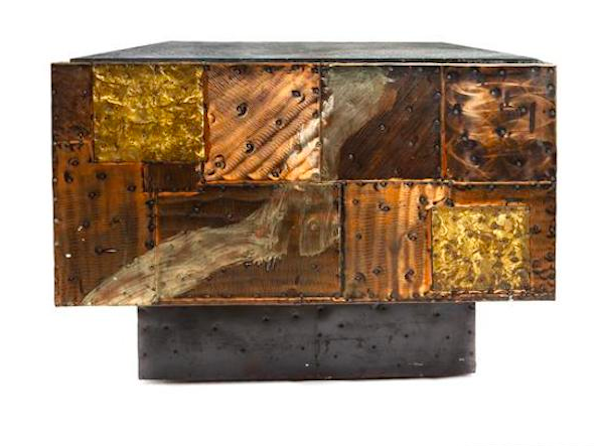 Lot 480 - The Paul Evans copper, bronze and pewter clad end table.
Leslie Hindman Auctioneers sale of the Gerard L. Cafesjian Collection honors a Brooklyn-born son of Armenian immigrants who channeled a successful business career into a passion for the arts lasting more than six decades. It was Cafesjian, as a VP and Board member at West Publishing Company, who initiated the annual art exhibition "Art and the Law," for which he received the prestigious Business in the Arts Award. Upon his retirement, Cafesjian founded the Scottsdale Museum of Contemporary Art and the Cafesjian Center for the Arts in Yerevan, Armenia. Cafesjian passed away in September, 2013.