Behind each maker is a method - a ritual pathway sought out to follow and propel their production forward: from the precise tools they've collected to the spaces they inhabit, right down to the very way they fix their coffee in the morning. Handmade objects come with layered origins, intertwined with the choices of the artisans who create them: sourcing, assembly, consumption, packaging - wash, rinse, repeat. Now, more than ever, the way objects are made, bought and sold, are having real time implications on the environment. Climate change is upon us and we must start considering how we partake or refrain. Perhaps, with the reinforcement of positive, creative examples we can better mimic the methods of the artisans who've taken their green methods and traced them down right to the last scrap and seed.
From April 24 - May 1, Bidsquare is pleased to host Smithsonian's Craft Optimism, a curated climate-conscious online market featuring beautifully-made, handcrafted, American goods that educate the public about climate change or inspire or model a sustainable response to climate change. The diverse and environmentally woke event is conveniently organized into seven shoppable categories: Jewelry, Wearables, Accessories, Art/Home, For Her, For Him, For Kids. Handpicked by The Smithsonian Curator's Committee, each participating maker embodies their own unique sustainability model taking into account renewable energy, recycled materials, and zero waste practices. Proceeds from the event support grants to the Smithsonian for innovative education, outreach and research projects.
Smithsonian Craft Optimism, Xinia Guan Necklace: Bloosm III, 2020 Sterling silver, black patina, 24k gold plated Argentium silver
The online portal invites you to whiz around, cross-pollinating like one would during a vibrant springtime event. Virtual visitors can click through the individual shops and discover personal purchases as well as one-of-a-kind gifts. The experience, with earthly subjects aplenty, embodies its moniker 'optimism' as you learn more about each maker's process, poetic modus operandi and dedication to the planet. Artisans display their masterful tricks of the trade, repurposing unexpected materials like Sara Owens' statement jewelry made from coffee filters and sterling silver which communicate like ancient ceramic orbs or the modern metallic brooches and flowers by Xinia Guan which appear to be cut from the matrix and consist of reused and carefully collected silver dust. You'll find a swarm of gilded bee's handpainted by Christina Goodman, elegant cuffs made from car parts, NASA shuttle tray's and hubcaps from Devin C. Johnson, blooming flowers made of discarded zipper's by Kate Cusack and on-theme, rain cloud earrings if you browse Kate Dannenberg's shop.
Smithsonian Craft Optimism, Queen Allotey-Pappoe, Pre-tied Headwrap/Duku
Wrap yourself in wholesome fabrics when you cruise the Wearables section including small batch, 100% cotton African wax print styles from Queen Allotey-Pappoe, handwoven cotton and wool shawls by LaVerne Kemp - a master loom artist with 43 years of experience in the craft, or soar past the confines of our planet altogether and visit Jeanne Akita / Illusions Lab which flaunts 3D high fashion jackets donning titles such as, "Mars Ice Lava Breath" and "Mercury Ashes". Not to worry fellas, Craft Optimism also has selections 'For Him' including belts, beer panniers, toiletry bags, bottle openers and more, all made from recycled bicycle parts in the BicycleTrash LLC shop.
Smithsonian Craft Optimism, Studio Herron/Dee Clements, Amphora Woven Vase in Lemon
Weave some sustainability into your at Home lifestyle with vibrantly hand-dyed, sculptural vessels from Studio Herron/Dee Clements made using ancient lo-tek handweaving, sustainable and regenerative materials harvested from the land. Cool yourself (and the planet!) down by topping every drink off with Arlie Glass' glass straws - a colorfilled way to inspire the people around you to reduce the use of single use plastics. Or, you can let the radiance of recycled glass shine from above when you stop by Bicycle Glass Co.'s catalog filled to the brim with ocean blue pendant lights. Speaking of home - enrich the habitat of your winged friends by adding a charming birdhouse to your backyard. Built from repurposed, century-old barns and the remains of the great forests that once ruled Michigan, Barns Into Birdhouses honors our fellow creatures.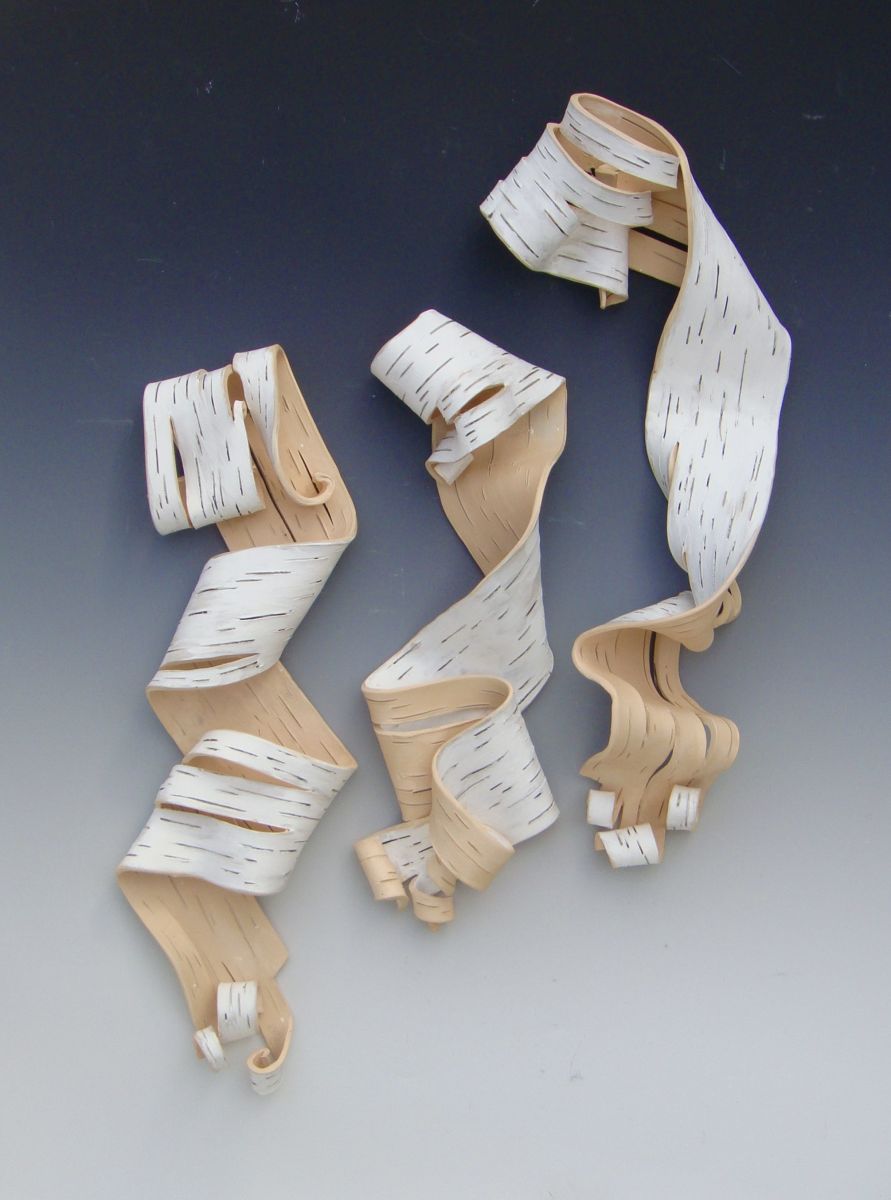 Smithsonian Craft Optimism, Lenore Rae Lampi, Blushing Lyricism, B Clay, porcelain terra sigillata
With over 100 shops to choose from, meandering around the categories can lead you to peaceful and profound moments, such as Lenore Rae Lampi's ceramic ode to the birch trees in Northern Minnesota, which have been devastated by climate change and Holly Tornheim's wooden sculptures and functional-wares, made in her solar-powered studio from the leftover pieces of other furniture makers.
Smithsonian Craft Optimism, Mini + Meep, Change is Possible | Toddler Tee Made in the USA with domestically grown organic cotton
Craft Optimism just wouldn't be complete without highlighting the little ones who depend the most on big changes. Advocate for a kid friendly planet when you visit shops, mini + meep, Malagueta, Oh Bessie!, and Christina Roselle.
It's your turn to flutter around the Craft Optimism market, available to shop from April 24 - May 1, 2021. See something you want to purchase? Simply click, 'Register Now' in the shops of your choice. Help us empower the message of climate change and sustainability by tagging us on social media. The Smithsonian Craft Show (@smithsoniancraftshowsswc) + Smithsonian (@smithsonian) + Bidsquare (@bidsquare) with hashtags: #craftoptimism #sustainableartists #sustainabledesign #craftinamerica #bidsquare - we can't wait to see what you find!
Want to learn more about the event? Read more about Smithsonian Craft Optimism and the Smithsonian Women's Committee, here.
_______________________________________________
Don't have a Bidsquare account? Sign up here!
Be in the know about upcoming auctions and exciting post-sale results by following us on Facebook and Instagram.