As this season of political mayhem unfolds it becomes increasingly obvious just how much the world needs non-profits like Arts Letters & Numbers. Located in Avril Park, New York, Arts Letters & Numbers is an arts, education and publishing organization dedicated to creating creative exchanges across a wide range of disciplines including architecture, visual arts, theatre arts, film, music, humanities, sciences and social sciences.
Arts Letters & Numbers is running an online benefit art auction ending this Tuesday, June 28. Curated by David Gersten, the collection includes over 100 works donated by 70+ artists that make up Arts Letters & Numbers' broader community, and features works by renowned artists including Larry Brown, Marguerite van Cook, Manya Javadipour, Adeline Kueh, Lisa Lawley, Scott Nobles, James Romberger, Homa Shojaie and more.
Lot 17 - "En Passant" is a digital print on Hahnemuhle rag satin by Adeline Kueh, a senior lecturer at Lasalle College of the Arts. Kueh has produced installations and interventionist projects within the collaborative MatriXial Technologies in Hamburg, Amsterdam and Chicago, and has also exhibited in the United Kingdom, USA, The Netherlands, Turkey and Australia.
Lot 120 - "A Massive Prominence Solar Dynamics Observatory, 6 December 2010" is by Michael Benson, an artist, writer, filmmaker, book-designer, and exhibitions producer, who over the past decade has staged a series of increasingly large-scale shows of planetary landscape photography.
Lot 116 - "Dove Release" is by Louis Renzoni, a New York based, Canadian born artist whos been widely exhibited nationally and internationally. His work is in numerous private and public collections, and has been reviewed by the likes of ARTnews and Art in America.
Lots 11 - "Summoning Grid 03" & Lot 12 - "Summoning Grid 04" by Bryan McGovern Wilson, a multidisciplinary New York City artist whose work addresses themes of time, the body, and the land.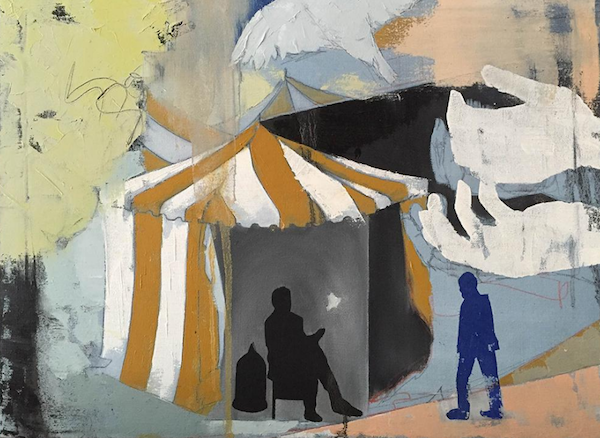 Lot 58 - "The Stranger," an oil on canvas by Mia Cross.
The Sun Ship Exhibition, held in conjunction with the Dorian Grey Gallery, is ends Tuesday, June 28 and contain 83 Lots, the proceeds of which benefit Arts Letters & Numbers. Look now at the full catalog.