The Coeur dAlene Art Auction cemented its place at the head of the Western Art market July 23 with a hugely successful day at the Tuscany Ballroom at Peppermill Hotel Resort in Reno. There was spirited bidding throughout, both in the ballroom and on Bidsquare, where online auction & bidding was exclusive for the second year in a row. The sale saw totals crash through the $18 million barrier, with five lots selling for over $500,000, and 40 above $100,000. Overall, Coeur dAlene produced a stunning 95% sale rate across the 313 lots on offer.
The sale topper - Lot 163 - Howard Terpnings The Long Shot
Topping the sale at $1,344,000 was Howard Terpnings The Long Shot, which blew the doors off its pre-sale estimate of $500,000. Terpning was strong in the sale, with Blackfoot Storyteller selling for $728,000, while four other works by the octogenarian artist sold well above their reserves.
Lot 138 - Walter Ufers Sundown lived up to its pre-sale hype
Taos artists were in high demand this year, with works by Walter Ufer, E.Martin Hennings, Joseph H. Sharp and Eanger Irving Couse selling strongly. Ufers Sundown, a painting that gained notoriety during the famed Armory Show of 1913, was much sought after, eventually selling to a final bid of over $500,000.
Lot 113 - Charles M. Russells The Tenderfoot made a big impression on bidders
Coeur dAlene has always thrived on the championing of industry mainstays and 2016 held true. Charles M. Russell, always a favorite at the sale, had his 1897 painting, The Tenderfoot fetch over $784,000, while Coeur dAlene stalwart William R. Leighs An Upset shattered its $350,000 estimate when selling for over $600,000.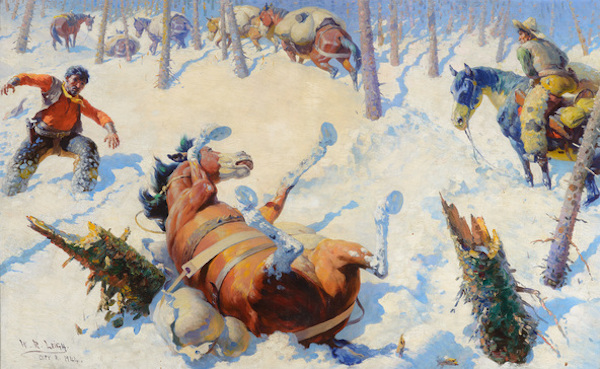 Lot 107 - An Upset by Coeur dAlene favorite William R. Leigh
A crowd of approximately 750 enthusiastic Western Art buyers filled the Tuscanu Ballroom to do battle for the lots on offer. The Coeur dAlene Art Auction has specialized in the finest Western and American art since 1985, and has netted almost $250 million in sales over the past decade. For a full list of results, visit the sale catalog.