We all know that putting together a Thanksgiving dinner is no small undertaking. Not only does it require meticulous planning and hours of toil, but there's also guest logistics, child management and a plethora of other tasks requiring constant attention.
So when time comes to serve dinner it's important that you utilize pieces that will truly do the fruits of your labor justice. Bidsquare's online auctions are full of expertly curated collectibles more than capable of elevating the levels of "joie de vivre" at your Thanksgiving table - take a look now, and say goodbye to those disapproving sneers your mother-in-law offers every time she looks down at your cutlery!
Dinner Service
Time to throw out those chipped Ikea plates and send in the cavalry! This 34-piece English porcelain dinner service consists of one large serving bowl, one platter, three lidded bowls, one covered sauce bowl, one serving bowl, two pedestal serving platters, nine soup bowls and sixteen dinner plates.
Utensils
No one likes a hodge-podge of mismatched cutlery when time comes to dig into his or her meal. This 114 piece sterling silver flatware set by Baltimore's S. Kirk & Son will allow all your guests, from grandma to grandson, to dine in true style.
Glassware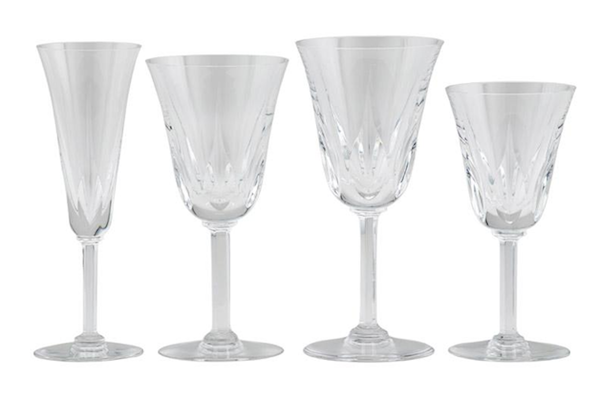 Don't watch your Thanksgiving toast disintegrate around a dozen raised Mason jars. Pick up this 48-piece St. Louis crystal Cerdagne stemware set and watch with the satsfaction as your family toasts each other's health with quality glassware…and gritted teeth.
Silverware
Good presentation always lies in an attention to detail - you dont want to compromise two days preperation by plonking down Goofy & Pluto saltnpepper shakers! These thirty pieces of sterling Hollowware silverware include a cream pitcher, salt & pepper casters, nut dishes, two footed bowls, five small trays and a gravy boat.
Carving Set
The carving of the bird is the crescendo moment of the day, and pulling it off successfully comes down to one simple rule: get the right tools into the right hands. And while there may be some conjecture among family members about who should be given this all important task, there's no doubt that this Personna stainless steel and stag carving set can more than handle the job.