It's not every day an auction house sells a life size fiberglass cow in a top hat alongside Abraham Lincoln's signature, a Hadrosaur dinosaur egg, and a New England Queen Anne tall chest. On December 13th, Pook & Pook is going to do just that when they offer up The Eclectic Collection of John Rexroad of Madison, Connecticut, over 300 lots of antique furniture, fine art, clocks, petrified objects, Native American items, ceramics, famous signatures, WWII posters, textiles, trade signs, and more.
Lot 231, Life size painted fiberglass cow; Estimate $200 - $300
John Rexroad was born into the field of antiques. Collecting art and antiques has been with him for his entire life. As a child John was surrounded by historic artifacts and art collected by his grandparents during their world travels. John's passion for collecting evolved throughout his life into a pursuit of both early antiquities and the rare and unique. He cultivated a passion to not just know history, but to touch it. It is that feeling of touching, feeling, and being part of history that he hopes to pass along through these artifacts to others.
Lot 4, Emile Albert Gruppe, Harbor scene, Oil on canvas; Estimate $4,000 - $8,000
The son of a cabinetmaker and grandson to a master clockmaker and restorer, John Rexroad started learning woodworking at the young age of eight. His grandfather taught him the importance of finishes, form, and style as well as the importance of preserving the past. His father passed on his gift for furniture building. As a teenager, John built and restored clocks and antiques. Throughout his life he has continued to refine his woodworking skills, getting better and better each year. He refined his craftmanship to the point that he was able to create exquisite replicas of authentic 18th c. pieces. One such piece based on the work of 18th c. cabinet maker Eliphalet Chapin was featured in the museum of the Connecticut Historical Society in their 2012 exhibit titled A Tradition of Craft: Current Works by the Society of American Period Furniture Makers. When asked why he chose to emulate Chapin, Rexroad said he "…found Chapins methods and balance of the design interesting. His use of negative space is as important as the spaces where the wood remains." Throughout his life John became friends with and worked alongside some of the greatest master woodworkers, learning various methods, learning about balance. He became a lifetime member of SAPFA (Society of America Period Furniture Makers) and today his work is in the permanent collections of several museums.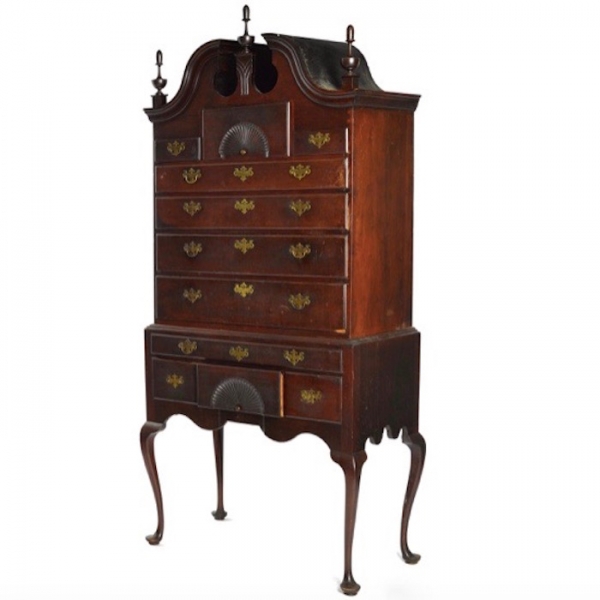 Lot 96, New England Queen Anne, Cherry High Chest, ca. 1760; Estimate $500 - $1,000
While woodworking and collecting have always been his passion, John's occupation took him in another direction. He runs Pecuda – Leading Edge, where he designed netting systems for projects such as the Washington Monument restoration, NASA's Mars Explorer and Shuttle program, Decommissioning of the Manhattan Project, and many others. His unique netting designs have been awarded over a dozen patents.
According to Rexroad, the collection being auctioned off on December 13th, " (the collection) has surrounded me daily and provided great enjoyment in finding it as I traveled around the world. My collection is vast, eclectic, historic, and represents the workmanship and changes in time." He has enjoyed his collection for decades, but says that like many collectors he has come to the point where one starts to think about "passing on the treasures we have collected over our lifetime." He hopes his collection will find its way into the hands of new owners that will, "both treasure having the objects and see to it that they survive for generations that follow."
Lot 195, Cheer Up soda sign by Stout Sign Co, Embossed Tin; Estimate $140 - $240
John Rexroad and his wife Teri live on a farm in Madison, Connecticut. One of their passions is helping kids. John has produced a PBS special, CD, DVD, and tours for/and supported Libera, an all boy English vocal group from London. Much of John's collection was acquired as he traveled the world in pursuit of bringing their music to the world and developing these boys into great men. John Rexroad and his family have also worked to support the efforts the High Hopes Therapeutic Riding program, whose mission is to improve the lives of people with disabilities through the benefits of therapeutic horseback riding and other equine activities. As part of Mr. Rexroad's commitment to this program, a portion of his earnings raised from the sale of this collection will be donated to High Hopes to further their mission.
Click here to browse the full Pook & Pook, The Eclectic Collection of John Rexroad, Madison, Connecticut on December 13th.