On August 26th, Rago in Lambertville NJ will be hosting their inaugural Asian Art sale. This 303 lot auction is represented by objects from China, Korea, Japan and India, and comes from various private collections including a prestigious Madison Avenue antique store.
All categories are considered for this auction such as export porcelain, ceramics, jade and jadeite carvings, Buddhist sculptures, furniture, and scholar objects.
Lot 152, Chinese, Rare and Large Guanyin, c.1600; Estimate $20,000-$30,000
The highlight of the sale is lot 152, an extremely rare Chinese gilt and lacquered bronze figure of Guanyin. Dated to circa 1600 of the late Ming Dynasty, this superbly cast figure of the Buddhist Boddhisatva (enlightened being) of Compassion is one of the best examples to recently hit the Asian Art market.
Guanyin is also known as Avalokiteshvara. Taking either a male or female form, this deity's purpose is to listen to the infinite cries of humanity and ease people's sufferings.
The Rago example is notable for being an esoteric depiction of Guanyin as a 'healer'. The right hand holds a willow tree branch which yields medicinal properties according to Buddhist texts. The left hand holds a cup that contains a divine elixir.
Due to the large size and excellent bronze casting, this Guanyin would have been commissioned for an important temple or private shrine. This figure was consigned by an important American collection and is estimated at $20,000-$30,000.
Lot 206, Chinese, Rare and Important gold and lacquer 'Dragon' table; Estimate $15,000-$25,000
Another object of significance at Rago is lot 206, a Chinese gold and lacquer dragon table from the Kangxi Period (1662-1722). Estimated at $15,000-$25,000, this table is called a jiuzhuo 酒桌 which translates to a 'wine table'.
These types of tables were extremely popular during the 16th and 17th Centuries and typically constructed of huanghuali or elmwood. Red lacquered examples of this wine table are quite rare. The presence of a large and well-painted dragon on the surface suggests that this table was used in the Imperial Court.
This table was acquired from the Estate of C. T. Loo at the New York Parke-Bernet galleries on 10 October 1962. Despite being a polarizing figure of the early 20th Century, Loo Ching-Tsai 盧芹齋 (1880-1957) was considered one of the major Chinese Art dealers in Paris and New York. He was responsible for building collections for major institutions and businessmen in Europe and the USA.
Also at Rago is lot 222, a large Chinese cloisonné enamel peony vase and cover from the 18th/19th Century. The size of this vessel gives it a monumental presence and the shoulders and legs are decorated in fashionable gilt bronze ormolu mythical beast fittings. Both sides are decorated with auspicious florals of chrysanthemums and peonies which symbolize longevity and good fortune. This large vase has an estimate of $20,000-$30,000.
Lot 222, Chinese, celadon moonflasks, pair; Estimate $8,000-$12,000
Finally at the Rago auction is lot 222, a pair of large celadon ground moonflasks. These impressive examples feature some of the most attractive designs in Chinese art.
Chinese moon flasks were influenced by Middle-Eastern metalwork brought to China through trade routes as early as the 5th Century. Originally used as canteens, moon flasks subsequently functioned as decorative status symbols crafted from high-fired ceramics for the Chinese noble class. Their popularity grew, especially during the Yuan, Ming and Qing Dynasties, when porcelain examples were made to decorated the Imperial Courts.
The current examples are impressive in that they are a pair and contain raised decorations of lotus blooms, longevity fungus and scrolling vines. Each base bears a six-character Qianlong mark. The estimate for these porcelain flasks are $8,000-$12,000.
View the full catalog of Rago's August 26th sale of Asian Arts.
Don't have a Bidsquare account? Sign up here!
Be in the know about upcoming auctions and exciting post-sale results by following us on Facebook and Instagram.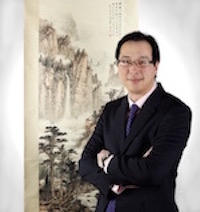 Anthony Wu is an Asian Art consultant, researcher, writer based in Toronto, Canada. After working eleven years as the Asian Art specialist at two of Canada's largest regional auctions, he started his own art advising firm where he consults for various auction houses, museums, and private clients in Canada and the USA. He is a certified Chinese Fine Art appraiser with the Appraisers Association of America.