For over 30 years the Smithsonian Craft Show has welcomed admirers of all things handmade to gather and celebrate the finest American contemporary craft and design. The annual craft show in Washington D.C. is steeped in excellence and highlights a variety of disciplines: wearable art, basketry, ceramics, decorative fibers, furniture, glass, jewelry, leather, metal, mixed-media, paper and wood. Through the dedication of the Smithsonian Women's Committee, a core group of volunteer advocates who've helped fundraise for research grants and specialty programs for the past 50 years - the craft show continues to connect highly-skilled artisans with enthusiastic patrons. Each year, the Smithsonian Craft Show is buzzing with people weaving their way around 100+ tents to mingle, purchase artworks and marvel over the refined ingenuity that is American craft. This year, due to COVID-19, the Smithsonian Craft Show has assembled their miniature metropolis of makers online through Bidsquare - and it's truly as impressive as always. If you've never been able to attend this special event, this is your year.
Maria Eife, Donut Bangle, 3D printed nylon
You can explore and shop the Smithsonian Craft Show in its entirety on Bidsquare by scrolling through the centralized Artists Shops - a well manicured landing page which serves as the main hub and branches off into individual artists' catalogs. The online experience is colorful, organized and feels similar to popping into different kiosks like one would at the in-person event. There's no registration fee for browsing the craft show or for registering to buy works from the artists. This portion of the Smithsonian Craft Show, which will run from October 13th- 25th, can be enjoyed at ones leisure for the entire duration of the event. In addition, Bidsquare will host the special Smithsonian Visionary Award ceremony on October 13th to honor Seattle ceramicist Patti Warashina as well as a live gala and benefit auction on October 21st. The festive evening will be hosted by celebrity chef Carla Hall and feature guest speaker, Secretary of the Smithsonian Institution, Lonnie G. Bunch III. Proceeds from the sale will benefit the artists as well as help to support grants awarded to Smithsonian museums and research centers.
Now, let's take a peek at this years Artists Shops and get carried away by contemporary craft!
Judith Kinghorn, Poppy Pin/Pendant, 22 karat gold, oxidized sterling silver
Representing an unforgettable fusion of fashion and artistry are two of the events largest categories; Jewelry and Wearable Art. Comprising of over 50 designers, shoppers should prepare to be wrapped up in an array of unique shawls, expressive capes, hand-dyed linen coats, and silk kimonos as well as a powerful line-up of 3D printed bangles, paper thin earrings, kaleidoscopic beadwork, knotted hemp necklaces, cow horn collars, stainless steel handbags, leather-goods and more.
Stephen & Tamberlaine Zeh, Miniature Covered Swing Handle Basket
At the Smithsonian Craft Show, even the smallest of works can stop you in your tracks. Found in the Decorative Fiber and Basketry section is a brilliantly woven, brown ash basket measuring approximately, 1 3/8" diameter x 1" h x 1 7/8" oh - is it possible that something so small could be so pristine? Basketmakers, Stephen & Tamberlaine Zeh, begin their process from the very beginning, first by finding the right tree from which they will make their finished basket and then by carefully constructing them with the tools and methods of the Maine woodsmen, Shakers, and Native American basketmakers. They (of course) offer larger baskets such as Nesting Sets and Swing Handle Baskets as well as similarly woven gold jewelry.
This category is also enriched by handwoven silk textiles, hanging wool tapestries, fine merino wool throws and otherworldly fibrous wall sculptures.
Cliff Lee, Celadon Peach Vase on Pedistol, Porcelain
Circling around to the ceramic artists, it's difficult to choose which catalog to look at first. Do you proceed down the wiggling path of Jake Johnson's polka-dotted vases or follow the translucent glow of Sandra Byers' enigmatic porcelain sculptures? No matter which way you decide, you'll be pleased by the many approaches, price points and forms that are available to you. One of the Smithsonian Craft Shows annual showmen, Cliff Lee, demonstrates the tradition of historic Chinese ceramics while adding elements, such as complex plant, floral, and vegetable components to the surfaces of his contemporary designs. It's also worth mentioning that some of the glazes which Lee uses had been lost for centuries until he spent considerable research and experimentation reintroducing them; just another reminder of how exciting and important this craft show truly is.
Erickson Woodworking, Sumi Rocking Chair, A lowback rocking chair, sculpted out of California walnut
If you're looking to spruce up your living space with some Smithsonian-worthy furniture, have fun teetering between classics such as an immaculately sculpted rocking chair from Erickson Woodworking and a clean Shaker-inspired sideboard by Thom Dumke or, for more modern makes, try the origami-steel tables by Roy Livingston that reward the eye from every angle.
Keoni, Ripples 2, Wood, Acrylic, Glass
Then, there are delightful moments when you're not really sure what you are looking at. You begin to guess the materials and wonder how it was made. As is the case with Keoni, a nationally recognized artist with impressive accolades, including a two time Smithsonian artist (2020 and 2021) and a 2019 CM Russell Museum artist. Keoni has been featured at venues such as the Philadelphia Art Museum Fine Craft Show, Architectural Digest Design Show/NYC, and SOFA-Chicago, amongst many others.
Driven by a passion for Native Culture stories, legends and mythology, the fine art carver re-imagines wood as woven and beaded basketry. Using sharpened steel, fire, inks and organic dyes, he creates story-driven artwork illusions entirely by-hand with Sugar Maple as his canvas. The work pictured here, titled Ripples 2, emphasizes the value of rain and its life-giving importance to all things of the Earth. The concept is completed by the illusion of water droplets that are suspended from thin acrylic rod. The Sugar Maple hardwood is lathe-turned, then hand carved and colored and, eventually, the two halves are suspended by an interior glass cylinder, nearly invisible when viewed.
This intersection of materials such as wood and glass, takes us to other fine examples of both disciplines included in the show; Mike Snegg's wonderful wooden bowls, Richard Haining's stacked Heart Pine vases, Holly Tornheim's morphing maple forms, Pavel Novak's puzzling glass cubes and Nate Cotterman's thirst inducing Sphere Glasses.
Hannah Beatrice Quinn, Walnut Large Broom
We would be remiss not to point out the unexpected, refreshing objects that await you at the Smithsonian Craft Show. Take for example, this handmade Walnut Large Broom by Hannah Beatrice Quinn. Reminiscent of the utility by which so much of craft was born, this elevated tool brings a new sophistication to an otherwise mundane task. Not to mention that it will also look tidy and trendy when simply hanging on the wall. Other brooms in this catalog include interlocking block sets, spindle brooms and more - prices begin at a friendly $74.
Be sure to check out Erica Moody in the metals department, where you will find dreamy wedding cake and pie servers, oyster knives, serious chopstick sets, and the chicest cheese cleaver you ever did see.
Don't waste another minute! There's still much to see and scores of artists to discover. It's your turn to explore the unparalleled abundance that is the Smithsonian Craft Show.
Don't have a Bidsquare account? Sign up here!
Be in the know about upcoming auctions and exciting post-sale results by following us on Facebook and Instagram.
______________________________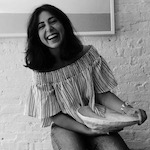 Jessica Helen Weinberg | Senior Content Editor at Bidsquare