For the first time, The School of the Museum of Fine Arts at Tufts University (SMFA at Tufts) will host its annual art sale virtually. The entirety of the, typically in-person, event will be available to 'Buy Now' through the Bidsquare platform from November 9 – 23, 2020. This marks the 38th year of the event which showcases emerging talent alongside prominently collected artists. Known for providing a potent roster of participants, the SMFA Art Sale is seen as an opportune moment for art collectors and patrons of all varieties - it sends flares across the contemporary art world sky, signaling significant talent and conceptual vitality.
Lot 383, Cobi Moules, MFA 10, Cover Boys I, oil on canvas panel, 11 h x 16 w x 0.2 l
As New England's leading contemporary art sale and SMFA at Tufts' biggest fundraiser, the importance of this show cannot be understated in the wake of the global pandemic. Purchases will support contributing artists as well as a scholarship dedicated to SMFA students from underrepresented groups. This year's sale prioritizes work from Black, indigenous, LGBTQIA+ and feminist communities, providing artists often overlooked by mainstream contemporary art communities with an opportunity to have their work seen widely. Among the artists involved in this year's sale are Marlon Forrestor, Anthony Peyton Young, Helina Metaferia, Jamal Thorne, Cobi Moules, Gonzalo Fuenmayor and Mima McMillan.
The online catalog includes nearly 600 works by more than 300 students, alumni and faculty from across the globe and was juried by a noteworthy roster of people such as Akili Tommasino, associate curator of modern and contemporary art at the Museum of Fine Arts, Boston; Nina Johnson, SMFA alumna and director of Nina Johnson Gallery in Miami; and Shinique Smith, SMFA alumna and artist.
Lot 1060, Exquisite Corpse, Victoria Fu, Beverly Semmes, Steve Locke, Gouache; ink on digital print on canvas with staples; gouache and ink applied with Martha Stewart stencils on 11x17 Lenox 90lb paper
Additionally, between six and nine complete pieces from the SMFA at Tufts' "Exquisite Corpse" project will be available for purchase as part of the sale. The project was inspired by the link between the current pandemic and the influenza pandemic in 1918, "Exquisite Corpse" uses a drawing technique developed by the surrealists in which multiple artists co-create art by drawing on a single piece of paper together. The project was developed by Jen Mergel, contemporary artist and SMFA at Tufts board member. Mergel saw this exercise as an opportunity to create meaningful connections between creative minds during a time of social distance.
Participating "Exquisite Corpse" artists include SMFA at Tufts faculty members Ethan Murrow, Ria Brodell and David Antonio Cruz, and alumni Sheila Pepe, Jed Caesar and Nicole Cherubini.
The sale also features an impressive selection of critically acclaimed, internationally exhibited artists such as: Doug and Mike Starn, Lalla Essaydi, Alex Katz, Tara Donovan, Richard Serra, Ellsworth Kelly, John Baldessari, and Sol LeWitt, amongst many others.
Lot 74, Richard Serra, Paths And Edges #5, 2007, 1-color etching, 26 x 32 1/4" - edition of 60
The 2020 art sale is sponsored by Judi and Tim Ritchie, Jessie and Sam Rubenstein, Carol and Richard Daynard, Around the Corner Framing, Art New England, Boston Art Review, BostonGuide.com, Cube, Fortress, Stanhope Framers and U.S. Art.
Register to 'Buy Now' in The School of the Museum of Fine Arts at Tufts University, SMFA Art Sale, available from November 9 – 23, 2020, here on Bidsquare.
______________________
About the School of the Museum of Fine Arts at Tufts University
Founded in 1876, the School of the Museum of Fine Arts at Tufts University is a unique art school affiliated with both a major art museum—the Museum of Fine Arts, Boston—and a Tier-1 research university. Originally established within the museum, the school began its relationship with Tufts when the university began providing accredited degrees to SMFA students in 1945. SMFA officially became part of Tufts University's School of Arts and Sciences in July 2016. SMFA at Tufts provides an exceptional fine arts education that allows students to craft individualized programs of study while being mentored closely by world-renowned faculty and staff. Graduates are creative thinkers and problem-solvers who succeed in a wide variety of careers. SMFA at Tufts is accredited by the National Association of Schools of Art and Design and is a member of the Association of Independent Colleges of Art and Design (AICAD). For more information, visit smfa.tufts.edu/.
______________________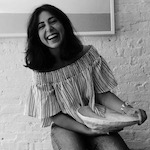 Jessica Helen Weinberg | Senior Content Editor at Bidsquare