You never truly know what to expect at an online auction. Sometimes, shining stars end up unsold and back in their boxes while discrete underdogs roll over into overnight sensations. Watching items sink or swim in the nature of a live sale and an entertaining element that can be easily accessed every week on Bidsquare. Even if you aren't the one bidding, the thrill of rising offers and the impulse to root anonymous bidders forward awakens the competitive beast inside all of us.
Since its launch in Fall 2014, Bidsquare has seen over $476M in online bids placed through the platform. Without the need to search the far reaches of the web or subscribe to individual auction catalogs, Bidsquare provides a marketplace for collectors to stay up to date on fresh-to-market items. The constant flow of exclusive catalogs that surface each week has kept Bidsquare's audience busy with serious buying interest. Some even manage to break records.
Here's a list of the Top 10 Items sold on Bidsquare (so far…)
#1) Price Realized $190,500.00
Lot 156, Stair Galleries; Chinese Archaistic Aubergine-Glazed Porcelain Censer and Chinese Porcelain Yellow-Glazed Bowl; Sold for $190,500
We have to admit, these Chinese bowls served up a significant amount of shock. They might appear simple at first glance but these porcelain treasures sold for nearly 250x their high estimate!
Click here to browse upcoming Asian Works of Art.
#2) Price Realized: $166,160.00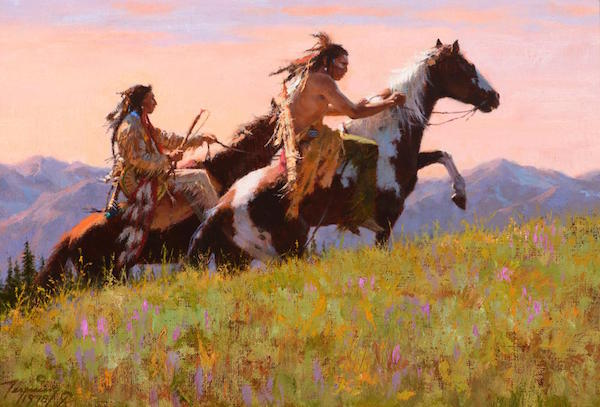 Lot 164, The Coeur dAlene Art Auction; Howard Terpning, Into the High Country, Oil on canvas, 1998; Sold for $166,160
This serene painting is one of two Fine Western artworks on our Top 10 list purchased from The Coeur d'Alene Art Auction - an annual sale that has proven to be a premier event on the platform. Read more about the sale here: Bidsquare Gallops Past $1 Million at Coeur d'Alene.
#3) Price Realized: $145,200.00
Lot 448, Leslie Hindman Auctioneers; A Platinum and Diamond Ring, 4.70 dwts; Sold for $145,200
Diamonds always attract a special degree of attention. The advantage of buying fine jewelry on Bidsquare is access to quality auction houses like Leslie Hindman Auctioneers which ensures that certificate records and appraisals are credible.
#4) Price Realized: $128,700.00
Lot 329, Santa Fe Art Auction; Ernest L. Blumenschein, Adobe Village, Winter, Oil on canvas, 1929; Sold for $128,700
The Santa Fe Art Auction, where this painting was offered, is one of the Southwest's largest annual auctions of classic and contemporary Western art. Bidsquare users, coast to coast, loyally tune in to participate online.
#5) Price Realized: $128,000.00
Lot 230, Rago Auctions; Fernando Botero, Femme au Serpent, Bronze on stone base, 1983; Estimate $128,000
Fernando Botero has graced us with one of his full-figured women. This bronze, which speaks to his signature style, pumped up the volume for Bidsquare's Fine Art sales.
#6) Price Realized: $110,250.00
Lot 129, Kodner Galleries; Magnificent Approx. 100.0 Carat Mixed Cut Diamond and Platinum Necklace, Bracelet and Earring Suite; Sold for $110,250
The holidays are a great time to browse on Bidsquare for gifts. The auction houses we partner with roll out some serious ice in December, like this diamond set which was purchased in Kodner Galleries, Holiday Estate Jewelry & Fine Watches sale.
#7) Price Realized: $106,250.00
Left to Right: Lot 1038, Altermann Galleries & Aucitoneers; Diamond & Sapphire Ring, Sold for $106,250 | Lot 134, Grogan & Company, Platinum and Diamond Solitaire; Sold for $106,250
Tied at #7! The Bidsquare bidders who kept clicking in bids werent going to let these rings slip through their fingers! Click here to browse upcoming Fine Jewelry.
#8) Price Realized: $95,200.00
Lot 101, The Coeur dAlene Art Auction, Howard Terpning, Bonded, Oil on board, 1991; Sold for $95,200
Terpning keeps on topping! Fine Western and American Art is one of Bidsquares strongest categories within the scope of Fine Art and Howard Terpning is one of many artists of this genre that seem to be reigning in our online audience.
#9) Price Realized: $92,250.00
Lot 5, Grays Auctioneers; Richard Joseph Anuszkiewicz, Untitled (Portal Series) Acrylic on masonite, 1971; Sold for $92,250
That price tag is no optical illusion. Modern Art and 20th Century Design is a Bidsquare favorite and always makes for exciting live auctions. Check out upcoming 20th Century Design often to see similar items you can snatch.
#10) Price Realized: $86,800.00
Lot 1104, James D. Julia; Tiffany Studios, Lotus Table Lamp; Sold for $86,800
Bidsquare drove over 1.3 million dollars in bids during James D. Julia Auctioneers', Extraordinary Rare Lamps, Glass & Fine Jewelry Auction on June 16th. One of the items that lit up our records was this iconic Tiffany Studios, Lotus Table Lamp! Read more about the sale in our blog: Bidsquare's Top 5 at James D. Julia!
Our Top 10 list can be altered at any time! Follow us on Facebook and Instagram to stay up to date on all of our upcoming auctions and exciting post-sale results!
Dont have a Bidsquare account? Sign up here!