It is a symbol of heaven on earth.
The jade stone, typically thought of as a vibrant emerald-green colored gem, has been interwoven into Chinese folklore, medicine and artistry for more than 3,000 years. Although, China isn't the only culture to have discovered the strength and allure of the stone, it has clearly become their ultimate talisman. Evidence of jade jewelry and weaponry stretches back to the Stone Age as well as ancient Mesoamerican empires, and points to a heavy appreciation for the tough, yet workable material. However, the masterful carving of this spiritual stone reached unsurpassed beauty in China between the late 18th and early 19th centuries.
Lot 24, A Pair of Jade Earrings; Estimate $3,000-$5,000 | Coming up at Fortuna Auctions on February 13th 2019
The symbolic significance of jade in China is so important that Confucius himself wrote about its' bright and virtuous power. Even more, the Chinese word for jade, "Yu" is one of the oldest in written Chinese and dates back to 2950 BC. The most popular Chinese pendant, a jade disk with a hole in the center, commonly referred to as an eternity symbol or a "Bi," mystically represents heaven - wearing such a charm is thought to bring its owner good fortune and prosperity.
In light of the Chinese New Year 2019, we thought we would give everyone (especially those born under the pig zodiac) an extra boost of protection and luck by sharing the many shades of jade jewelry coming up on Bidsquare this month.
Lot 24, A Pair of Jade Earrings; Estimate $3,000-$5,000 | Coming up at Fortuna Auctions on February 13th 2019
It is important to note that jade is comprised of two minerals, jadeite and nephrite. The most desirable color for both compounds is a transparent green color and in its finest form it is referred to as "imperial jade."
According to the GIA Jade Report that accompanies Lot 24, A Pair of Jade Earrings, coming up in Fortuna Auctions, Fortuna Exchange: February Sale on February 13th, the stone species for both earrings are pure jadeite with a translucent, natural color.
Lot 108, A Natural Lavender Jade Bead Necklace; Estimate $500-$1,000 | Coming up at Fortuna Auctions on February 13th 2019
As is the case with many gems, there are certain colors that get associated with a specific stone, which can be hard to separate from the reality of the variety they have to offer. Ever hear someone brag about a yellow or pink sapphire? Not typically. Jade also comes in a range of colors. The necklace above, Lot 108, is an elegant example of the soft lavender tone that can be greatly admired. In a medicinal sense, lavender jade properties are especially well-suited to spiritual healing.
Lot 68, A Jade Gold Bracelet; Estimate $2,000-$3,000 | Coming up at Fortuna Auctions on February 13th 2019
Crafted in 18K gold with five jade cabochons set into the circumference of the bracelet is Lot 68, a striking marriage of both materials that have seen their fair share of worship. A notable difference between jade and other gems is its smooth, lovely to touch texture that is very rarely faceted like diamonds or rubies might be. As seen here, the plain carving of the stone reveals the green color gradient and silky surface.
There are many reasons to believe in jade's reputation for yielding good fortune. Ancient cultures, like the Mayan and Aztec, used it as a healing stone to treat kidney and bladder ailments - a practice that is still employed by energy workers today. After all, Nephrite comes from the Greek word nephros, which translates, to kidney. Jade has also been used in beauty routines as far back as seventh-century China to enhance and tighten ones skin. Widely used today in the form of a jade roller, the smooth stone is gently dragged across ones face to promote circulation and healing, ultimately resulting in a desirable, youthful complexion.
As if jade wasn't magical enough in essence, gemologists also admire the stones' unique ability to interact with light. If lit from behind and cut properly, a small green spot in the center of a completely white piece of jade would spread out, making the entire gem appear perfectly green. Its counterpart, nephrite is also not to be forgotten for its angelic aspects. The imperial court in China had jade (nephrite) wind chimes designed to play specific notes so, upon being struck, a calming music could resonate out from the blowing stone rings.
Read: Jade Stone Its Meaning and Benefits
Be extra kind to your Valentine this year by bringing them good fortune and a heavenly aura in the form of jade! Click here to browse all of the jade jewelry coming up for auction on Bidsquare this month.
Don't have a Bidsquare account? Sign up here!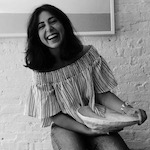 Jessica Helen Weinberg | Senior Content Editor at Bidsquare
Be in the know about upcoming auctions and exciting post-sale results by following us on Facebook and Instagram.