There are certain moments in history where the cliché desire to "be a fly on the wall" has turned out to be an undeniably true statement. For instance, when John Wayne, the legendary actor best known for his portrayals of unconquerable American Western heroes, swaggered into Norman Rockwell's art studio to have his portrait painted, I'll bet there wasn't a single insect brave enough to let out a bothersome buzz.
Equally matched in the iconic roles they played in reverberating and depicting idealistic American values to the masses, the famed illustrator Norman Rockwell and John Wayne solidified their joint significance by underscoring one mans behind the scenes mastery with the others on-screen stoicism. In 1973, at Norman Rockwell's studio in Stockbridge, Massachusetts, a $1,500,000 painting started to unfold.
Lot 243A, Norman Rockwell, John Wayne, Oil on canvas; Estimate $1,000,000 - $1,500,000
The final painting, John Wayne, graced the cover of Country Gentleman magazine in the summer of 1976. Commissioned by the National Cowboy Hall of Fame and Western Heritage Center, to celebrate Wayne's induction into the Hall of Great Western Performers, this exceptional work has now made its way to Jackson Hole Art Auction to be offered in their upcoming, 2018 Jackson Hole Art Auction - Session II sale on September 15th. Online bidding for this signature fall event will take place on September 14th-15th, exclusively through Bidsquare.
While best known for his animated pictures of everyday life in America, Norman Rockwell also had an enduring connection with Hollywood. He painted a number of movie illustrations and posters, including the 1966 remake of Stagecoach - the original 1939 film that coincidentally led to John Wayne's first major break-out role. Rockwell even won a bit part in the 1966 film, getting a taste of the big screen first hand. In addition to John Wayne, Rockwell also painted John F. Kennedy, Jack Benny, Gary Cooper, Bing Crosby, and Bob Hope.
Norman Rockwell, Stagecoach Poster, 20th Century Fox, 1966
In his depiction of John Wayne, Rockwell gathers a warm palette of bold colors and multiple horizon lines, measuring Wayne up with the grand landscapes he so naturally stood against in many of his films. The editors of Country Gentleman magazine noted this, saying that Wayne's "rocklike visage challenges the great faces on Mt. Rushmore."
Fresh to the auction market, after being purchased by a private collector, its appeal is undeniable for lovers of classic American storytelling - it tugs on a rope of epic proportions where fine art and film are tightly clove hitched together.
Lot 243A, Norman Rockwell, John Wayne, Oil on canvas; Estimate $1,000,000 - $1,500,000
In 1978, only a few years after completing the portrait, Norman Rockwell passed away. During that time, John Wayne was one of the many celebrities that commented publically on Rockwell and his favorite paintings. The following year, "The Duke" passed away, making this painting a timely tribute to two American legends. Madison Webb, the Auction Coordinator at Jackson Hole Art Auction, reflects, "What Norman Rockwell did for Americana and illustration, John Wayne did for the American West in film. Two titans of their respective industries, Rockwell and Wayne both developed a devout following and left an indelible mark on the American landscape."
The Bidsquare platform is no stranger of fast shooting competition in the realm of Fine American and Western Art as Bidsquare has also served as the exclusive online bidding partner for The Coeur d'Alene Art Auction for four consecutive years. The upcoming catalogs at Jackson Hole Art Auction, featuring this monumental example from a familiar genre, comes as a welcomed feeling for Allis Ghim, the CEO of Bidsquare, she states, "Jackson Hole Art Auction has been recognized as one of the premier art auction houses in the country. We are excited to have such an iconic piece by Norman Rockwell, listed exclusively online on Bidsquare. It is a testament to the strength of our platform, as well as the quality of collectors that Bidsquare can bring to reputable auction houses."
Click here to view Jackson Hole Art Auction, 2018 Jackson Hole Art Auction - Session I sale catalog coming up on September 14th.
Click here to view Jackson Hole Art Auction, 2019 Jackson Hole Art Auction - Session II sale catalog coming up on September 15th.
Don't have a Bidsquare account? Sign up here!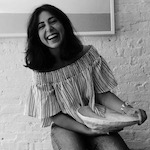 Jessica Helen Weinberg | Senior Content Editor at Bidsquare
Be in the know about upcoming auctions and exciting post-sale results by following us on Facebook and Instagram.