With the start of another highly anticipated autumn art auction season, Skinner in Boston is showcasing 588 lots for their Asian Works of Art sale on September 14.
This auction includes objects from China, Japan, Korea, India, the Himalayan region and the Islamic World. Many different categories are represented including furniture, religious objects, textiles, porcelains, paintings, jade carvings and earthenwares.
Lot 25, Jamini Roy, Bride and Two Companions, India, Gouache on paper; Estimate $15,000 - $25,000
One of the highlights of the Skinner sale is lot 25, a painting of a Bride and Two Companions by Indian modernist master Jamini Roy (1887-1872). Known as one of the forefathers of the Progressive School of Indian painting, Roy was classically trained in the Western painting styles with a preference for landscapes and figures.
However, Roy changed his approach early in his career and incorporated Bengali folk influences into his repertoire. The result was a new modernist aesthetic that contained stylized figures with bright colors and thick outlines. Roy's works became popular throughout India and he later also attracted an international audience with successful shows in London and New York.
At 29 inches high, Bride and Two Companions is one of Roy's larger and complex paintings. The three large figures are dressed in traditional attire and fill up the entire sheet, leaving very little room for a background. The painting was acquired directly from Roy's studio by the current owner's mother and is estimated at $15,000 to $25,000.
Lot 83, Red and Green-enameled Double Gourd Vase, China, Ming dynasty; Estimate $10,000 - $15,000
One of the highlights in the Chinese section of the Skinner sale is lot 83, a late Ming Dynasty Red and Green Enamelled Double Gourd Vase. The base contains a six-character Jiajing reign mark that dates the object to the years of 1522 to 1566.
Colored enamelled vases from this period are extremely rare since most vases are decorated in the 'blue and white' palette. Furthermore, this vase uses a rarely seen combination of green and red enamels, creating a vivid contrast for the stylized lotus and vine motif. The double gourd vase carries an estimate of $10,000 to $15,000.
Lot 463, Pair of Silk Brocade Elbow Rests, China, 18th/19th C; Estimate $400 - $600
Lot 463 is another interesting object from the Asian Art sale. Titled a Pair of Silk Brocade Elbow Rests and dated to the 18th or 19th Century, these pillows would have been places on a royal throne or large day bed. They are attractive in its design with stylized lotus and a fierce imperial dragon. They are estimated at a very conservative $400 to $600.
Lot 299, Gilt-lacquered Figure of Dainichi Buddha, Japan; Estimate $800 - $1,000
In the Japanese section of the sale is lot 299, a Gilt-Lacquered Figure of Dainichi Buddha. This wood sculpture depicts the primordial Buddha of the Sun and is seated in lotus position on a high base. This object would have been displayed in a zushi (miniature shrine) so that it can be easily transported or taken out during certain occasions. The estimate for this Buddha is $800 to $1,000.
Lot 303, Carved Gourd Mokugyo, Japan, 20th century; Estimate $800 - $1,200
Finally, in the Skinner sale is lot 303, a Carved Gourd Mokugyo. A mokugyo is a Buddhist hand drum. This one is carved with extreme detail into a skull, adding dramatic effects when it is used, and also serving as a memento mori for its owner. This small drum has an estimate of $800 to $1,200.
Click here to view the full catalog of Skinner, Asian Works of Art September 14 auction.
Don't have a Bidsquare account? Sign up here!
Be in the know about upcoming auctions and exciting post-sale results by following us on Facebook and Instagram.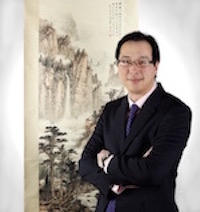 Anthony Wu is an Asian Art consultant, researcher, writer based in Toronto, Canada. After working eleven years as the Asian Art specialist at two of Canada's largest regional auctions, he started his own art advising firm where he consults for various auction houses, museums, and private clients in Canada and the USA. He is a certified Chinese Fine Art appraiser with the Appraisers Association of America.