With a packed schedule of Asian Art auctions in June barely behind us, there's still a couple more Chinese-themed auctions to take us through the summer months.
Oakridge Auction Gallery in Ashburn VA will be hosting a two-day sale of Chinese art on July 25 and 26. This auction is divided into three sessions of Chinese Ceramics and Works of Art, Chinese Paintings and Calligraphy, and Chinese Snuff Bottles.
The first session of Chinese Ceramics and Works of Art features 327 lots including porcelain, jade carvings, textiles, dragon robes, scholar objects, Buddhist sculptures and jade carvings.
Lot 202, Chinese Famille Rose Rotating Vase, Qianlong
One of the most interesting pieces in this sale is lot 202, a famille rose vase. These porcelain vases are extremely difficult to produce since they consist of three separate pieces that have to be set together. Each part has to fit perfectly and the process would have required multiple firings.
The yellow ground section consists of two rotating cylinders that are fixed within the vase's body. The top part depicts the 'ten heavenly stems' while the bottom part features the 'twelve earthly stems'. Together, these two sections can align to mark any year of the Chinese perpetual 'sixty-year calendar'.
The vase is shaped like a lantern and decorated with a pleasant design of multi-colored lotus flowers, scrolling vine and longevity characters. The base bears a six-character Qianlong mark. This rare rotating vase comes from a Singaporean-Chinese family and is estimated at $8,000-$12,000.
Lot 210, Imperial Chinese Yuhuchun Vase, Daoguang
Another porcelain highlight from the Oakridge sale is lot 210, a blue and white yuhuchun vase. This porcelain vase is also estimated at $8,000-$12,000 and the base bears a six-character Daoguang mark, suggesting it was made during the Daoguang reign of the Qing dynasty (1821-1850).
Yuhuchun 玉壺春 loosely translates to a 'jade pot of spring' and is associated with elegant pear-shaped vases that first appeared during the Tang Dynasty (618-907). The present example features intricate designs of a garden with scholar rocks, a banana tree, bamboo and smaller shrubs.
These motifs are highly symbolic for the Chinese literati - the scholar rock symbolizes steadfastness and durability, the banana leaf embodies self-cultivation, and the bamboo denotes perseverance and longevity.
This yuhuchun vase was originally acquired by a European doctor stationed in Tianjin China during the 1920's.
Lot 211, Pair Chinese Lacquer Cabinets with Stones, 16-17th Century
In the furniture category of the Oakridge sale is lot 211, a pair of lacquer cabinets inlaid with hardstones. These cabinets are closely related to examples from the 17th Century in their shape and design.
In addition to the fine red lacquer and addition of cloisonné enamel hinges and mounts, the surface is decorated with numerous scenes associated with the Eight Daoist Immortals, all made from different pieces of carved colored hardstone. Estimated at $6,000-$10,000, this pair of cabinets comes from the same family as the yuhuchun vase.
Lot 486, A Chinese watercolor and ink on paper painting by Huang Zhou
The second session of the Oakridge auction features 122 Chinese lots of Chinese paintings and calligraphy. One of their important pieces is lot 486, a painting by Huang Zhou 黃冑 (1925-1997) depicting a lady with two donkeys.
Huang Zhou is renowned for combining traditional Chinese ink painting with modern aesthetics, and his works typically depict and venerate the different ethnic groups of rural China. This painting is estimated at $30,000-$50,000.
Lot 493, A Chinese watercolor and ink on paper painting by Zhang Daqian and dedicated to Zhongfu
Finally at the Oakridge auction is lot 493, a painting of a scholar by Zhang Daqian 張大千 (1899-1993). Zhang Daqian was one of the most influential Chinese painters of the 20th Century and his style changes from classical renditions of landscapes and figures to more Western-influenced abstract works.
In this current example, the artist paints the traditional theme of a solitary scholar traveling through a mountain path. This motif is a metaphor for the Chinese scholar's lifelong goal of seeking knowledge, often through self-erudition and finding a balance with the natural world, which symbolizes universal truth.
This painting by Zhang Daqian carries an estimate of $30,000-$50,000. It was passed down to the current Connecticut owner through her father-in-law, Huang Zhongfu, a physical education teacher and businessman in the tourism industry in China and the USA.
View the full catalog of Oakridge Auction Gallery July 25 and 26 two-day sale of Chinese Art & Antiques.
Don't have a Bidsquare account? Sign up here!
Be in the know about upcoming auctions and exciting post-sale results by following us on Facebook and Instagram.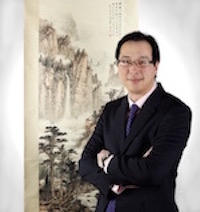 Anthony Wu is an Asian Art consultant, researcher, writer based in Toronto, Canada. After working eleven years as the Asian Art specialist at two of Canada's largest regional auctions, he started his own art advising firm where he consults for various auction houses, museums, and private clients in Canada and the USA. He is a certified Chinese Fine Art appraiser with the Appraisers Association of America.